Photo Credit: Jeff Schultz
What Dog Mushing on a Glacier is Really Like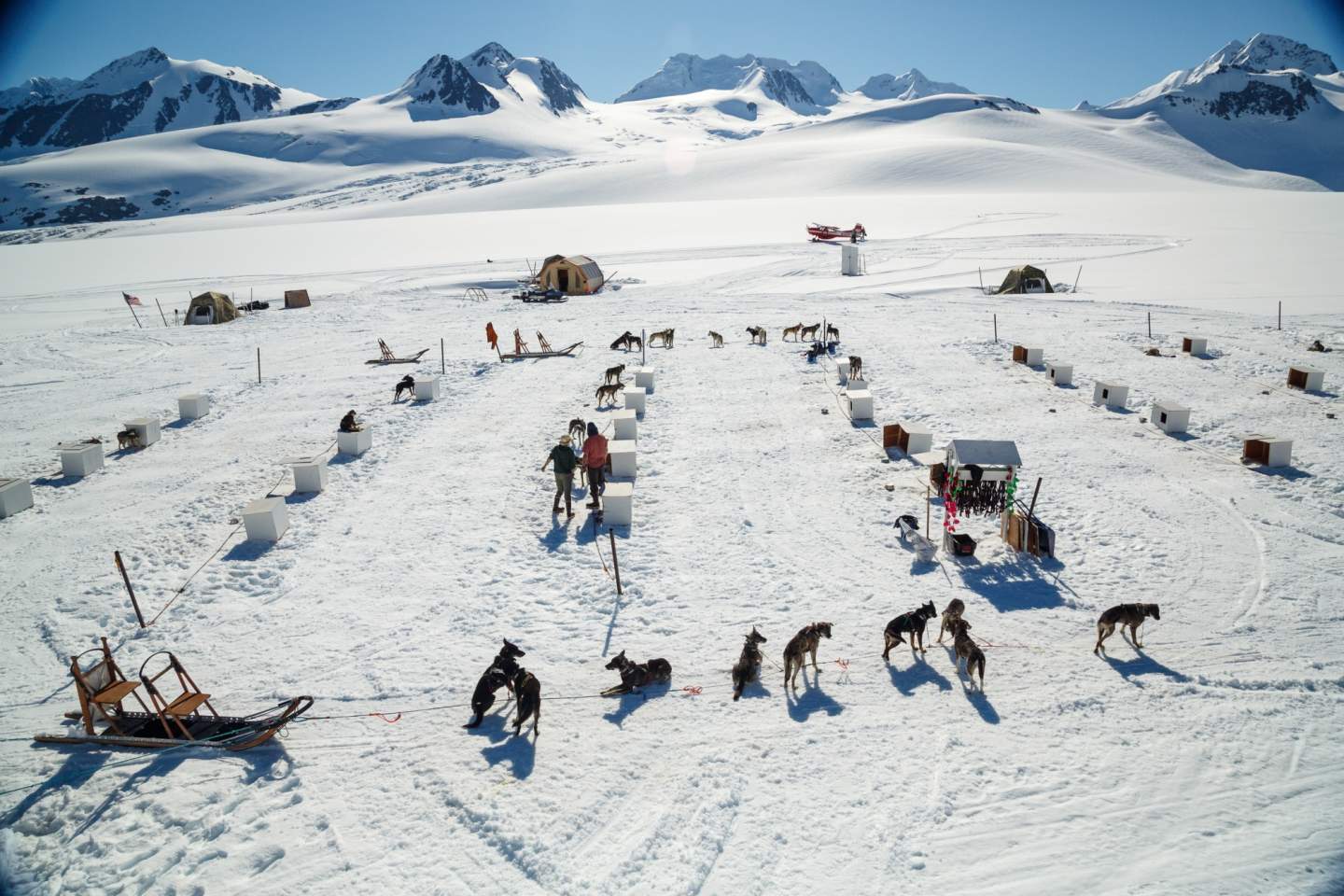 "Welcome to husky haven paradise."
Those were the first words we heard after our 20-minute helicopter flight landed on a glacier—a winter wonder land in summer temperatures of snow-and ice-capped peaks in the Chugach Mountains, where the sun pierced the crystal-clear sky. And directly in front of us was a kennel of some 50 husky sled dogs barking and leaping with excitement.
I was here with two companions for a very Alaskan experience: dog sledding. It's a sport I've come to know intimately, thanks to being an Anchorage resident for 40-plus years and also being the official photographer of the world-famous Iditarod Sled Dog Race nearly as long. Even now, I still get a thrill standing on a sled being pulled by excited, powerful dogs—especially when, like today, it happens in a gorgeous glacier setting.
Gearing Up, Setting Off!
We were able to pet a couple of the dogs and learned that they, too, were Iditarod veterans. During the race, these creatures consume 10,000 + calories a day and typically run 4,000 miles a year, while training or in races.
As soon as the handlers leaned slightly toward the dogs to hook them up, their expressions and yapping seemed to exclaim "Pick me, pick me!" It was quite a sight, with the dogs bounding over to their spots on just their hind legs as the handlers walked them by their collars. As eager and strong as these dogs are, if they had all four-on-the-floor they would likely overpower their guide.
We had 10 dogs in front of us, with two sleds ready to be pulled in tandem, while the 40 dogs left behind were still encouraging the guide to add them to the team. We were seated in the sled, with the dogs in front of us lunging forward, causing the sled to jerk. They were definitely born to run.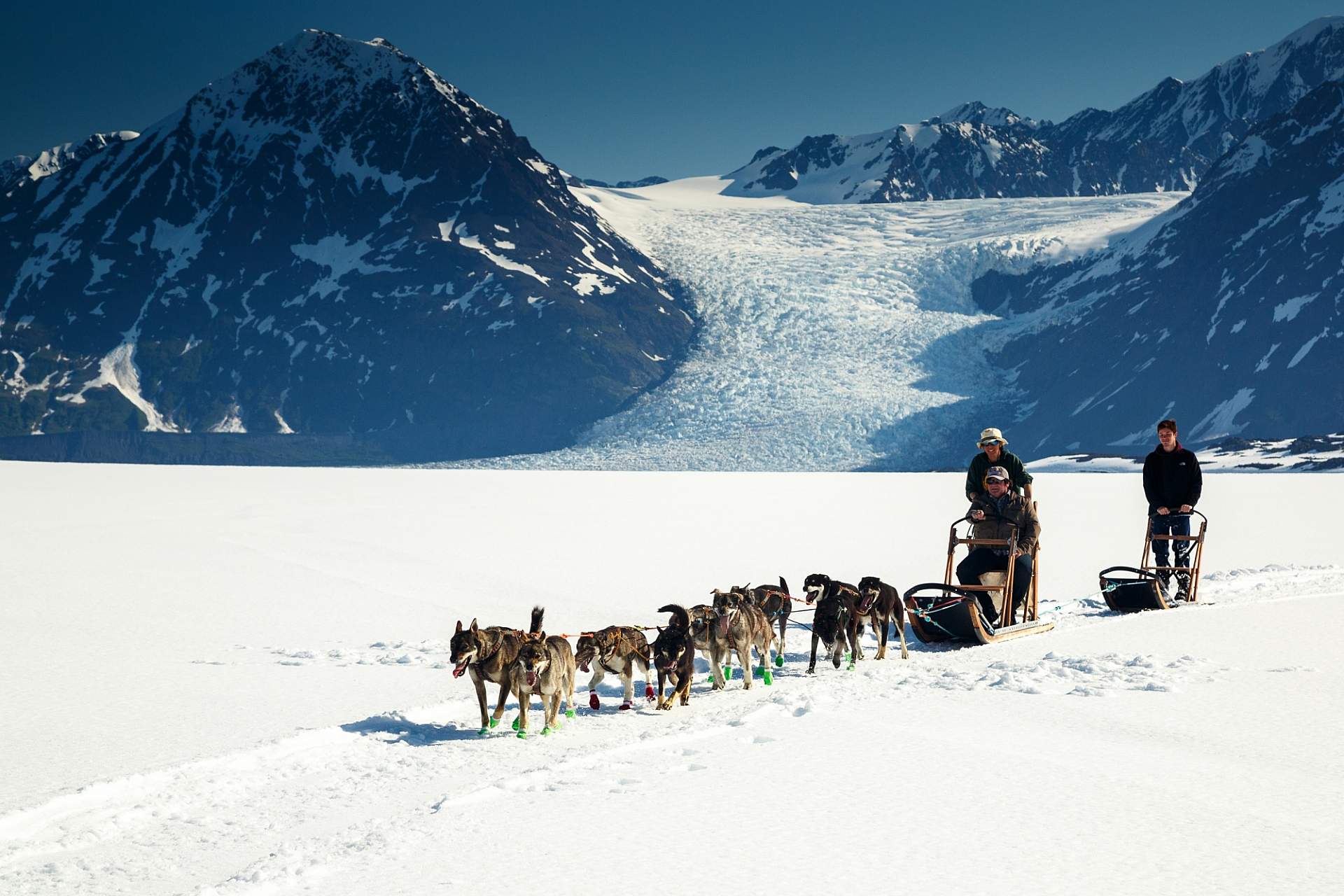 Then our musher/guide pulled the snow anchor from a post, the dogs dug in their paws, and we were off! Within just seconds, it was all peace and quiet. Those left behind knew they weren't going and quieted down. All we could hear from our team in front of us was their panting.
The dogs quickly fell in to a rhythm. For the first few minutes, no one said a word. It was just the silence of the dog's breath, the sliding of the sled runners, and the echo of it all inside this mountain cathedral.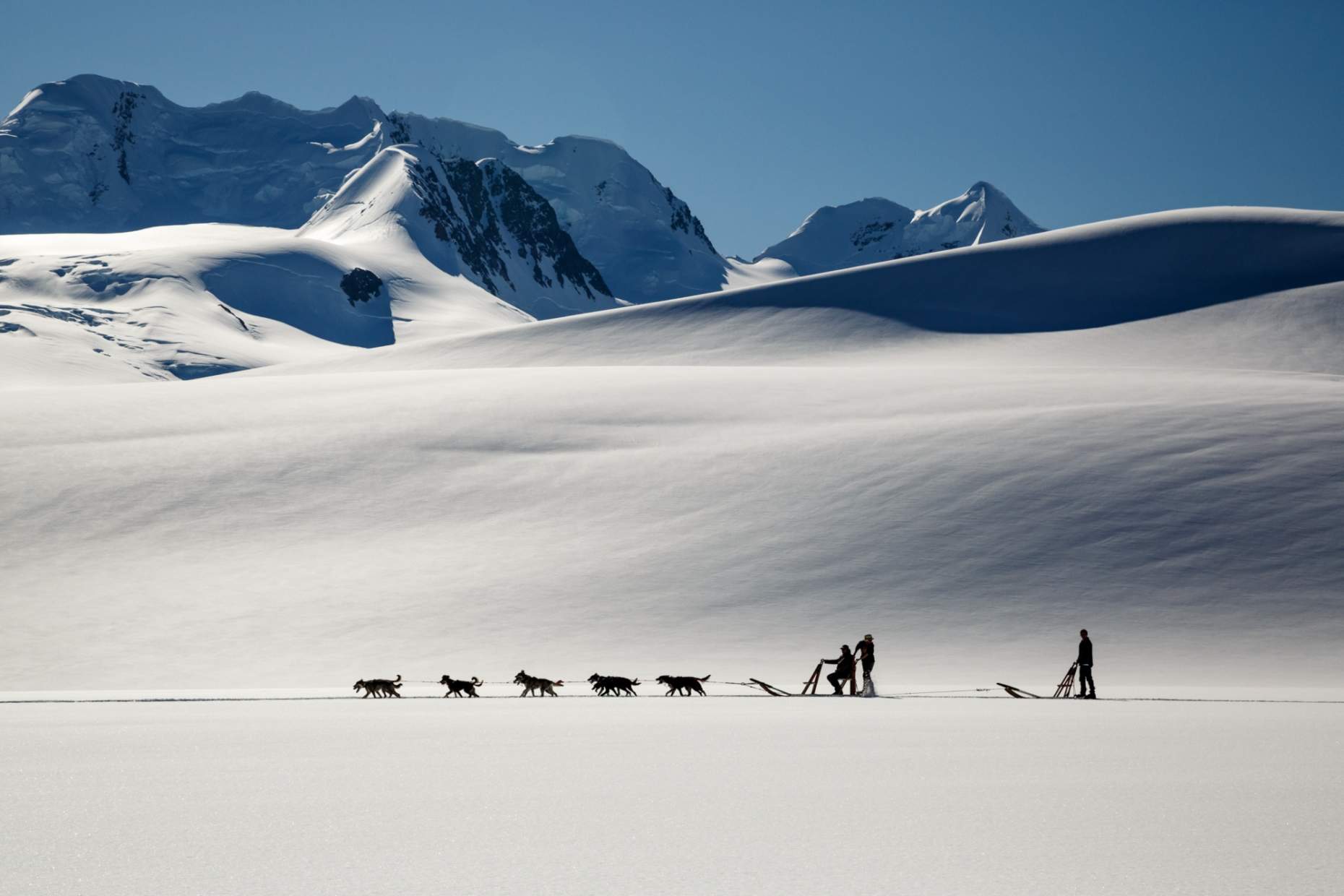 As we zoomed over the 2-mile loop, our guide told us the names of the dogs in our team and some of their impressive lineage. I took a few photos and videos during our run; soon, we were pulling up to the dog camp. The dogs that were left behind were once again riled up and pleading for a chance to run around the block themselves.
After hugging a few of the dogs and having a portrait with them, we loaded up again for our ride back over and through the stunning Chugach Mountains.