Photo Credit: Jeff Schultz
What a Glacier Tour of Prince William Sound is Really Like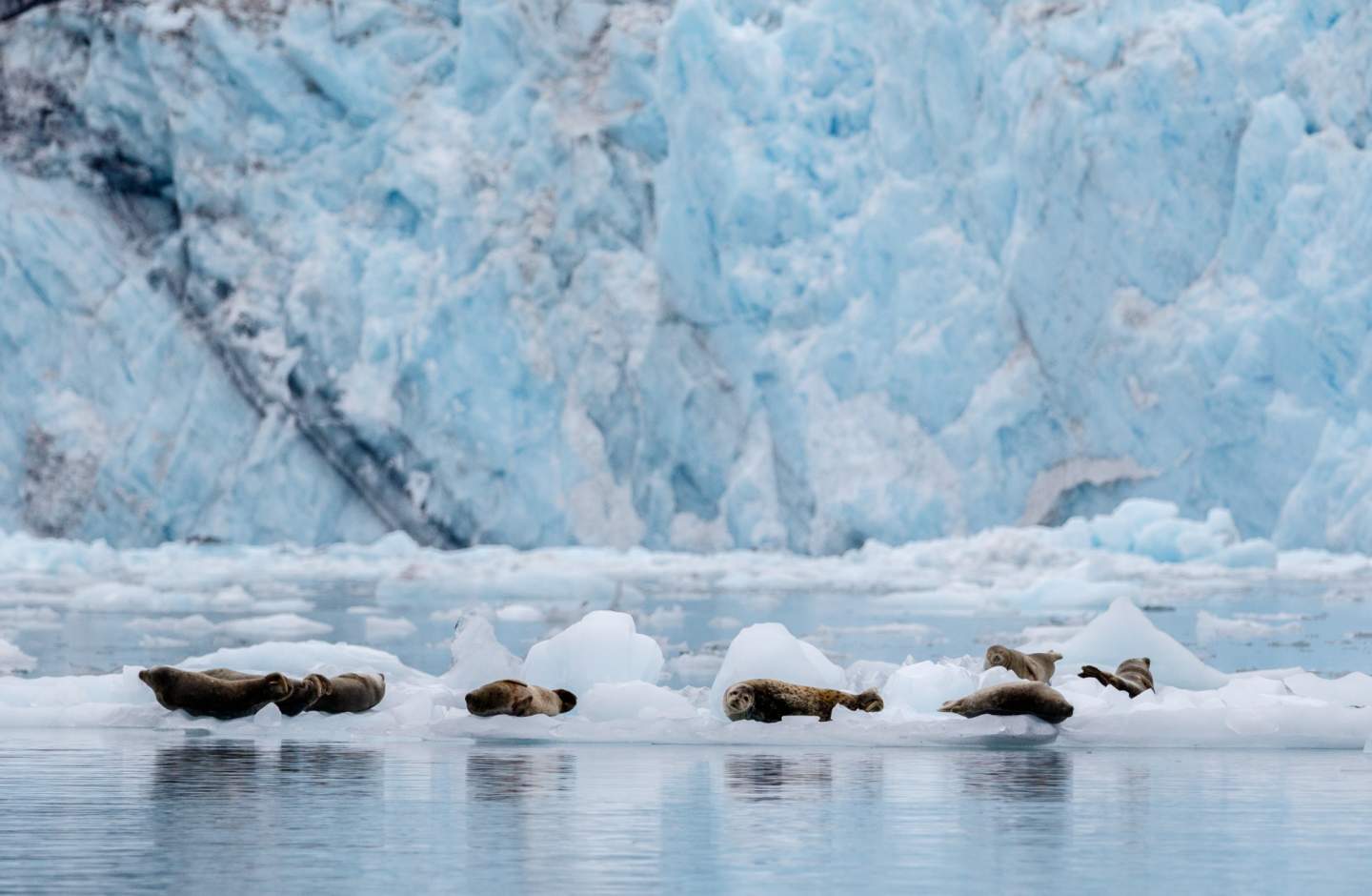 Chunks and slush of crystal clear glacial ice thumped against the aluminum hull of our tour boat as the captain slowly pushed our way further toward a massive wall of blue ice ahead. Under a cobalt blue sky and warming sun, as well as a chilly breeze, I stood on the bow of the boat, enjoying the remoteness, as we inched forward toward the face of Barry Glacier. This being mid-July, the flanks of the surrounding mountains were lush with carpets of solid green. Along the way, we saw large icebergs, each of which housed at least 100 harbor seals staring nonchalantly at our passing.
Our group of seven was 90 minutes into a six-hour boat tour into Prince William Sound, having left from the sleepy seaside town of Whittier, Alaska. As a professional photographer based in Anchorage, I had come back to shoot here—and re-experience the unique wilderness and wildlife. I brought a super wide-angle lens to keep the immensity of mountains and glacier in one frame, and a telephoto for close-ups of the solemn expressions of the seals. Out here in Alaska, you have to come prepared for anything!
The View
As the boat pushed aside ice to move forward, that same ice regrouped behind us. Captain Bob cut the engine a quarter mile from the glacier's face and the breeze (caused only by our movement) ceased; the sun created warmth amid the ice. We gazed up at 3,000-foot, near-vertical mountains—a combination of lush green, grey rock, and ice-covered granite.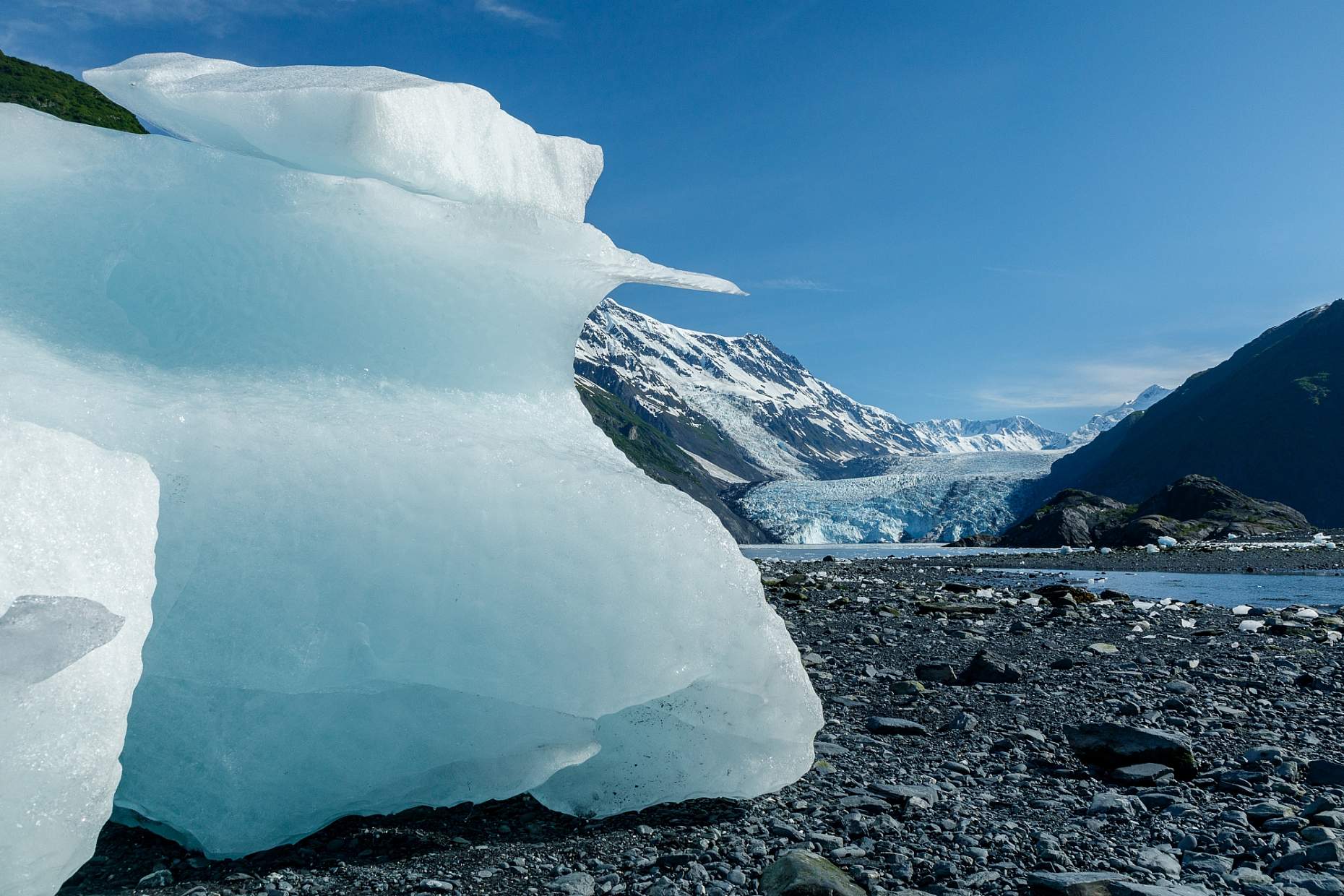 Every now and then the silence was shattered by what sounded like a gunshot of the glacier calving. If we weren't watching the face, it wasn't easy to tell where it came from along the mile-wide and 100-foot-tall face. Some of the icebergs created big splashes as the ice plunged into the sea, while others simply sloughed down slope before the ocean enveloped them.
Not far from Barry Glacier, and within sight of at least six other glaciers—both tidewater and hanging—we landed for a brief shore excursion. Getting ashore was easy, thanks to the boat's landing-craft style door, and there we discovered a beach solid with rocks, each one perfectly sized and shaped for skipping.
We then walked a slightly worn uphill path; the vegetation on the rolling hills was a dark green, as lush as I'd ever seen, and several crystal clear small ponds dotted the area. The trail ended at a knoll where yet another glacier was perfectly framed between the hemlock trees. Harriman Glacier, some eight miles away, was named after the American railroad tycoon who, for two months in 1899, sponsored a scientific and artistic expedition along Alaska's coast and included the likes of John Muir.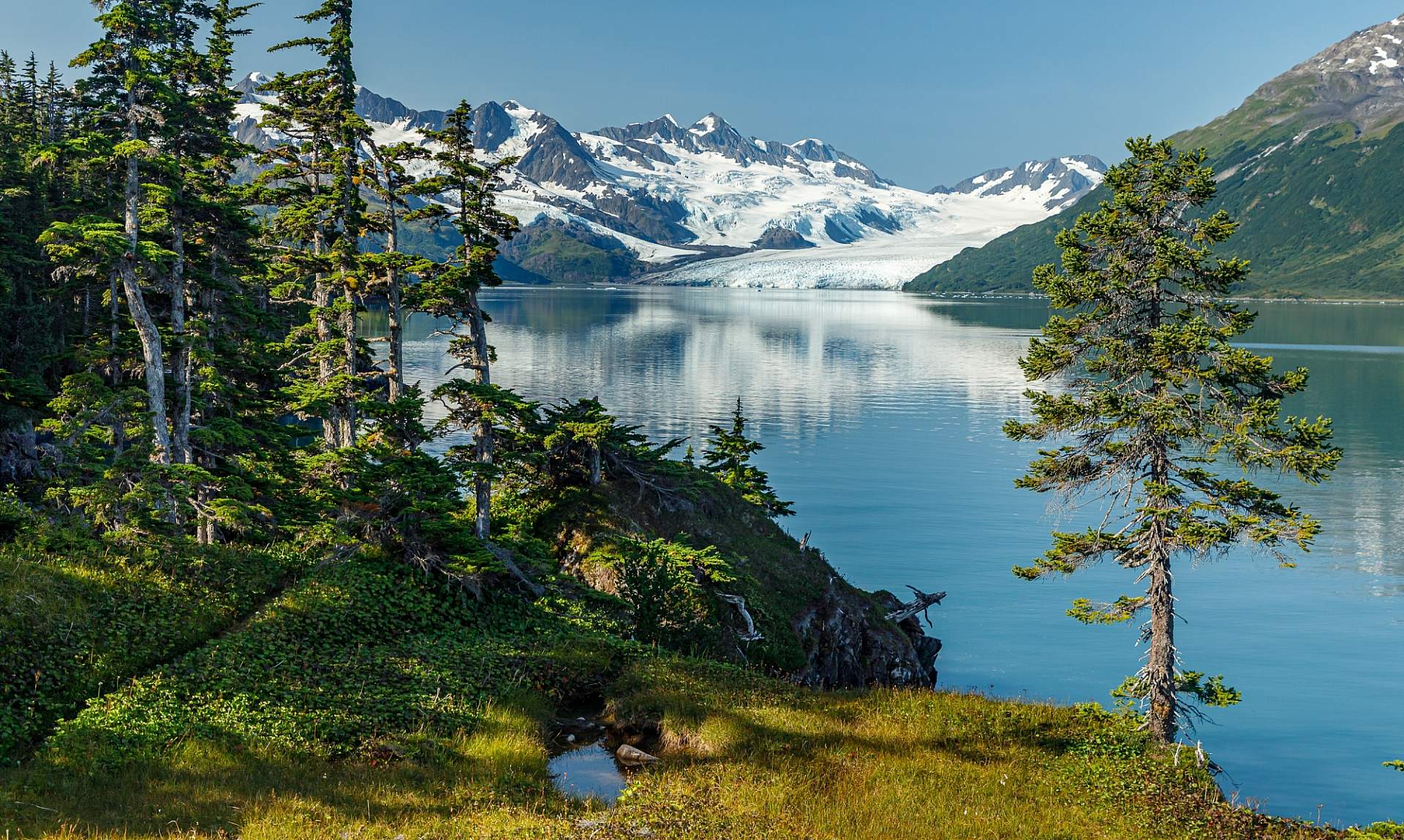 After our shore excursion, we plied quickly to the western part of the very well protected fjord. We were thrilled to see and photograph Steller sea lions; some were beached on a small-bald island while others swam alongside us. A pair of Dall's porpoises bow-rode for a minute or more. While we did not see whales or orcas, we were told they're also regular visitors here. We then stopped next to a towering waterfall, with what seemed like thousands of nesting Kittiwake birds.
Back at Whittier's dock, we found our way to the Swiftwater Café, located in the cul-de-sac at the end of the only road in town. Captain Bob suggested their panko-clad halibut was the best he's ever had, but his favorite dish was the shrimp and halibut combo. So that's what I got. Freshly caught that day, it came very lightly breaded and then cooked just enough to be done but moist—the perfect ending to a spectacular day.