Photo Credit: Jeff Schultz
The Thrill of Witnessing a Bore Tide along Turnagain Arm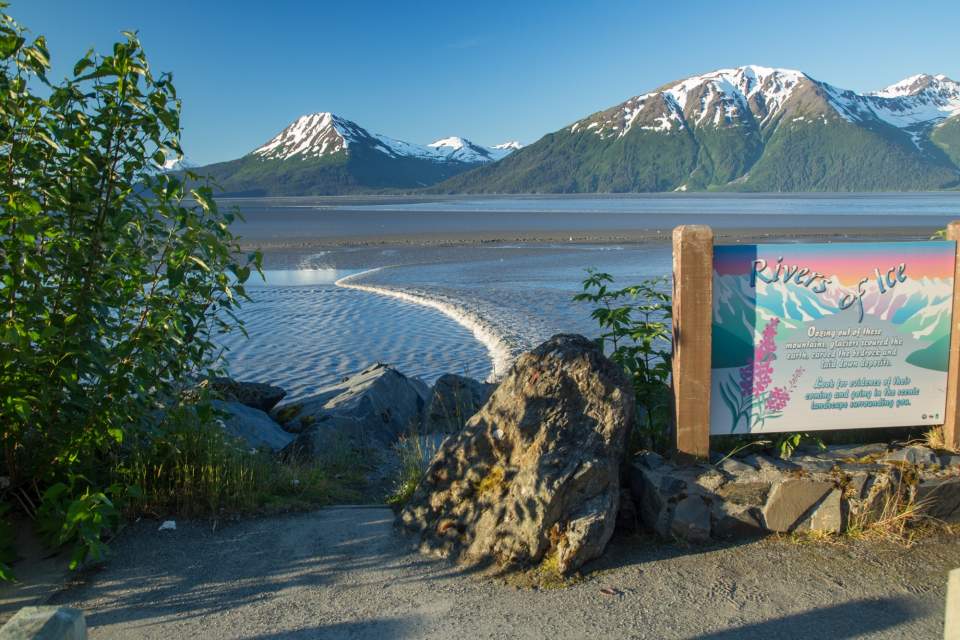 Driving south from Anchorage, we couldn't tell if the extreme tides of Turnagain Arm were filling up or letting go; the calm water wasn't giving up the secret. Further on, though, a set of short waves traveling in the same direction as us told us everything. The tide was advancing in, and it looked like we'd have a good shot at witnessing this incoming bore tide for a while as we drove.
A bore tide is a rush of seawater returning from a broad bay into a narrowing inlet; there are some 60 bore tides around the planet, but Turnagain Arm is one of the world's biggest. It occurs here because of the potential for extreme, 40-foot tides, and also because the incoming tide clashes with the outgoing as it merges into Turnagain Arm's narrow channel. It's a phenomenon that happens every day, though sometimes the waves are on the smaller side.
Driving the Arm
It doesn't take long to figure out why the Seward Highway has the triple designation of Scenic Byway, Alaska Scenic Byway, and All-American Road. This 40-mile stretch of pavement along Turnagain Arm has the Chugach Mountains careening down one side and the Kenai Mountains duplicating the effort on the other.
On this day, the waters of the Arm were stealthy calm, creating a never-ending expanse of mirror-reflections. We stopped in the early morning sunshine at a large pullout not far from our destination, the town of Girdwood, where we learned that the bore can move anywhere from 6 to 24 miles per hour.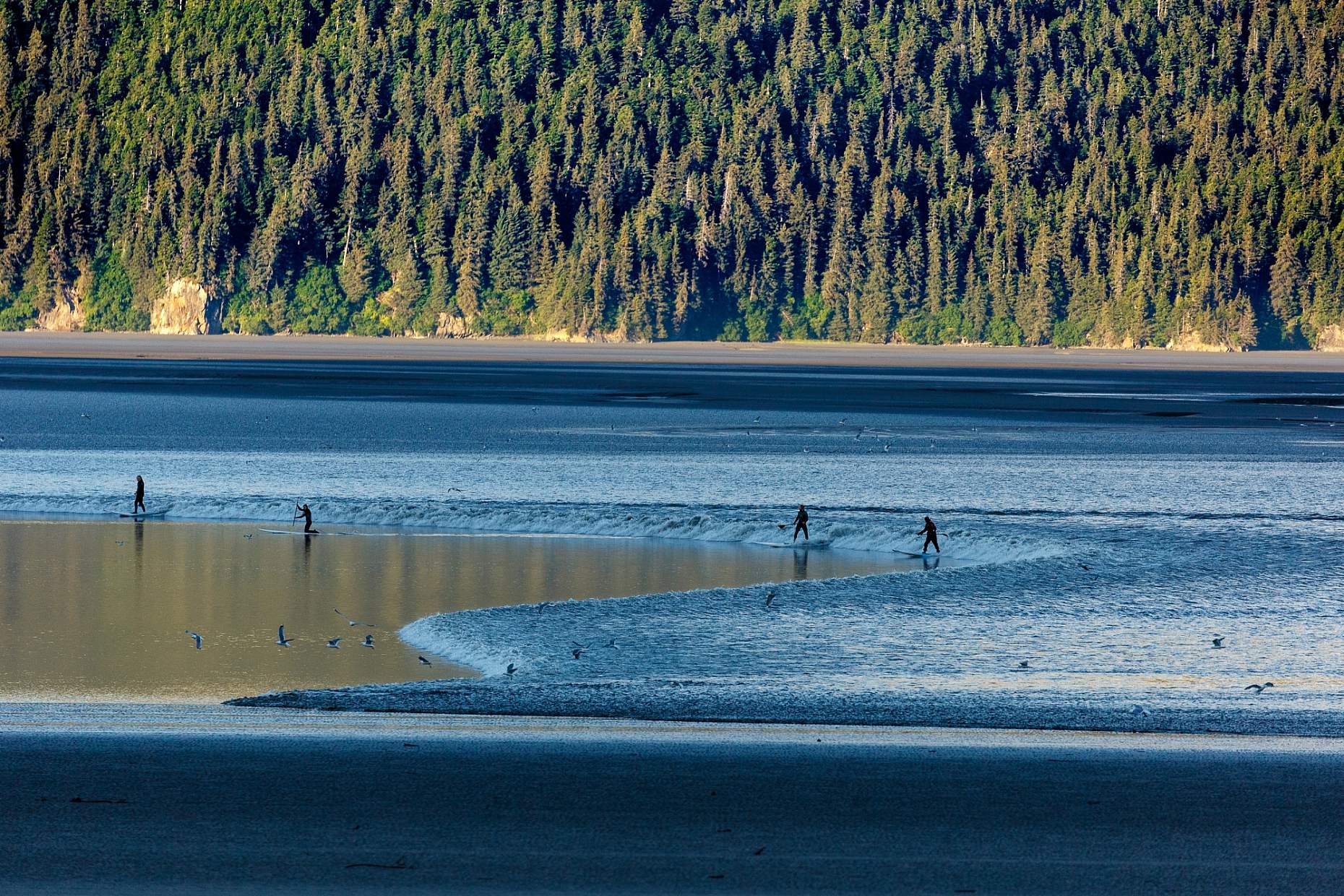 In the stillness of the air, as the waves ran by us at 8 or 10 miles per hour, we could hear the water on the leading edge rustling as if it were forever washing up on shore. A set of five waves behind fell in line like soldiers. Someone yelled, "Let's go watch it again!" It sounded like a good idea, so we climbed in the car, easily got ahead of the bore, and drove on a couple miles past Girdwood to another pullout, where we passed a field of beautiful lupine.
From here, we watched surfers on the water, paddling boards out to meet their ride. Unlike Hawaiian surfers, these riders were already standing up and paddling in sync, as their wave came upon them in their dry suits. Off they went for an effortless, smooth ride, expecting to travel five or more miles.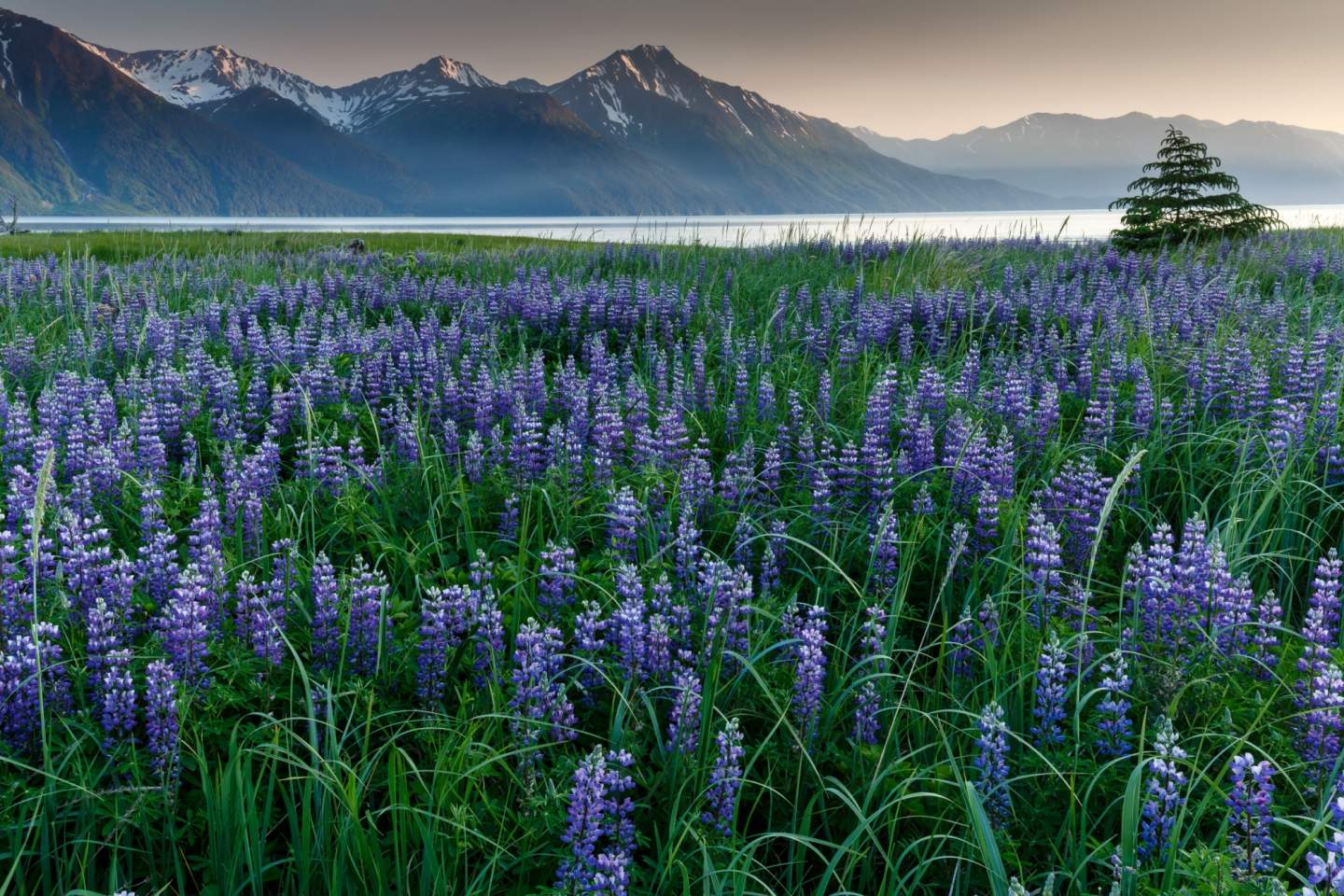 Arriving in Girdwood
We were looking forward to a planned breakfast at the iconic Girdwood Bake Shop. But first we stopped to check out the lupine field we had passed; the vivid blue grouping was standing shoulder-to-shoulder as if guarding an entrance. After a short 100-yard walk, we got close enough to truly enjoy the dense pattern of flowers and the mountain scenery they guided us into.
We lingered long enough to take a few photos and soak in the beauty, then headed to our scrumptious meal at the Bake Shop. Here, we marveled that in just 90 minutes, we had left Anchorage, witnessed a splendid natural phenomenon, observed several adventurers, and relished a picturesque panorama—a great Alaskan morning.