Photo Credit: Jeff Schultz
The Thrill of Seeing the Northern Lights from Fairbanks
"My feet are getting cold. I need to get my phone out and turn my socks up higher," said Maria. It was 22 degrees below zero, and the Northern Lights were twisting, twirling, and blowing up the sky. But they weren't going to last, so we were on the move. Maria quickly pulled out her phone and dialed up her Bluetooth-controlled electric socks.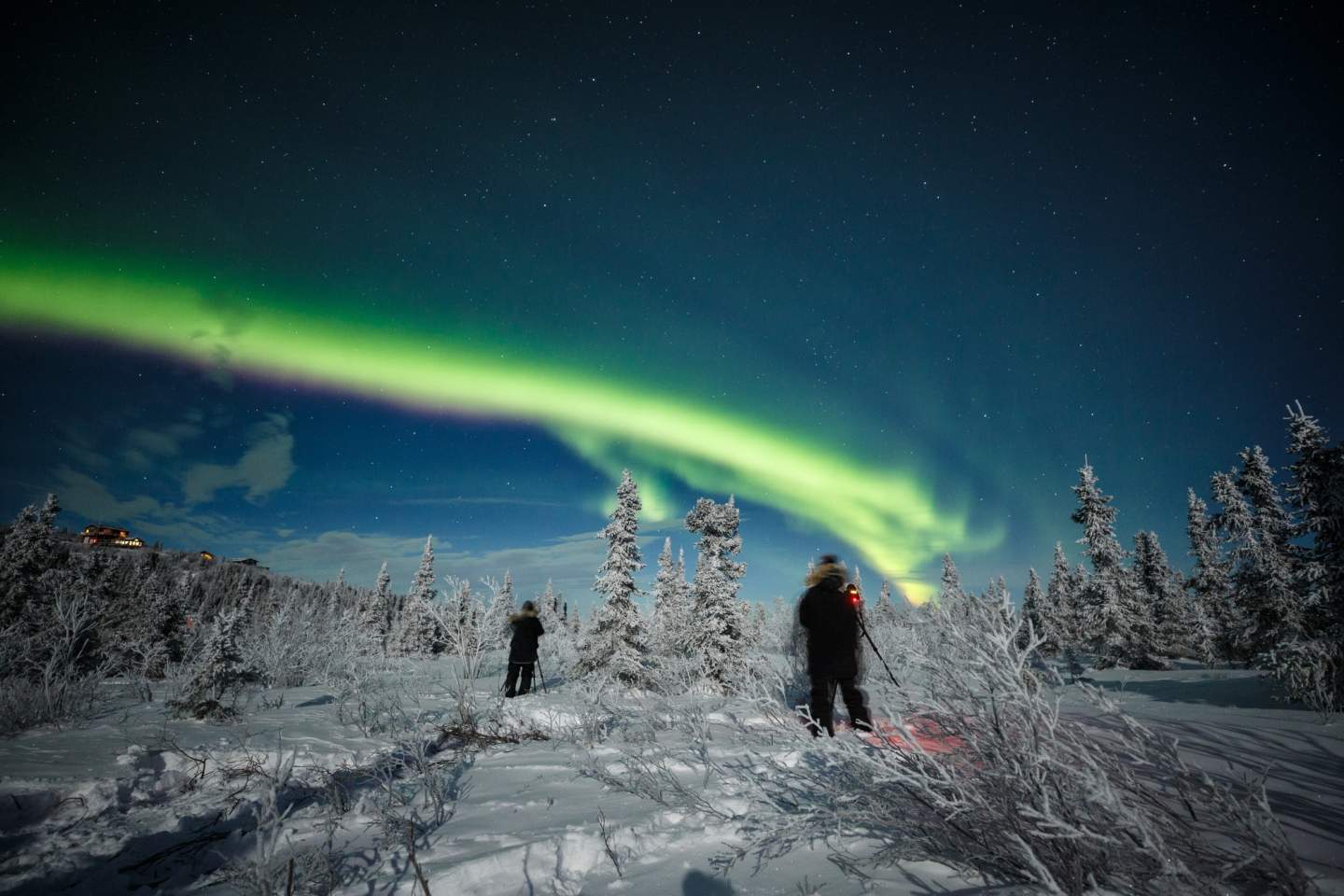 Maria was here from Chicago with her brother Robert as part of a 7-day custom photo tour/workshop I had put together in my capacity as a professional photographer and photo tour guide based in Anchorage. They would see the Aurora and other winter landscapes, as well as go dog mushing. This was our first night, and the exciting spectacle was beyond their expectations.
After Maria's phone informed her footwear to send more juice, our boots were squeaking on the dry, hard-packed snow as we kept our uphill momentum. Our goal was only another 100 yards higher, above the black-spruce forest treeline at Cleary Summit, 35 miles north/northwest of downtown Fairbanks.
The siblings had taken the pre-tour workshop instructions seriously and were now creating some very fine photos of their first-ever northern lights display. And it was spectacular. Overhead, the beams slithered their way, like a snake. For a minute or three they would be slowly undulating, almost right above our heads. That band would fade out and then, further on the horizon, a new one or two light waves would begin a different beat and flash quickly on by.
At one point we seemed to be surrounded by alien beacons, as the lights emanated from each corner of the sky with various types of displays: curtains, pulses, molten movements, and even what appeared to be a few flashes. "Look over there at that curtain," said Maria. "Wow, how about that green color," said Robert. "And did you see that shooting star?!"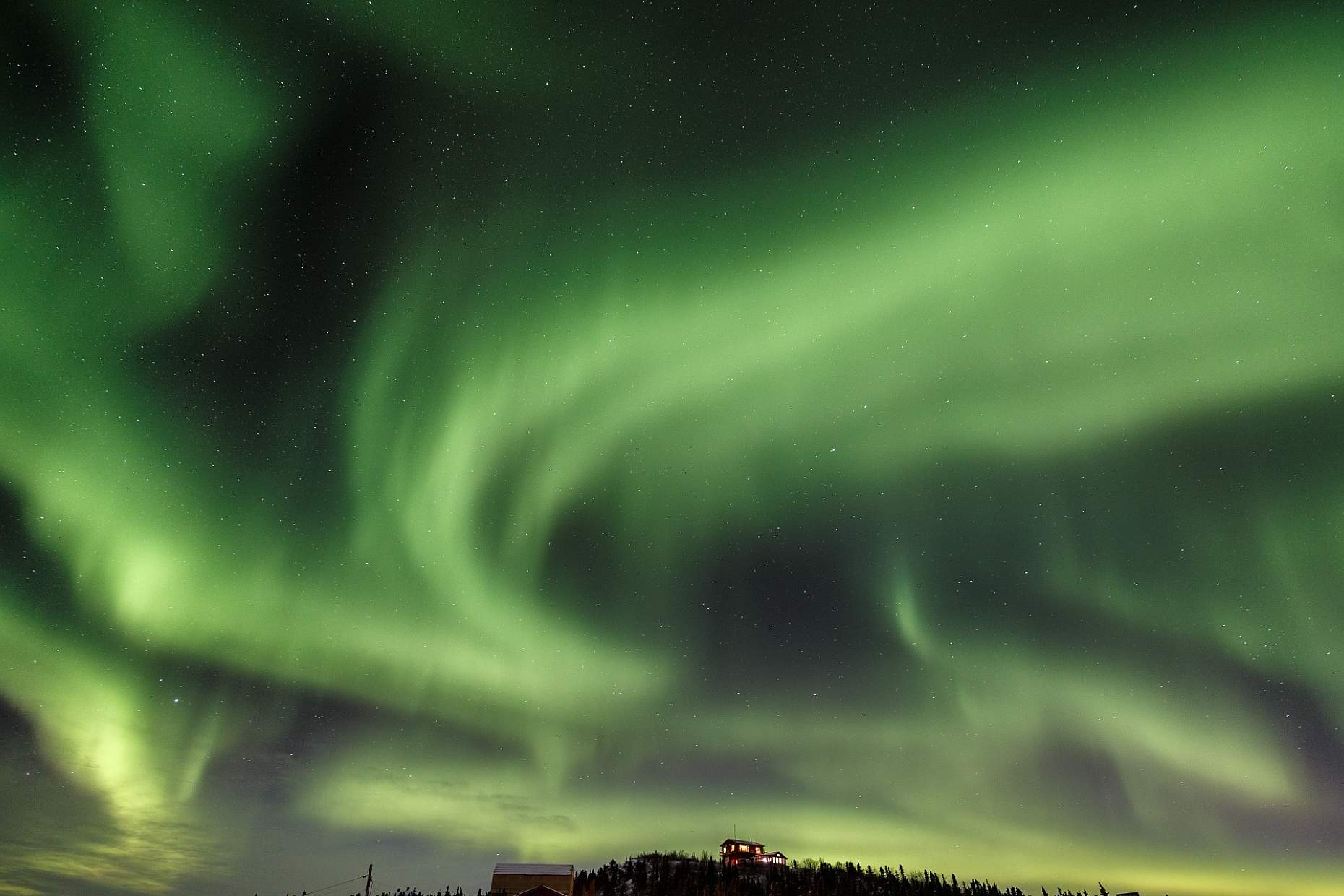 They two wondered where they should point their cameras and wished they had brought a wider-angle lens. For two hours the dance continually performed, the cameras clicked, and the battery socks were evidently working.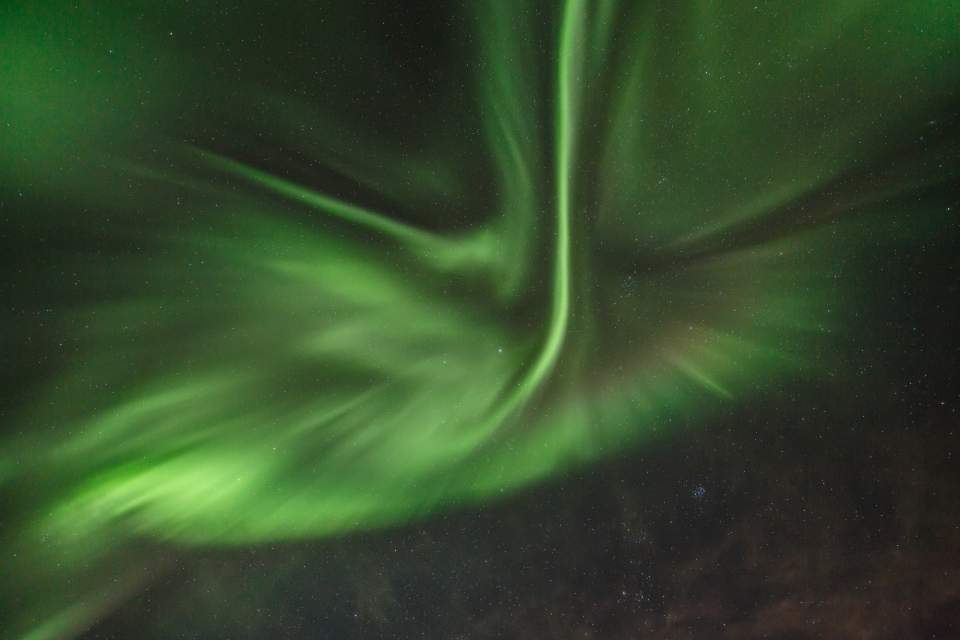 Then, as if on cue, they both stopped recording it and decided it was time to just be in the moment. They lay down, side-by-side, and gazed up. No words. I was quite impressed at these two 20-somethings who took the time to smell the roses, even in sub-zero temperatures.
By 2 a.m., they had had enough. It was a short drive back to our lodge, which specializes in aurora tours, to enjoy a mug of hot chocolate and a warm bed.
We slept late but were awake not long after the sun came up at 11 a.m. It was time for another first for these two travelers: dog mushing. They learned all about Alaska's state sport, went for a ride in a dog sled, and enjoyed cuddling a dozen of man's best friends.
After a short, late-evening nap, we were once again out in the cold enjoying the natural, drive-in theater experience of night-sky wonder. We could not get enough of it.