The Most Instagram-Worthy Spots in Prince William Sound, Alaska
Not all snaps are equal. These hot spots are also opportunities for incredible Alaska experiences you'll remember forever.
Hike Portage Pass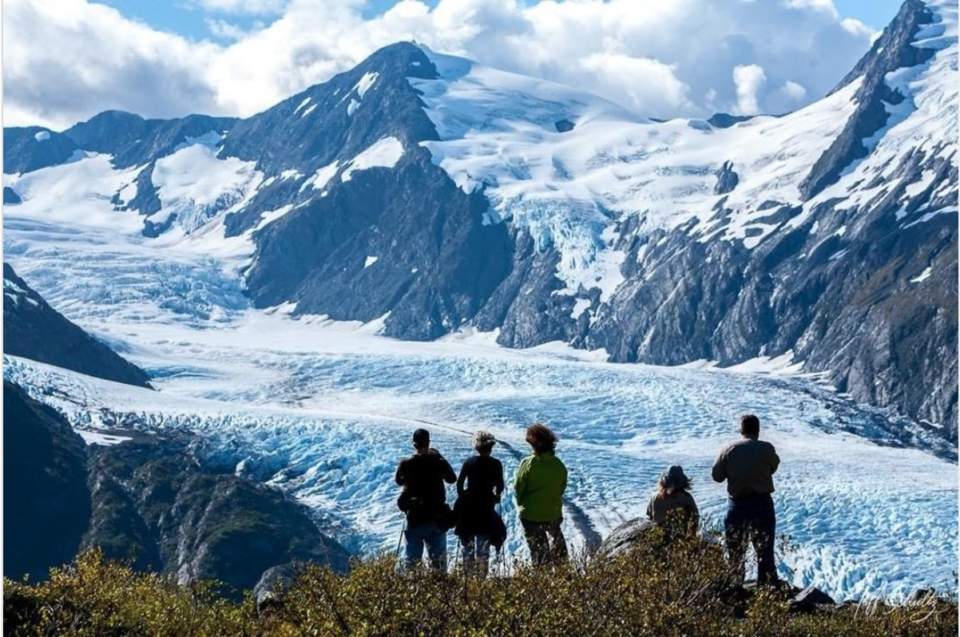 Where: Whittier
Why: This incredible vista is yours after just a short hike on the Portage Pass Trail. From the trailhead, you'll gain about 750 feet of elevation on your way to the top of the pass, before descending on the other side. At the top, you'll be awestruck by the view of Portage Glacier. For some, this view is enough. But the trail descends to the lakeshore, and there you can take in the view of the ice just across the lake. It's a great spot for a picnic and a selfie. The hike is 4 miles round-trip.
When: Shoot for June to September, when the trail has dried out a bit from winter.
How to get there: The trail is a 90-minute drive from Anchorage on the Seward Highway. Drive through the Whittier Tunnel and take your first right on a gravel road just beyond the bathrooms. You'll cross the railroad tracks and the trailhead will be on your right.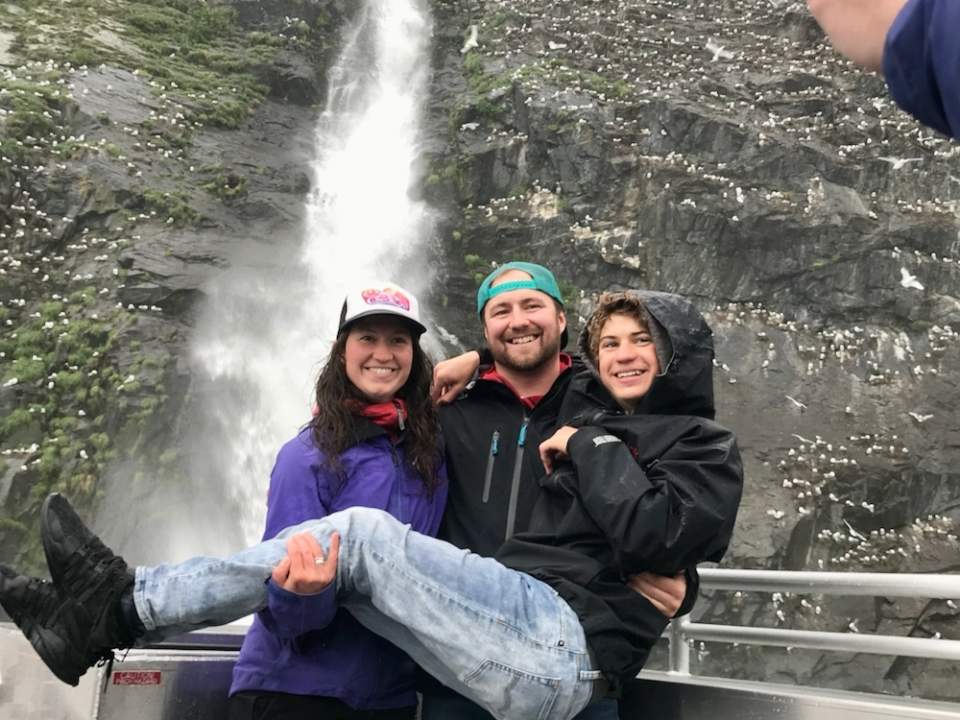 Rookery Falls
Where: Whittier
Why: A waterfall spills from 200 feet up the mountain into the waters of Passage Canal just across from Whittier. If that wasn't impressive enough, it runs right through one of the largest bird rookeries in Prince William Sound. With up to 8,000 screeching, black-legged kittiwakes and roaring whitewater, the area makes for a moment to capture.
When: May to September
How to get there: Book a guided kayak trip in Whittier; experienced paddlers can rent a kayak for the day. It's just 1.5 miles northeast of the harbor and about 2 miles from the beach at the head of the bay. Or visit on a day cruise.
Ice Skate on Sheridan Lake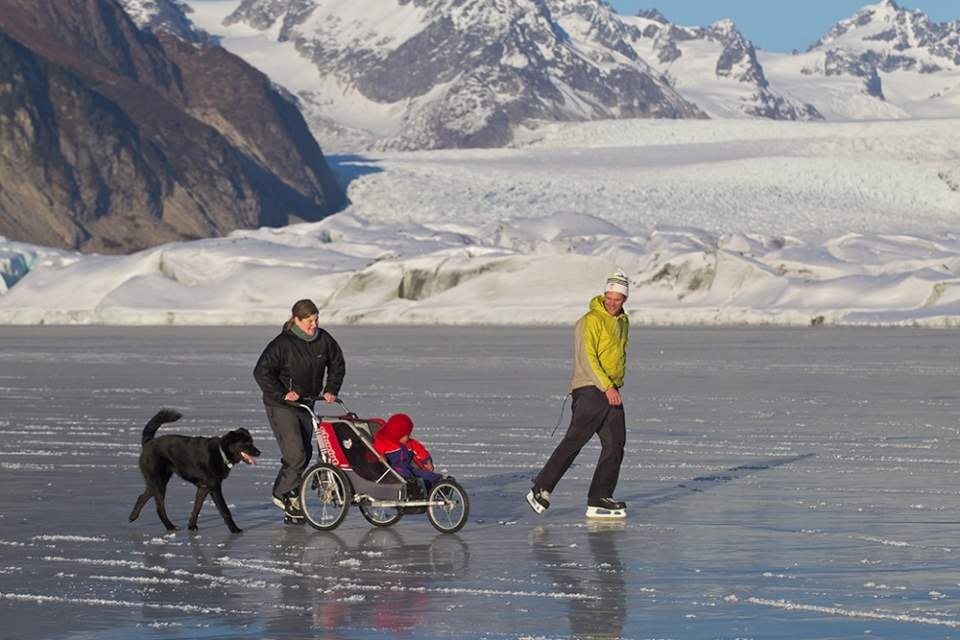 Where: Cordova
Why: Wilderness ice skating—finding frozen ponds to skim across in early winter, before the snow gets too deep—is fast becoming a popular Alaskan pasttime. And Sheridan Lake takes the experience up a notch: After a short one-mile hike, you'll have the unique experience of skating out among bright blue icebergs that have calved off the glacier and are frozen in place. It's completely magical, and you'll feel like you're on another planet.
When: Your best chances are late November through December. There's a short window when it's cold and the ice has frozen, but there's not a lot of (or any) snow on the ice. However, it's possible to catch ice well into February if there's rain followed by freezing temperatures. Just remember that this is wild ice skating. Conditions could be great, or, you may not have a good skating day all winter. If that's the case, don't pass up a visit. It's still worth walking out the trail to view the glacier for an incredible winter photo op!
How to get there: Follow the Copper River Highway to mile 13.7, just beyond the airport. Take a left on Sheridan Mountain Road. At the end, you'll see two trails: The one on the left leads to Sheridan Mountain; the one on the right takes you to the glacier.
Paddle Among the Icebergs at Valdez Glacier Lake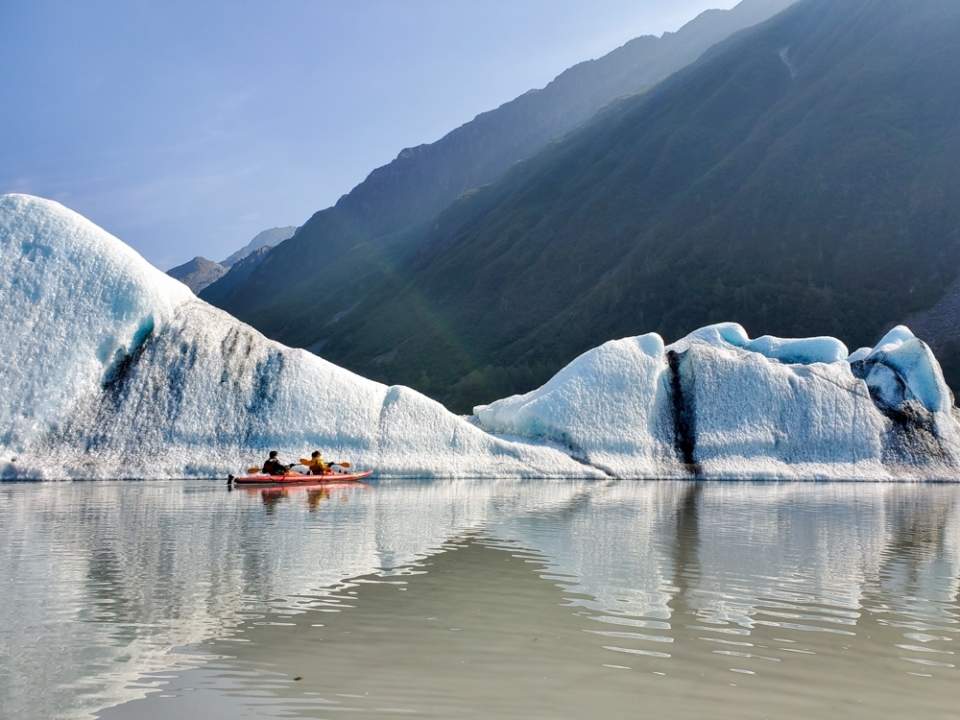 Where: Valdez
Why: You'll be mesmerized—and get incredible photos—as you paddle your way through a maze of icebergs that have calved from Valdez Glacier. Your guide will keep you at a safe distance, but you'll get close enough to be amazed by the sheer mass of these ice chunks. While you can see the icebergs from shore, you'll have to paddle out to get a glimpse of the glacier's face.
When: June through September
How to Get There: Book a guided kayak trip. If you just want to appreciate the bergs from shore, turn off the Richardson Highway and onto the Valdez Airport Road; follow that all the way to the end, where open sandpits border the lake. Be aware that about ¾-mile before you reach the lake, the road turns to gravel.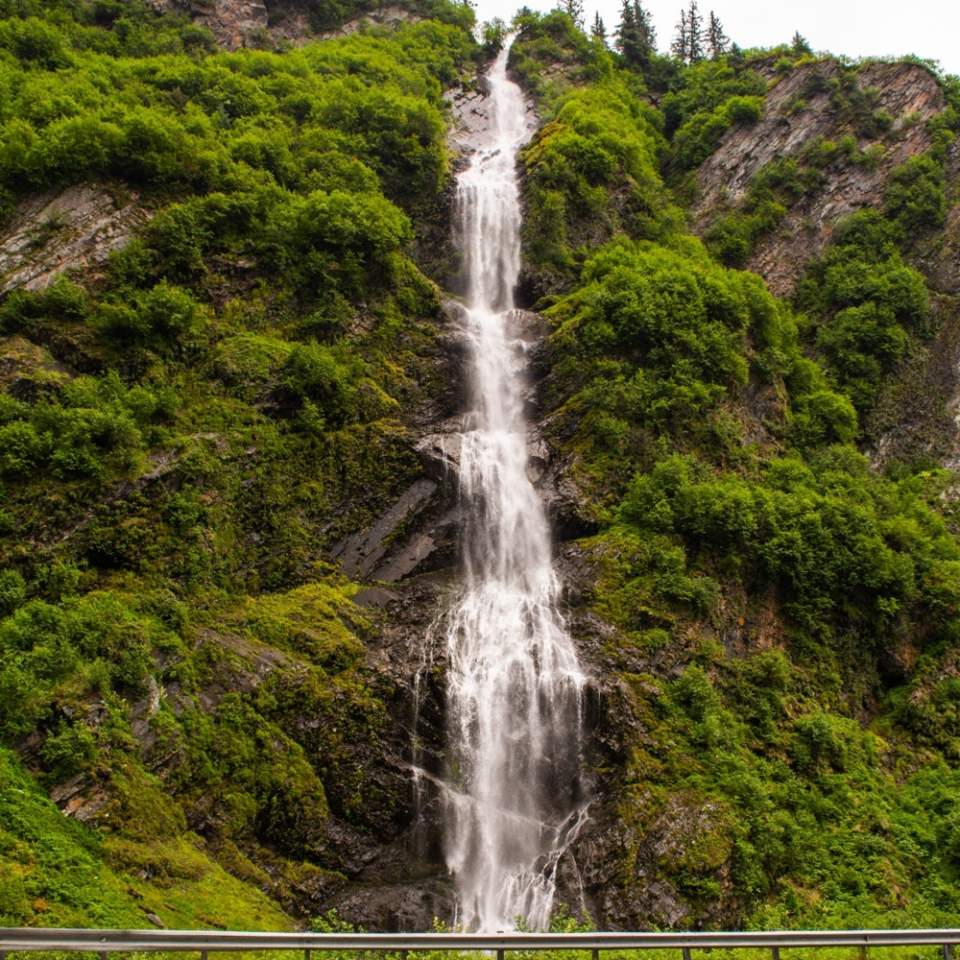 Rushing Cascades & Frozen Pillars of Bridal Veil Falls
Where: Valdez
Why: Who doesn't love a good waterfall? And Bridal Veil Falls, just north of Valdez on the Richardson Highway, doesn't disappoint, cascading dramatically down 300-foot cliffs in Keystone Canyon. It flows heaviest when the winter snow melts, in late May and June. Just the sound itself is powerful; as the whoosh of falling water fills your ears, you might feel like you're down inside a deep gorge. And In winter, the falls freeze into immense curtains that draw ice climbers from all over the world.
When: Year-round! You'll be amazed by the summer show and the winter column of ice.
How to Get There: Park directly across from the falls in a west-side pullout at Mile 13.9 of the Richardson Highway.
Copper River Delta Shorebird Festival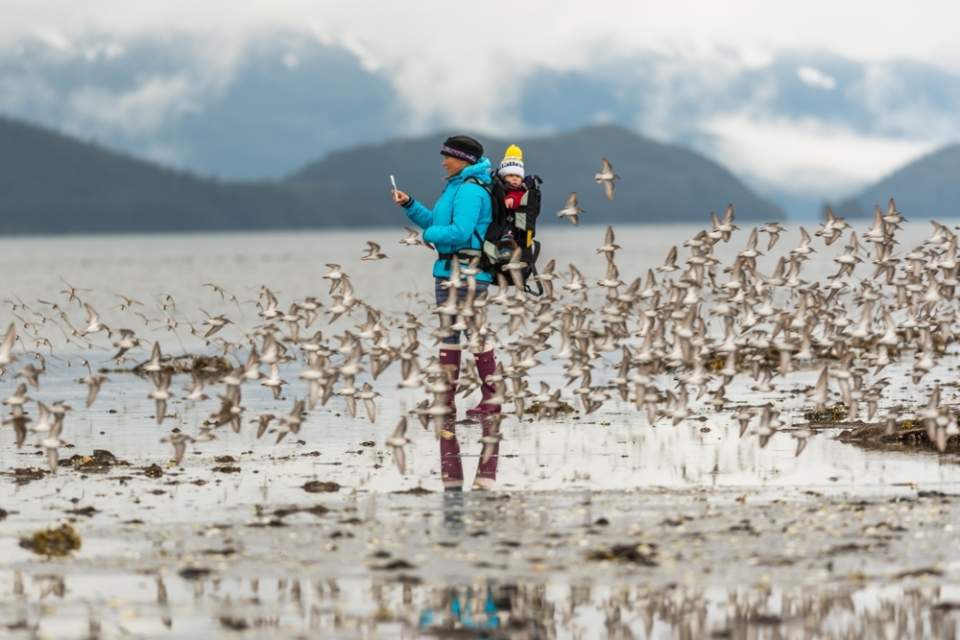 Where: Cordova

Why: This annual festival in early May celebrates the arrival of more than 5 million migratory birds to the Copper River Delta, east of Cordova. Bird lovers are treated to views of spectacular flocks numbering hundreds of thousands. It's one of Alaska's top birding events, but even if you're not a birder, you'll appreciate this amazing natural phenomenon.
When: The festival is held each year around the first week of May. See website for exact dates.
How to Get there: It's about a 1-hour flight by jet from Anchorage to Cordova. Or check the Alaska Marine Highway schedule for sailings.
Witness Thousands of Salmon Return to Solomon Gulch Hatchery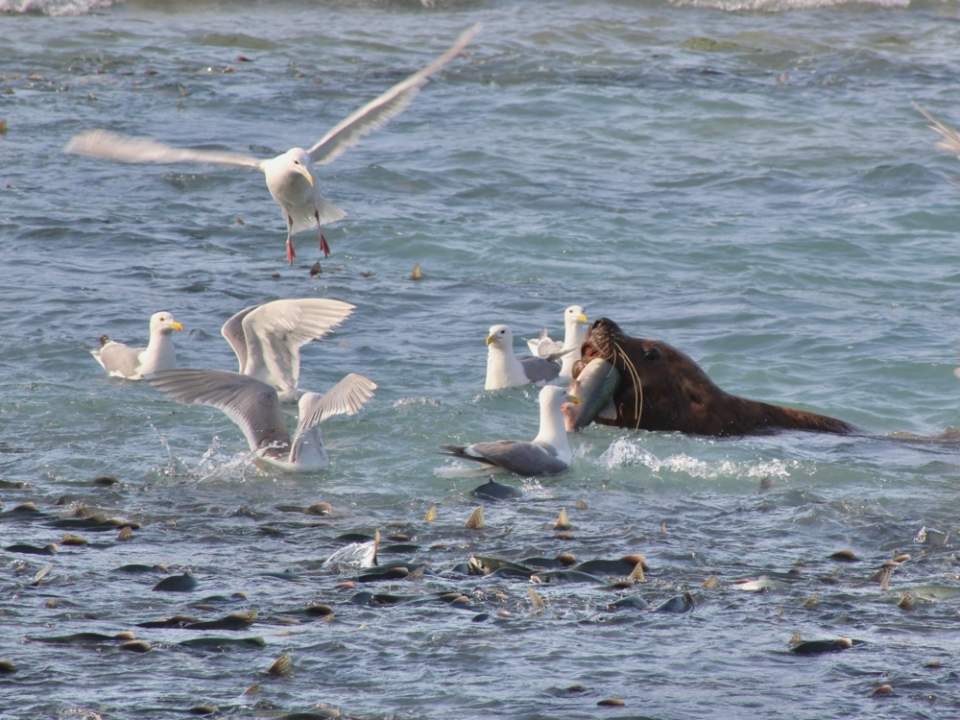 Where: Valdez
Why: This is one of the best wildlife-viewing opportunities in Valdez. The hatchery releases millions of salmon each year, and up to 16 million pink salmon and 100,000 coho salmon return every summer. When the run starts in mid-June, the creek next to the hatchery becomes thick with salmon eagerly fighting their way upstream. Along with them come hungry sea lions and bears looking for an easy snack. There are elevated platforms near the hatchery, and a trail that leads you down to the shore.
When: Peak is mid-June to mid-July, but you can see returning salmon through August.
How to Get There: The hatchery is just a 15-minute drive down Dayville Road from downtown Valdez. There's a big parking area just beyond the hatchery, with ample parking for RVs as well.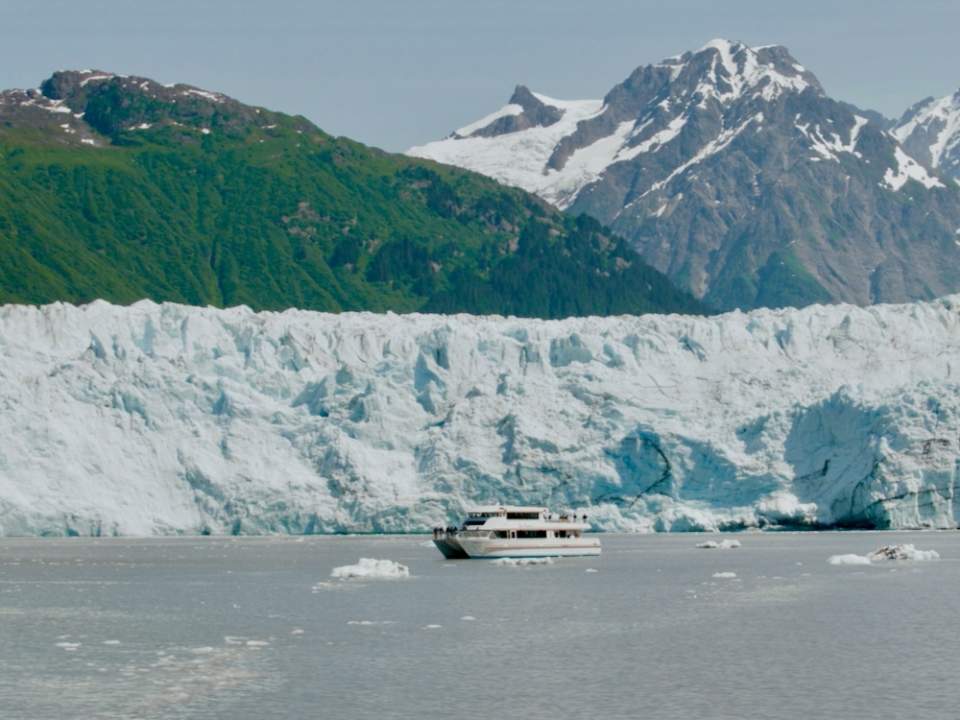 Marvel at Meares Glacier
Where: Prince William Sound
Why: This is one of the few glaciers that's actually advancing. Unlike nearby Columbia Glacier that's in a catastrophic retreat and whose fjord is often choked with ice, this glacier is advancing, so boats can often get quite close, sometimes within a ¼-mile of the face. You'll be treated to icebergs and the occasional calving event if you're lucky!
When: May to September
How to Get There: Take a day cruise from Valdez or a water taxi from Whittier.