Photo Credit: Jeff Schultz
Kayaking Among the Icebergs in Kenai Fjords National Park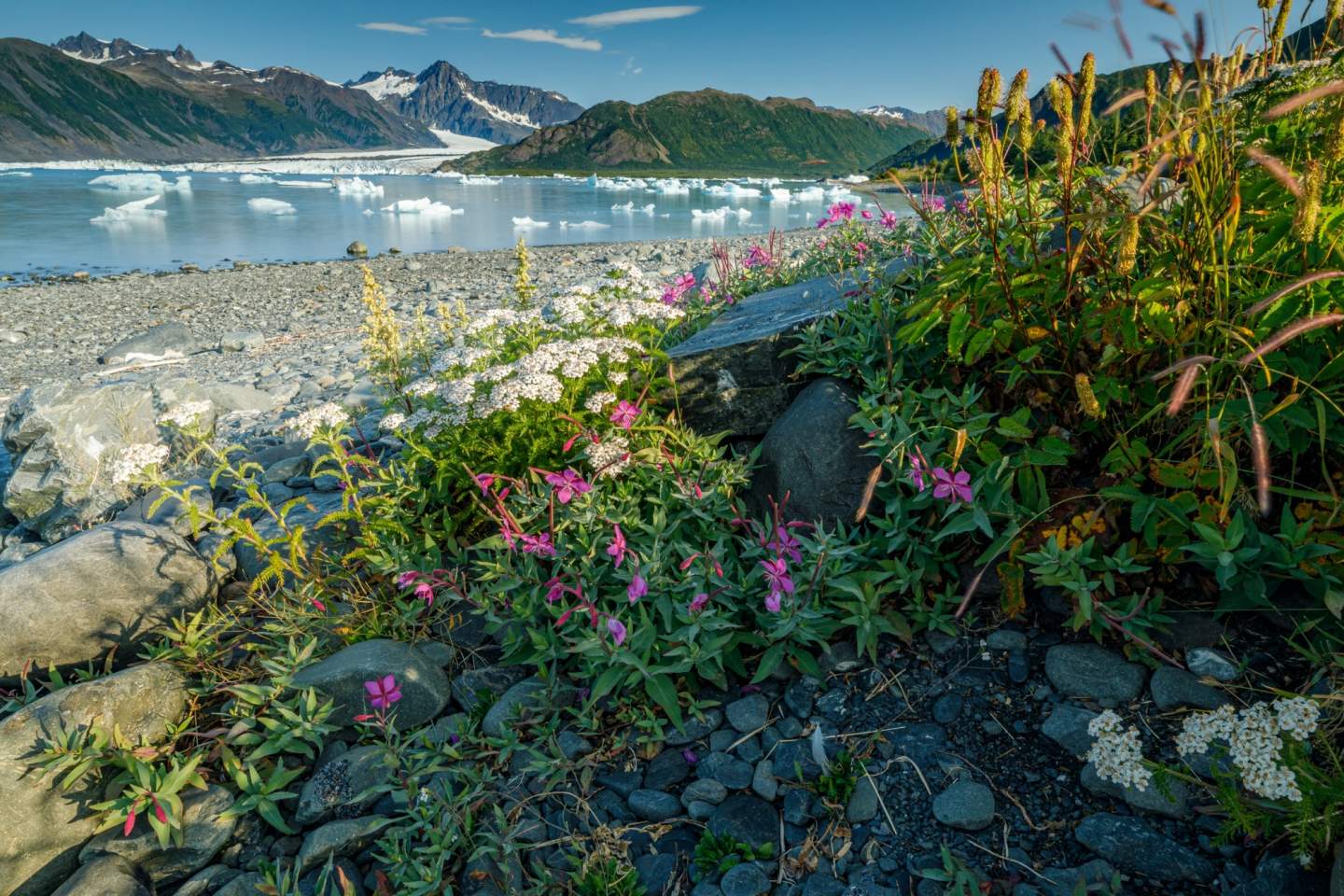 My pilot and I lifted off in a helicopter from the southcentral Alaskan town of Seward, the near-vertical Kenai Mountains rising abruptly from Resurrection Bay, crammed with spruce trees that seemed to defy gravity.
My destination was Bear Glacier Lagoon, in stunning Kenai Fjords National Park, where I was headed for some solo kayaking. It was a retreat from my everyday life in Anchorage and, as a professional photographer, a chance to take some great shots.
During the quick, 15-minute flight, icebergs filled my line of vision, first drifting about in a lake. But then my jaw dropped, as I saw a plethora of them floating in the lagoon, a veritable playground of fun for my kayaking adventure.
My ride left me on the beach; it was too windy and wild for kayaking, so I waited it out in my tent. By the late, late evening, with the "midnight-sun" casting plenty of light, the breeze calmed down just as quickly as it came up. The cloud cover dissipated substantially, and a bit of sun on the fresh fireweed made for some lovely photos.
Paddling the Lagoon
I woke at sunrise—4:30 a.m.—on a July morning. The air was crisp, the water dead calm, and the sky a cobalt blue with zero clouds. It was chilly in the shade as I walked over the baseball-and volleyball-sized rocks along the shoreline of a smaller cove.
The day seemed too good to be true. I launched the boat and organized the camera gear safely in my lap, knowing that tipping over would require a phone conversation with my insurance company.
In this smaller protected area of the lagoon, the water was smooth and calm, creating a mirror-like reflection of the hundreds of icebergs, which ranged from loaf-size to house-size. Each of the bergs begged for investigation of their intricate patterns. I paddled as slowly as I could to dampen any ripples in the water and made a few images. There were so many photo opportunities that I couldn't decide which ones to capture, so I shot all I could.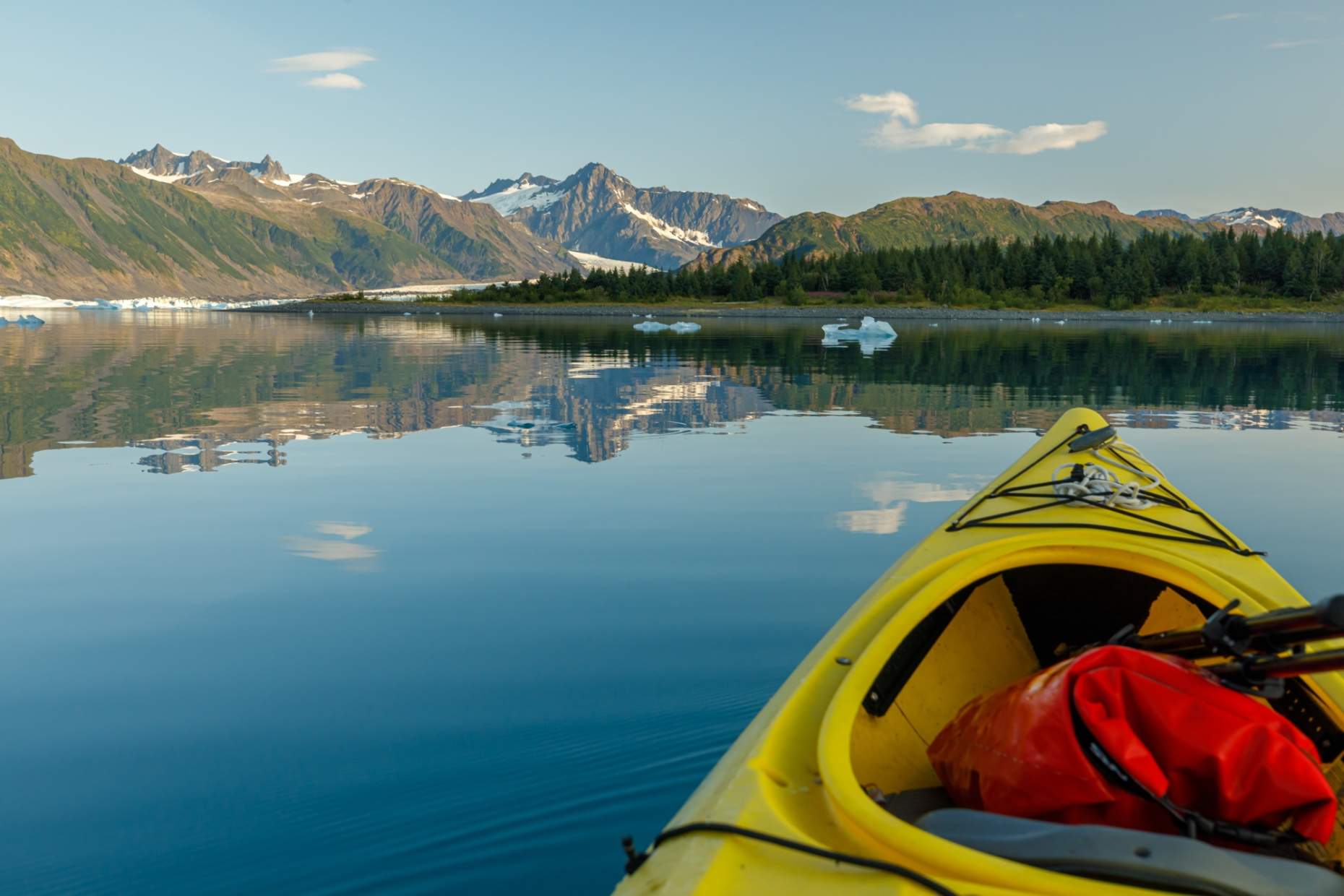 Ahead of me, basking in the first rays of sunlight, I saw the namesake of this lagoon: Bear Glacier sat on its throne, overlooking me and countless icebergs. The water in front of the glacier several miles ahead had already become a little choppy, as the sun began to warm the air, creating just a bit of wind. In my cozy eddy, however, I was well protected.
The rising sun had peaked over a tall mountaintop and now lit up a small island a few hundred yards in front of me. The trees and rocks came alive in the low light. After a number of quick strokes, I landed the kayak and went ashore to explore and warm up. Gulls flew around in a noise pattern, alerting me to their nests. I dared not venture far from my boat and the water, but took my time making photos of icebergs just off shore, with the 17-mile-long glacier as a background.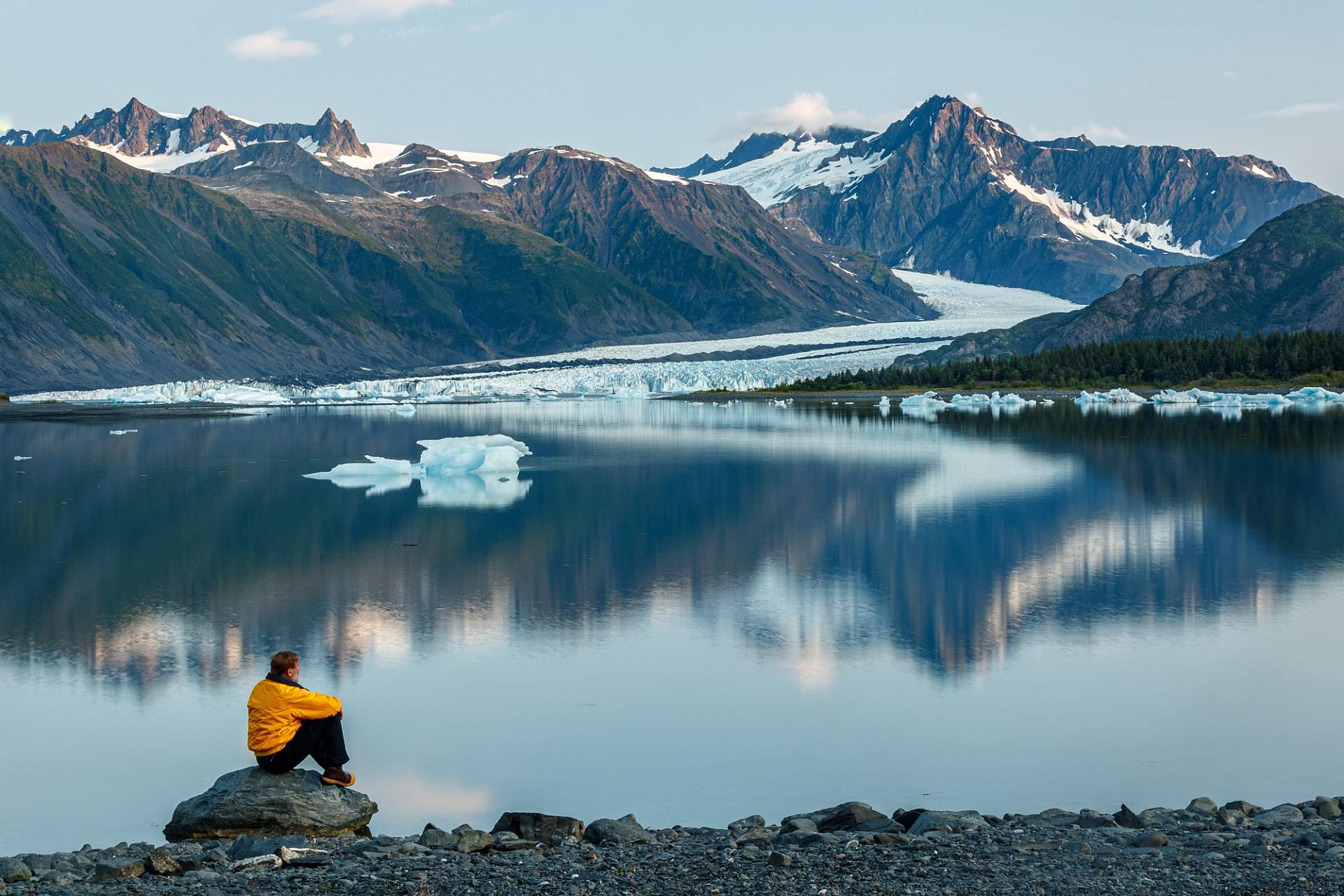 As I paddled back to my input point, the sun was now fully risen and took over the once-shadowed area. As I paddled by the bergs, a few of them crackled in the sunlight. The crystal-clear water made it easy to see the large mass of ice submerged under each iceberg. Every so often, a berg would do a gentle and slow rollover, reminding me to steer clear.
Back on shore, with the kayak laid up and put away, I waited in the warmth of the summer sun for my quick helicopter ride back to civilization.