Photo Credit: Carl Johnson
Chasing the Northern Lights in Remote Alaska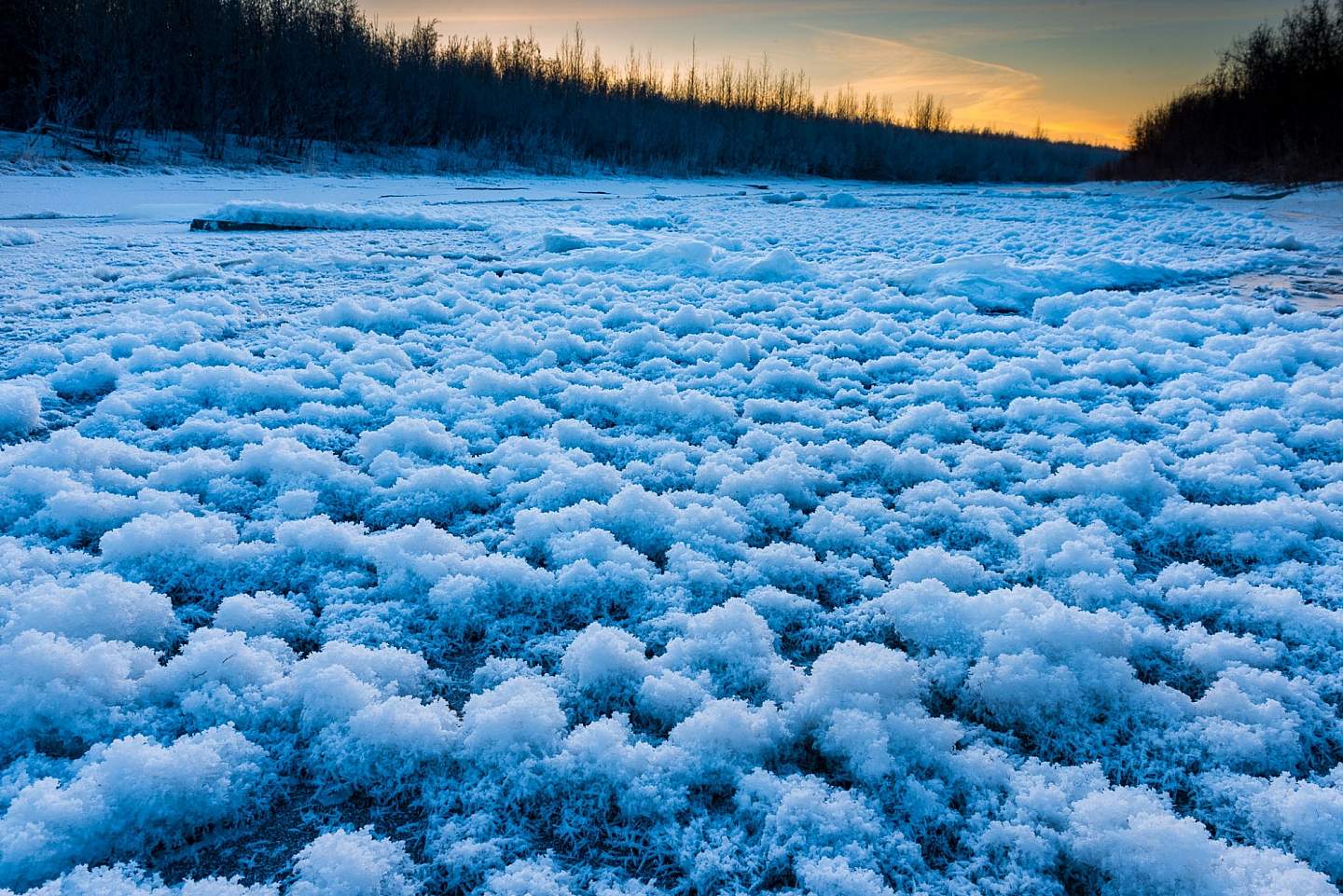 It was only late October, but there was already a winter chill in air in Fort Yukon, Alaska. The yellow grasses, and even the ground, were coated with hoar frost. I could see how this place once held the record low temperature for the United States at-78 degrees Fahrenheit (a record broken in 1971 with a-80 reading at Prospect Creek). While it was cold, the sky was clear, which is what I needed: I was here to photograph the northern lights.
A Hub on the Yukon River
I got to Fort Yukon on a one-hour commercial flight from Anchorage to Fairbanks, then caught a small plane for the 145-mile hop northeast. Located within the Yukon Flats National Wildlife Refuge, Fort Yukon sits at the confluence of the Yukon and Porcupine rivers, a mere seven miles north of the Arctic Circle. It began, in 1846, as an outpost for the Canadian Hudson Bay Company in the heart of Russian territory; today, it's home to 543 residents (mostly Gwitch'in Athabascan people) as well as a communication and radar system maintained by the U.S. Air Force.
Exploring Native villages is one of the true treats of being an outdoor and nature photographer in Alaska. Whenever I'm heading out into the wilderness on a photo adventure, traveling to a village is usually a necessity. I always enjoy seeing how people live, learning their stories, and seeing the ingenuity necessary to survive in such remote locations.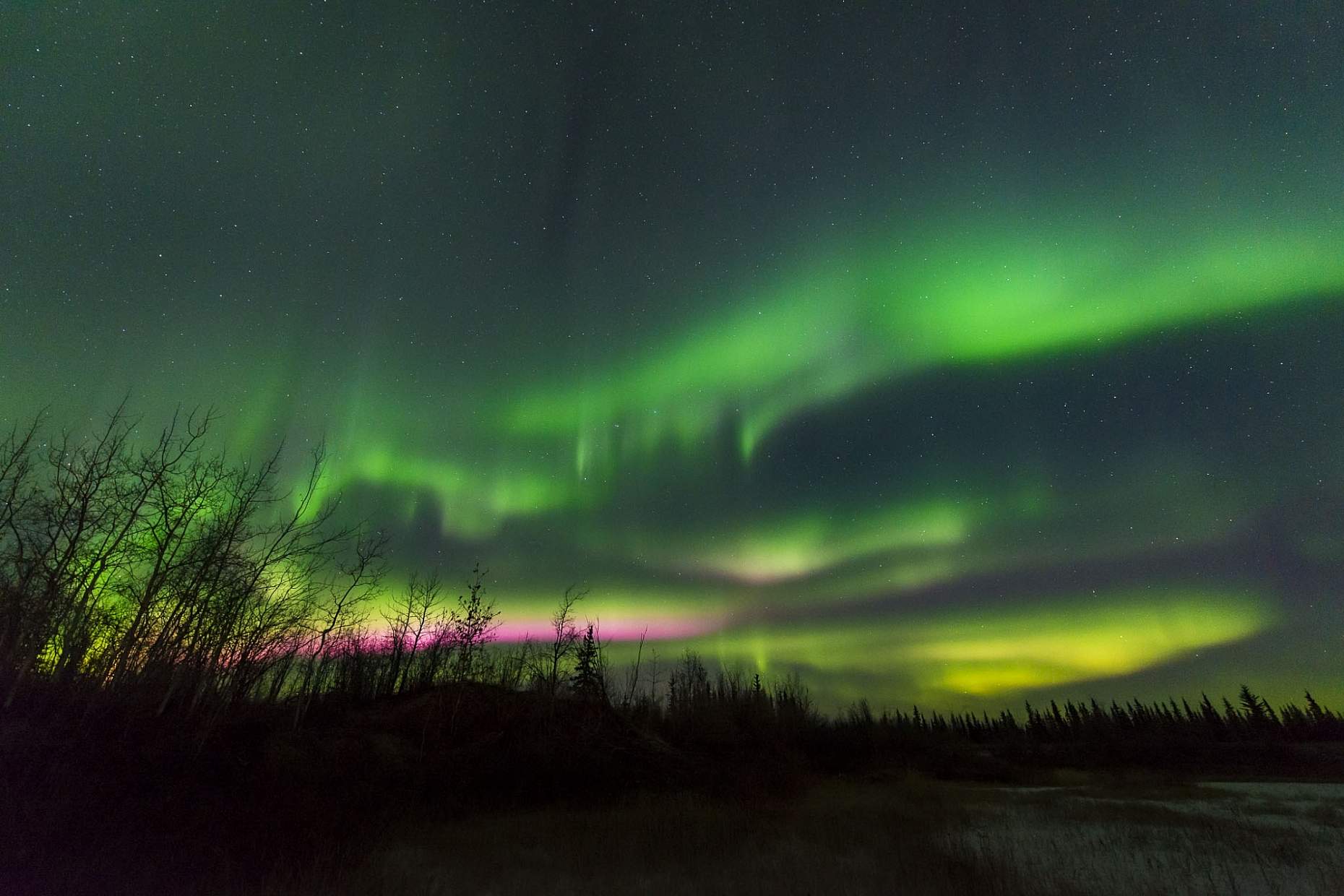 I was surprised to learn that even out here, there's a public transportation system. If you're walking the dirt roads of the village and see a short yellow school bus, just flag it down. For $1, you can catch a ride anywhere in the village and get a historical narrative from the driver.
Dogs and Lights
While my primary mission was to photograph the northern lights, there was still plenty of daylight in late October to look for photo subjects during the day. And, along the way, I got a chance to meet and talk to locals.
River freeze-up was well underway, with the last of the fish wheels (large, wooden contraptions designed to capture salmon in high volumes) being pulled from the river only days before. Small side channels of the Yukon River were covered with thick ice. While walking around, I was impressed by the log construction of the homes. I stopped at a property that had a yard full of about 20 sled dogs, and the owner came out to greet me. We chatted for a while, and he invited me into his three-story home for tea and a snack.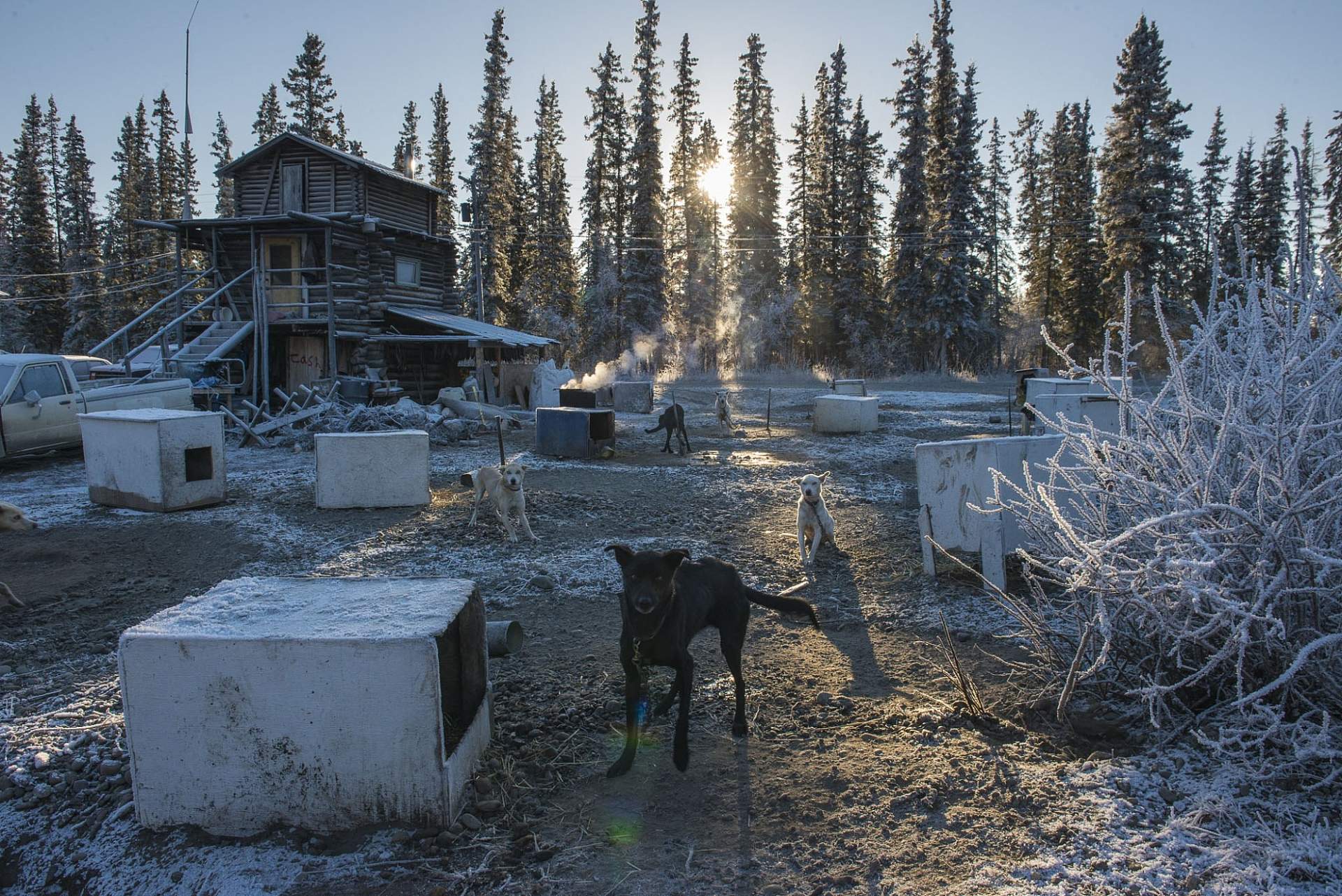 We talked for a bit about his dogs, which are a large part of his daily life. He uses them to haul firewood in the winter, go hunting or fishing, or head out to check trap lines. These are all what are referred to as "customary and traditional" subsistence activities—living off the land. He feeds his dogs chum salmon everyday; with 20 dogs, he needs to catch thousands of salmon to feed his team year-round. After the fall chum salmon run, when temperatures start to drop, he hangs the fish whole in storage areas on his property, and it was impressive to see just how much salmon there was. Fortunately, chum salmon are abundant on the Yukon River, with an estimated average 2.6 million fish returning each year between summer and fall runs.
After exploring the village during the daytime, I spent two solids nights chasing the aurora borealis. The first night, the lights came out well after dark and continued until dawn. The next evening, the storm that was feeding the aurora was still active, bringing out the northern lights while the sky was still bright with twilight. The sky was often filled with dancing green waves, accented by purples that were particularly vibrant in the early morning.