Photo Credit: Carl Johnson
An Alaskan Goes Exploring In Skagway, Alaska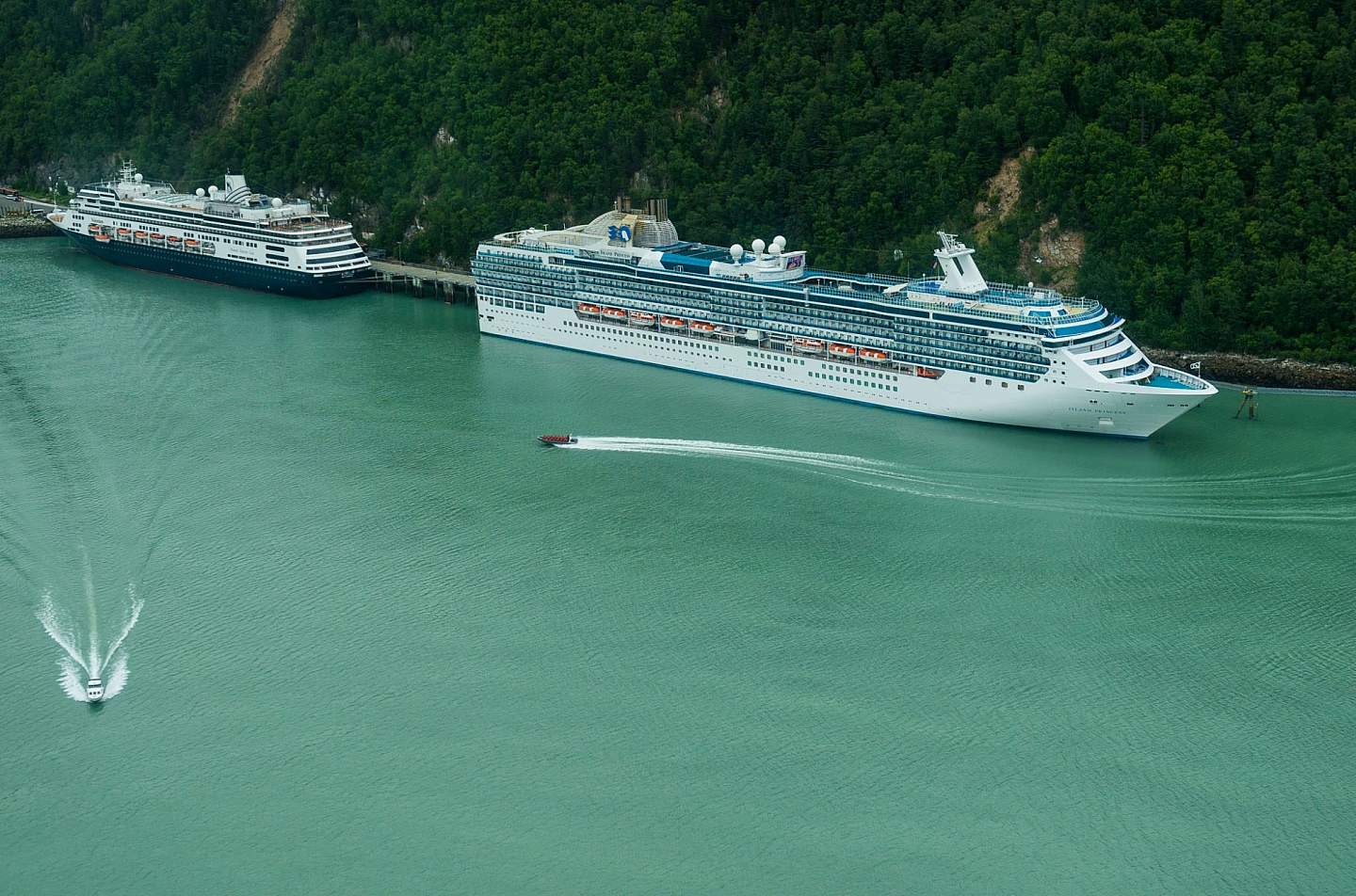 Sometimes you just have to be a tourist in your home state. I had been living in Alaska for 17 years and had seen nothing of Southeast Alaska besides Juneau. Most of my efforts as an outdoor and nature photographer based in Anchorage had taken me north in the state.
When I finally made it to Skagway, 515 air miles southeast of Anchorage, it was in the way that a vast majority of visitors get there—on a cruise ship. It was my first summer working as a guest lecturer for Princess Cruises, and Skagway is the next stop north of Juneau on the northbound voyages that cross the Gulf of Alaska and end in Whittier. Over the next four years, I would get to see a lot of what Skagway has to offer.
Access to History
Skagway offers something that few communities in Southeast Alaska do—access via a roadsystem. You can drive into Skagway through British Columbia on the Klondike Highway. But Skagway is known for another route that people followed into Canada—the Chilkoot Trail, used during the gold rush that started in 1898.
When walking around downtown Skagway, you're surrounded by history. Most of the downtown area is part of the Klondike Gold Rush Historical Park, and historic buildings maintained by the National Park Service line the main drag, Broadway Avenue. The White Pass & Yukon Route Railway, constructed in 1898 to support the gold rush, runs right through downtown, with a depot located a short walk from the small boat harbor.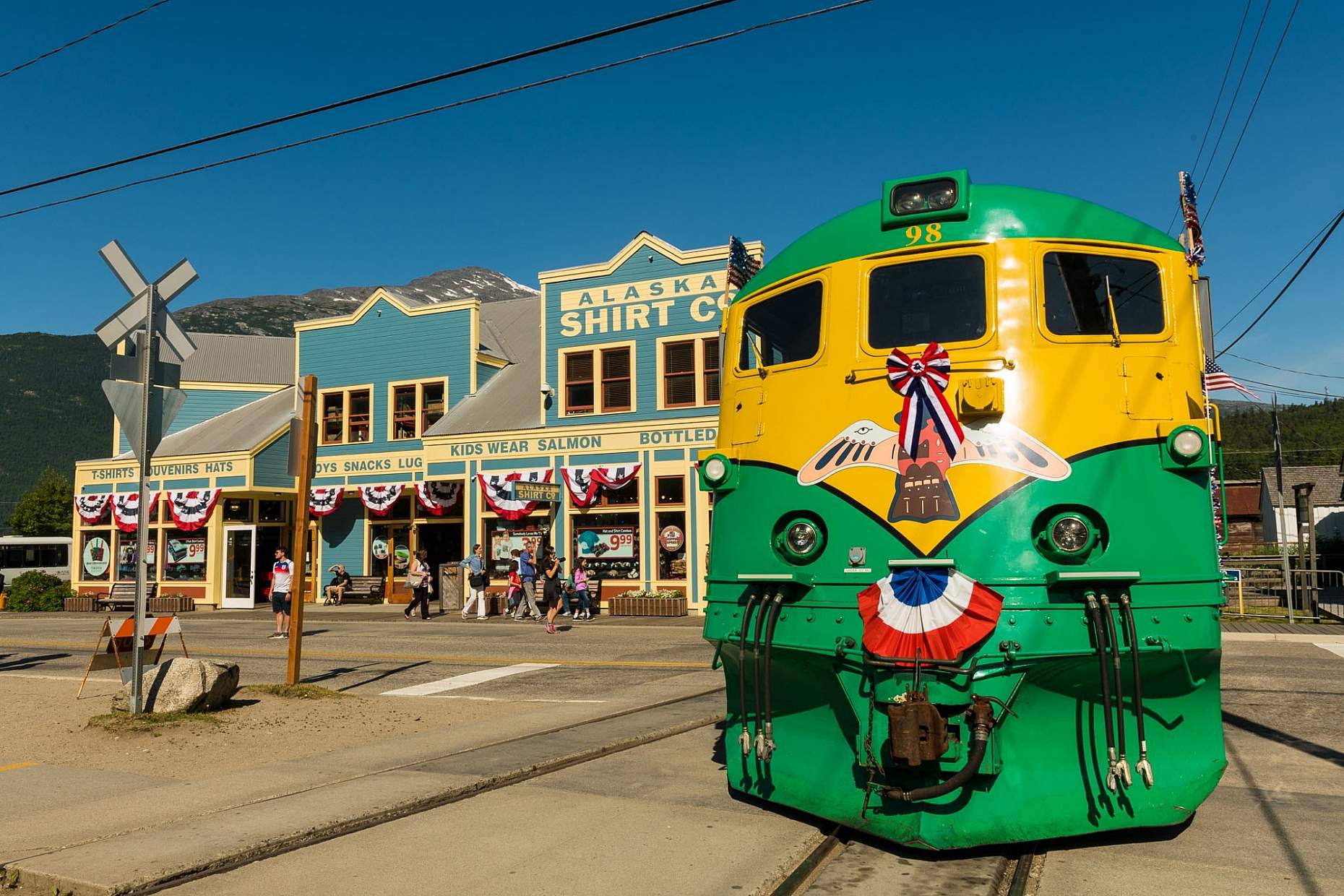 The community of Skagway also enjoys celebrating history. I've been lucky to be in town for both Flag Day and Independence Day, and each time Skagway put on a great show. For Flag Day, the local American Legion parade had a display of historical American flags, including those significant to the American Revolution. For Independence Day, the entire town joins forces for a colorful, creative parade that runs the full length of Broadway. The display rivals anything I've seen anywhere else
From Shopping to Adventure
Fewer than 1,200 people are residents of Skagway. But when cruise ships come to town—as many as four at a time—that number explodes to more than 10,000. To accommodate them all, Skagway offers lots to do. Quite a few of the stores have direct ties to the cruise ships, but many are locally owned and sell locally made products—from Alaska Native crafts to fine art photography prints and rocks and minerals (at the Back Alley Rock Shop).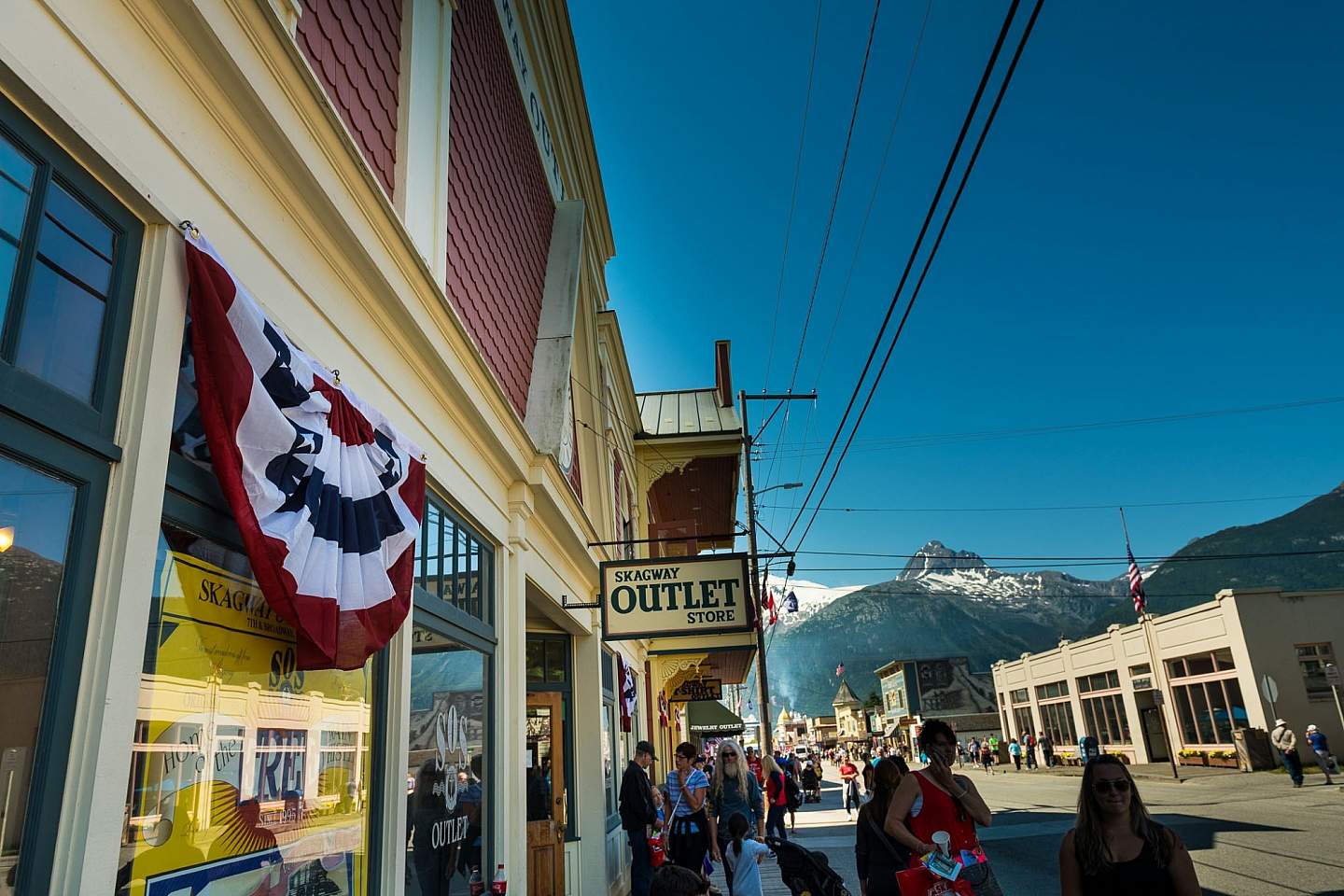 You'll also find some great food options. Skagway is the only place I've been in Alaska where you can buy fresh-made fry bread. The Skagway Brewing Company offers delicious pub food (including Beyond Meat burgers) to go with its select brews like the Spruce Tip Blonde Ale. Sandwiches, smoothies, barbecue, and seafood: It's all available right on Broadway.
Because of its coastal location, nestled up against the Sawtooth Range, and access to British Columbia via the Klondike Highway, you can also take advantage of many adventures during a visit to Skagway. Tours provide wildlife viewing, hiking, zip lining, and rafting. Day trips following part of the gold rush route via the highway or the railroad are also a great way to see the expansive scenery in this rugged coastal area.
Even as a longtime Alaskan, I took advantage of a fantastic tour during my first visit. A van took us up the highway to the Yukon border, giving us a glimpse of the territory that was part of the gold rush trail. We stopped at a waterfall, saw a couple of black bears (including one cinnamon-colored black bear), and had a carefree opportunity to enjoy the scenic beauty. Now, whenever I return, Skagway brings an enjoyable comfort and familiarity.