Why This Trip?
The Kenai Peninsula doesn't get much attention as a winter destination in Alaska, but it absolutely should. While the chances of seeing the northern lights may not be as high as around Fairbanks and other places further north, you'll find lots of other winter activities to enjoy. Soldotna is one community you don't want to overlook in the winter months!
If you're an Alaskan, take a long weekend in Soldotna (bring skis, ice skates, and fat bikes if you've got 'em!). If you're visiting, include this great town as part of your winter itinerary for a first-hand experience of how the locals not only survive but also thrive in Alaska's cold dark winters.

For a really fun getaway, time your winter visit with the Frozen RiverFest, a winter outdoor beer festival held in Soldotna Creek Park each February. But come anytime in winter (November - March). Here are our suggestions on what to do when you get here!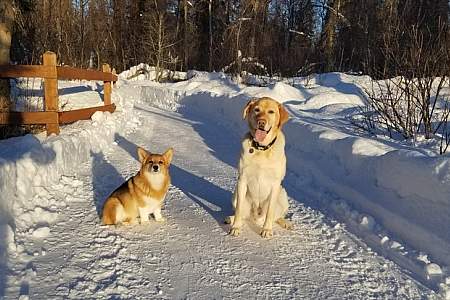 Drive from Anchorage to Soldotna; it takes 2.5 to 3 hours without stops. The start of the drive is along the incredibly scenic Turnagain Arm, where you might see frozen waterfalls and big chunks of ice left behind from the retreating tide. After Turnagain Pass, you'll drive by the Tern Lake area, which is a good spot to stretch your legs. You'll pass through Cooper Landing and as you make your way to Soldotna, you'll get glimpses of the Kenai River's beautiful turquoise, which contrasts with the surrounding snow and frosted trees.
Your first stop should be the Soldotna Visitor Information Center, where you'll find more information and suggestions on what to do. From there, you can walk out across the bridge of the Sterling Highway (there's a walking path that parallels it) to get a view of the Kenai River from above; it's a great spot for a photo. Then walk back to the center; just behind the building is a terrific trail that leads to a boardwalk along the Kenai River. If you've got the time (and if temperatures aren't too chilly) walk the entire 3-mile Centennial Campground Loop. The trail passes the Homestead Museum, where you can see original Soldotna homestead buildings and learn about the area's history. The museum buildings are closed in winter, but you can read the plaques outside each building.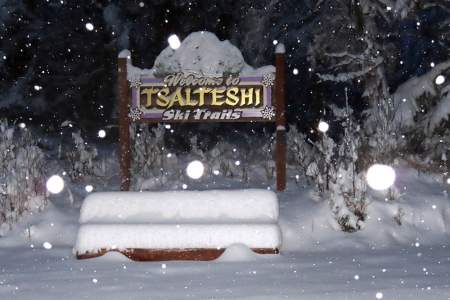 Experience the Tstalteshi Trails, a world class cross-country ski area with more than 25 kilometers of groomed trails (rent skis in town). Some are also open to fat bikers.
If you prefer a walk, head to the Kenai National Wildlife Refuge Visitor Center to discover wonderful trails for walking, skiing, or snowshoeing. Look at their events in advance; you may even be able to join a guided winter hike or snowshoe.
If you're in Soldotna on a Saturday, look for the free public skate at A.R.C. Lake. The Parks & Rec department supplies ice skates and sets up warming barrels to help keep the cold at bay. If there's no public skate, you'll need to bring your own skates, but the area is open for skating throughout the winter...and it's lit after 4 p.m.
If at any point you want a cozy place to warm up, head to the Soldotna Library. The fireplace is lit in winter, and it's the perfect place to curl up with a book or magazine. Traveling with kids? Enjoy storytime here 3 times a week. Sometimes the library also hosts astronomy programs; check their website for the schedule.
You may be able to catch a game featuring the local hockey team, the Kodiak Brown Bears, or a show put on by the Kenai Peninsula Performers.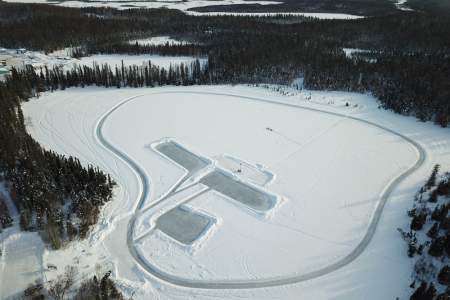 If time allows, spend the morning getting in one more outdoor activity before you head back to Anchorage, or continue on to your next destination.