Photo Credit: Bob Kaufman
The Best Mountain Hikes in Alaska
Alaska's biggest mountains can make amazing photographs—all those calendar-worthy frosty behemoths that shimmer on the horizon. Who doesn't marvel at the immensity of Denali? Flanked by Foraker and Hunter, it's visible from just about every place on the road system from Anchorage on Cook Inlet to Fairbanks north of the Alaska Range. It demands your attention. And it's great!
But what if admiring Denali from an impossible distance —or one of Alaska's many other awesome peaks—just doesn't satisfy your mountain hunger? What if you actually need to climb one of them, but don't have the time or resources to book an expedition?
Here is our list of Alaska mountains that are both spectacular to view while also offering reasonably fit people a route to the summit. These include mountains that can be explored during a day trip without professional guides or specialized mountaineering equipment. All of them also feature good-weather, summer-season road access. As a result, many of these peaks are beloved among residents because they feature doable, no-fuss summits close to home. Climbing them is a great way to meet local mountain enthusiasts out for adventure.
Mountain Trails
Kenai Peninsula
Difficulty: Moderate Distance: 2 miles Elevation Gain: 3600 feet
This fam­i­ly-friend­ly, 2.5‑mile trail climbs 3,600 feet to a sum­mit halfway between the sea and the heavens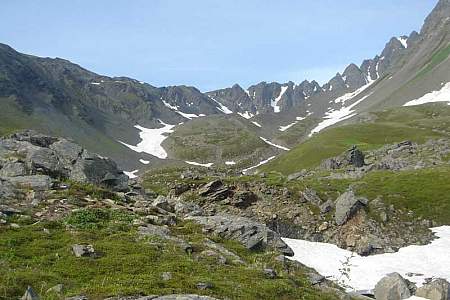 Difficulty: Moderate Distance: 4 miles
Many peo­ple know of the gru­el­ing Mount Marathon race­course in Seward, some 130 miles south of Anchor­age. How­ev­er, most peo­ple don't know that there's also a hik­ing path to the top at Race Point — and it's far less demand­ing. This 2.25-mile route, which entails hik­ing three dif­fer­ent trails, takes you up the moun­tain and lets you to explore a glacial val­ley along the way.
Distance: 6 miles Elevation Gain: 3000 feet
Don't expect to run very much of this world-famous race route, which begins 2.5 hours south of Anchor­age and climbs near­ly 3,000 feet from down­town Seward. Though the first part of the route is very runnable, the next 1.5 miles climb Mount Marathon and are too steep and rocky for most to run. Just the hike itself makes for a very inten­sive workout.
Fairbanks, Denali & Interior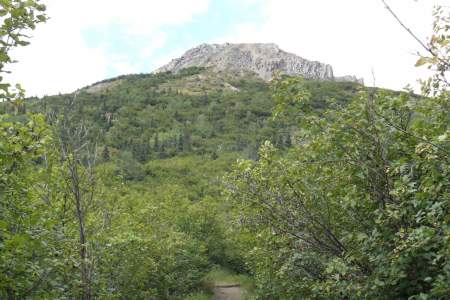 Difficulty: Difficult Distance: 6 miles
The first mile of this trail, which begins near the new Murie Sci­ence and Learn­ing Cen­ter, is mod­er­ate­ly steep, hik­ing through the for­est. The for­est even­tu­al­ly gives way to tun­dra. Trees turn to shrubs, and the land­scape opens wide. The last 1.5 miles are even steep­er. Your reward, how­ev­er, is sweep­ing views of the Denali Nation­al Park entrance area, the Nenana Riv­er Val­ley, Healy Ridge, and near­by alpine ridges. Those who want to climb to the ...more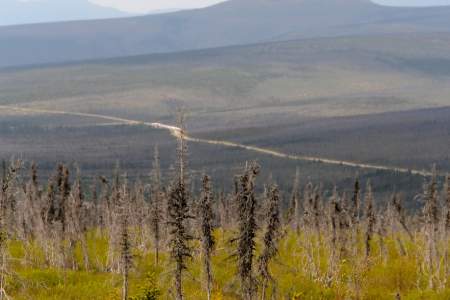 Difficulty: Easy Distance: 3 miles
Eas­i­ly one of the most scenic dri­ves in the Inte­ri­or, the trip out to Table Top Moun­tain from Fair­banks winds deep into the cen­ter of White Moun­tains Nation­al Recre­ation Area, ris­ing up hill­sides and dip­ping down into val­leys for a rolling pic­ture show of spruce for­est and snaking riverbeds. The hike to Table Top Moun­tain is just as spec­tac­u­lar, pro­vid­ing panoram­ic views of the White Moun­tains from the cen­ter of the range, and is a short ​"must ...more
Southeast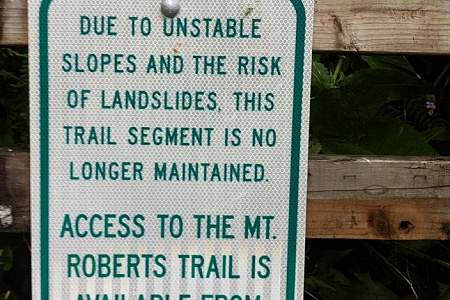 Difficulty: Difficult
Steep trail that is worth the climb: you'll find excel­lent views of Gastineau Chan­nel, Juneau, and Dou­glas from here. NOTE: The 6th Street trail head is no longer main­tained. Hik­ers must access Mt Roberts via the Basin Road trail head.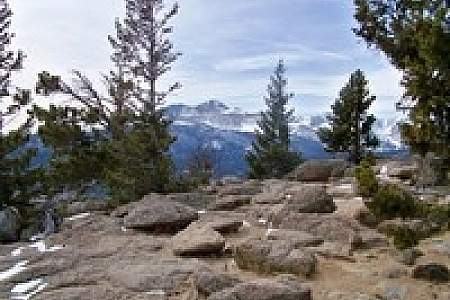 Difficulty: Difficult Distance: 5 miles Elevation Gain: 2600 feet
Deer Moun­tain is Ketchikan's icon­ic back­drop. The path briefly threads between res­i­den­tial lots, then turns to a rocky trail that quick­ly ascends. On the way up there are mul­ti­ple scenic overlooks.