Alaska's road to modernization a century ago was a dramatic journey, and the Fountainhead Antique Auto Museum explores that journey in fun, vivid detail. On the grounds of Wedgewood Resort the museum showcases dozens of historically significant, pre-World War II automobiles, but also offers visitors a trip back into Alaska's rugged and exciting formative years.
The museum displays large format historic photos and videos to bring to life the emerging Alaska of the early 20th century. Check out the pictures of Alaskans customizing their cars to navigate through the snow, ride on rails or even cut firewood. You can also see examples of "alternative" vehicles from way back when, such as early steam, electric and hybrid cars, as well as the first American Midget racers and the first V16-powered engine.

The museum houses some amazing classics, too. Its rotating collection of more than 80 autos includes an 1898 Hay Hotchkiss, a tulip shape 1903 Cadillac, the last remaining 1920 Argonne and a 1917 Owen-Magnetic with an electric motor. The museum even has on loan the 1905 Sheldon Runabout that was the very first car ever built in Alaska.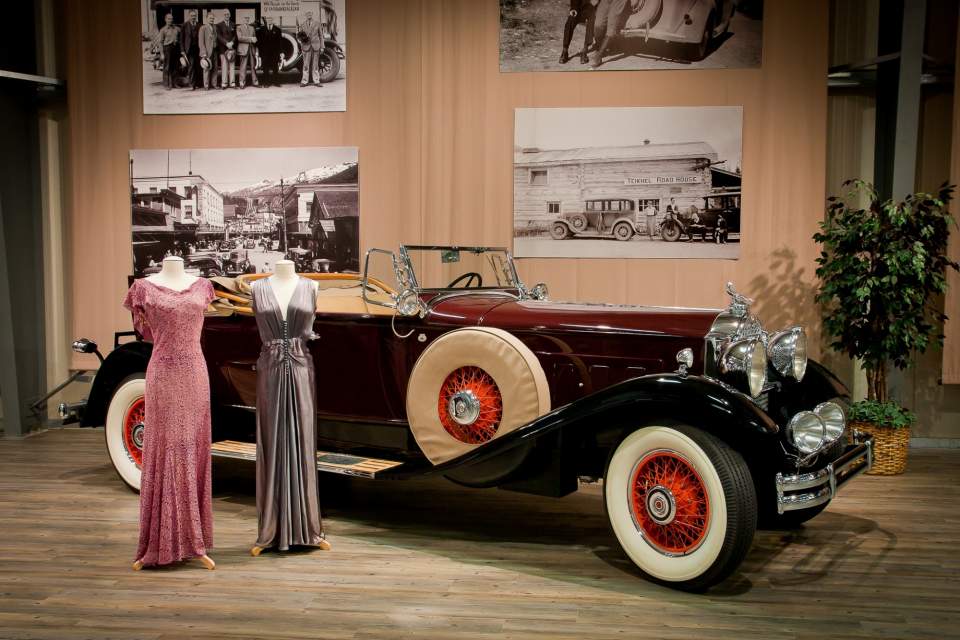 The museum also features a Vintage Clothing section, which explores the ways that fashions have changed over the course of eight decades, as well as how the rising popularity of automobiles had an impact on fashion. The collection includes more than 130 dresses, suits, shoes, coats and accessories spanning eight decades. Imagine yourself in a Titanic-era evening gown, an Edwardian walking suit or a beaded flapper chemise. And see how Fairbanks' pioneer women managed to walk the line between tea-dress fashions and life in mining camps.
One of the most exciting parts of the Fountainhead Antique Auto Museum is that you can participate, too. In the exhibit about the historic Valdez-Fairbanks Trail—Alaska's first major transportation artery, which is now the Richardson Highway—put on a duster, hat and gloves and take a picture in front of a replica of the original Sourdough Roadhouse, or climb inside a 1911 Everitt and pose with a grizzly bear hide. All of the museum's automobiles are still quite operable, too, so on summer evenings you can watch and listen as a driver takes a car out for a roaring spin around the grounds.