Experience the thrill of rushing rapids or a mild whitewater float through one of America's great wilderness areas with rafting from Denali Park Village. Operating on two stretches of the Nenana River for nearly 30 years, this company's guides not only know the area, but also are versed in its natural history. Their guide safety training program is among the most extensive in Alaska. Add to that a private riverside launch, a brand-new boathouse, complimentary shuttle buses, and it's hard to find a safer, more fun river trip near the park.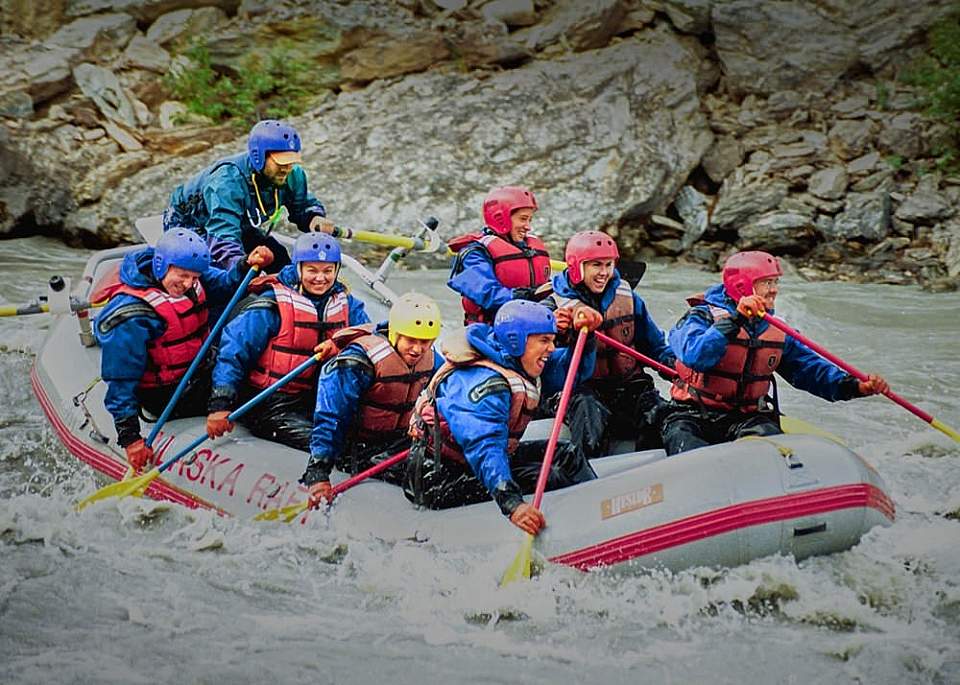 The Nenana River is glacially fed, which means it's cold, silty, and fast—a quintessential Alaskan river. You will be outfitted in a commercial grade dry suit, specially designed to fit over your street clothes and to keep you dry. Because they're a large outfitter with a custom-built boathouse and full-time gear manager, all their dry suits receive regular inspection, with damaged suits removed from the system. All you need to bring is warm clothing, extra socks, and, if you can, a waterproof camera.
Not only will you be outfitted in a comfortable dry suit, you'll learn a lot during your river run. Their guides participate in National Park Service seminars in geology, biology, and botany. The company even provides classes so their employees can become certified interpretive guides. You'll learn all about glacial floods, the habits of Dall sheep, the formation of rapids, and more; even on the whitewater run, there's time to slow down and take it all in. Guides are also knowledgeable in the history of the Alaska Railroad, which parallels portions of your trip. Learn how a crew worked all winter in virtual darkness to complete this stretch of rail!
And for the memories, at the end of each trip, they offer professional digital photos of your whitewater adventure available for immediate purchase.
The Paddle Run
On this ride you'll get to grab a paddle and receive detailed instruction on how to successfully navigate the rapids. This challenging trip is for folks with whitewater paddling experience—or at least plenty of muscle and energy. This trip covers some of the same class III and IV rapids as in the Canyon Run. You'll be equipped with specially designed drysuits. Minimum age 16.
The Canyon Run
On this oar-guided trip, the guide does all the navigation and interpretation. You just hold on and enjoy the 11-mile ride on an 18 foot inflatable raft. There will be 10 exhilarating rapids, some class III and IV. No experience necessary, and you'll be equipped with specially designed drysuits. Minimum age 11.
The Wilderness Run
Take time to enjoy the scenery on this mild whitewater excursion as you float 13 miles of the Upper Nenana River. The river will carry you from one incredible sight to another. Your experienced guide will skillfully maneuver the raft as you sit back and let the beauty of nature seep in. This is prime wildlife habitat, so you'll be on the look-out for bear, moose, caribou, lynx, Dall sheep and a host of smaller animals. This is one of the best ways to connect with nature and experience wild Alaska!