Whittier Sailing & Private Yacht Charters
Sailing & Private Yacht Charters
Small Yacht Adventures
Custom yacht & expeditions charters • Max 6-8 passengers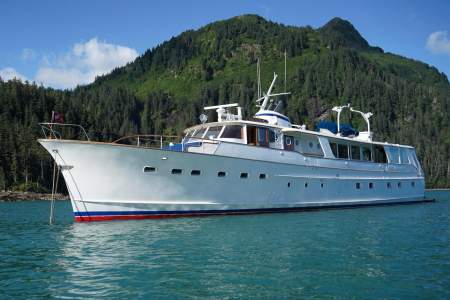 Season: May - September
$4,500+ (Inside Passage starting at $1,320)
5 days / 4 nights
Cruise Ship Type: Small Ship Cruises
Ship Name: M/V Sea Star
Set sail for 5 days and 4 nights with the crew of the M/V Sea Star for small ship adven­ture cruis­ing in Prince William Sound, Kenai Penin­su­la or along the Inside Pas­sage. The well-appoint­ed yacht accom­mo­dates just 12 guests, allow­ing for a per­son­al­ized expe­ri­ence where you are the explor­er! Unplug from day-to-day life and soak up the won­ders of Alaska's amaz­ing coast­line. All meals pre­pared by an on-board chef and fea­tur­ing fresh local ...more
Season: May 15 to Sep 15
Call for Quote
Custom
Cruise Ship Type: Small Ship Cruises
Ship Name: The Sea Mist
Design your exclu­sive itin­er­ary then set sail into the vast open waters and wildlife-rich shore­lines of Prince William Sound aboard your own spa­cious and pri­vate yacht. Up to six pas­sen­gers can sit back, relax, and expe­ri­ence an inti­mate tour. Most guests enjoy the 5‑day/​4‑night trips, but you can book longer 10-day/9‑night expeditions.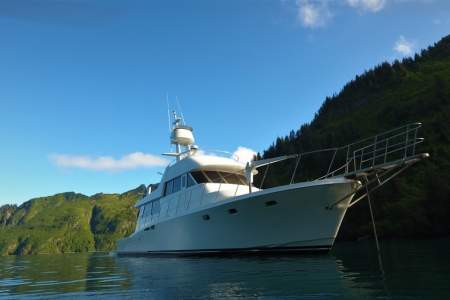 Season: Year Round
$435+ Day-trip | $470+ Multi-day
Cruise Ship Type: Small Ship Cruises
Ship Name: M/V Caroline
Spend the after­noon, or a few days explor­ing the waters of Res­ur­rec­tion Bay and Prince William Sound aboard the M/V Car­o­line, a beau­ti­ful cus­tom-built yacht set for adven­ture! It's the per­fect set­ting for a fam­i­ly or small group vaca­tion. Fill your days loung­ing on the fly­bridge, fish­ing, kayak­ing, strolling beach­es and cruis­ing to your next fan­tas­tic destination.
Large Yacht Adventures
Pre-set itineraries or custom charters • Up to 12 passengers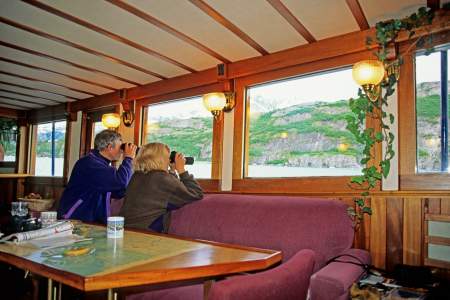 Season: Jun 05 to Sep 20
From $4145+
5 to 7 Days
Ports of Call: Anchorage, Whittier, Valdez
Cruise Ship Type: Small Ship Cruises
Ship Name: Discovery
Our Clas­sic Dis­cov­ery Voy­age is the per­fect wilder­ness sam­pler. We take in the most spec­tac­tu­lar sights of Prince William Sound — moun­tains, fjords, glac­i­ers and wildlife — with the num­ber of dai­ly excur­sions (ashore or by kayak) tai­lored to the inter­ests and activ­i­ty lev­el of the group.
Expedition Charters
Photography focus, up to 8 passengers, mixed guests or charter option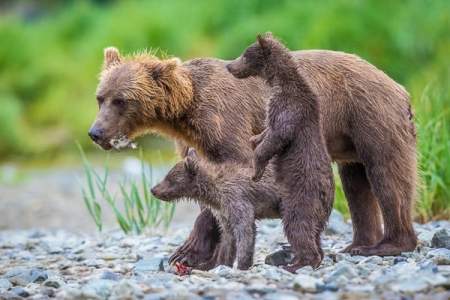 Season: June -  August $5,598+ 7 nights
Immerse your­self in a mul­ti-day Alaskan adven­ture that promis­es incred­i­ble views and jaw-drop­ping bear view­ing in Kat­mai Nation­al Park, along with a warm cama­raderie that only a small group expe­di­tion can cre­ate. Explore from your home base on the Island C, a research ves­sel that gets you close to the action while pro­vid­ing com­fort­able lodg­ing and deli­cious meals.