Homer Salmon Fishing Charters
Homer Salmon Fishing Charters
Season: Mid April to September $195+ 3/4 to Full Day Excursions
Homer is the hal­ibut cap­i­tal of Alas­ka, and this long­time char­ter com­pa­ny offers a blue-chip way to get to the fish. They have high-qual­i­ty boats, expe­ri­enced cap­tains, and enthu­si­as­tic crews — as well as an inside line on find­ing hal­ibut, rock fish and sil­ver salmon. But they also offer a vari­ety of oth­er ways to enjoy the waters off Kachemak Bay, from wildlife cruis­ing to pad­dling a kayak or hik­ing in Kachemak Bay State Park.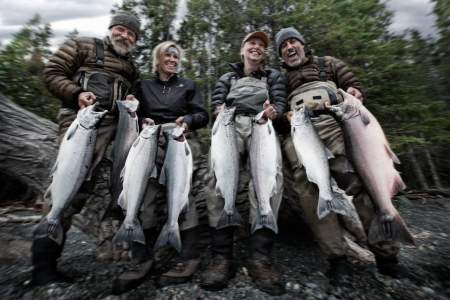 Season: Mid-May through mid-to-late September $225+ Half-Day to Multi-Day
Feel the thrill of world-class salmon and trout fish­ing on Alaska's Kenai Penin­su­la with expe­ri­enced, pas­sion­ate guides. You'll get out on the Kenai and Kasilof Rivers, just hours from Anchor­age, with a team that knows where the fish will be run­ning each day. Spend a day, or make it a mul­ti-day trip with a cus­tom pack­age that includes lodg­ing on the river.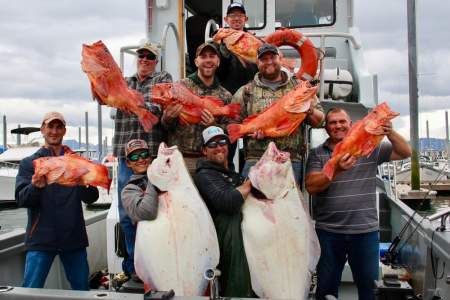 Season: Year Round $325+ 6 hrs+
O'Fish'ial spe­cial­izes in salt­wa­ter hal­ibut and king salmon char­ter fish­ing expe­ri­ences out of Homer, as well as Long Range tro­phy fish hunts. Own­er Chad has spent count­less hours with sea­soned Alaskan fish­er­men who shared time-test­ed advice – and their fish­ing hotspots – with him. He com­bines this knowl­edge with a cus­tomer-ser­vice focus and pas­sion for shar­ing all the excite­ment and adven­ture Alas­ka fish­ing has to offer.