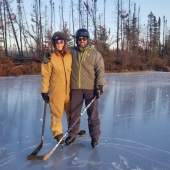 Kaitlin Vadla & Joel Todd
Regional director at Cook Inletkeeper and Assistant Director of Soldotna Parks and Recreation
This just-married couple embodies the spirit of Soldotna.
Q. First off, congrats on your wedding!
Joel: Thank you! We just got married last Saturday. Every aspect of our wedding was friends and family and community, which is very much what Soldotna is all about. The food was catered by a friend with a food truck business. The flowers came from a local peony farmer. The coffee was from Declination Roasting Company, run by another local entrepreneur and friend. The cheese was from Lucy's Market.
Kaitlin: Being in such a beautiful place surrounded by love makes me tear up!
Q. How long have you lived in Soldotna?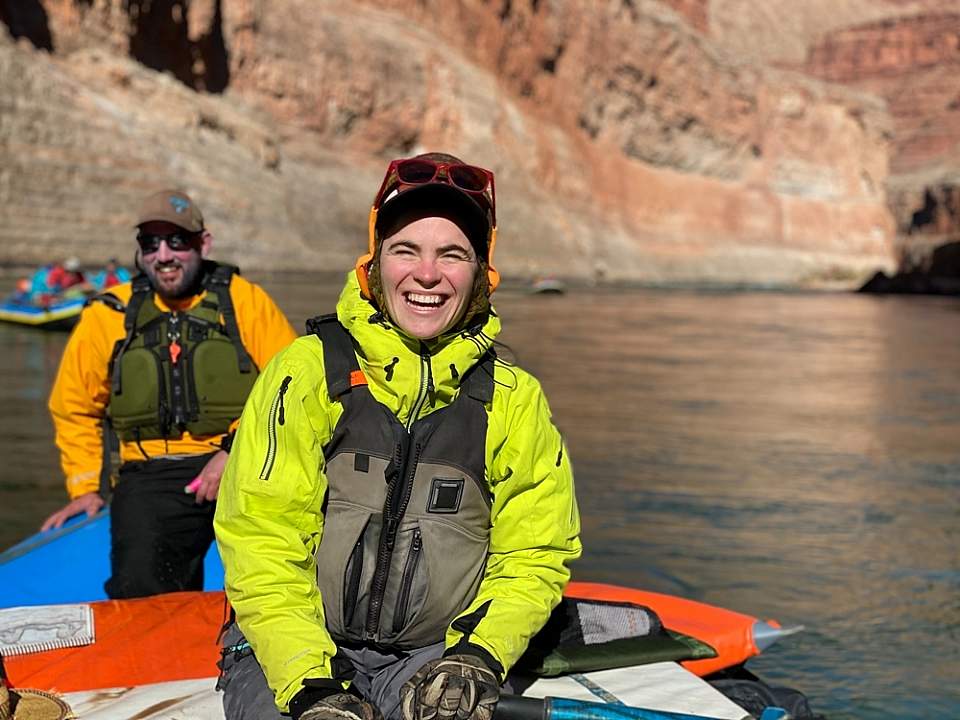 Joel: We're both born and raised. We both left Soldotna to go to school and traveled and lived abroad and slowly wandered home after a decade.
Kaitlin: Living elsewhere helped me appreciate home so much more and realize this place is special.
Q. What makes the town special?
Kaitlin: Part of it is simply the natural setting. Just yesterday I took a paddle board down the Kenai River to Soldotna Creek Park to listen to live music and got to enjoy the river's beautiful turquoise water and saw a seal floating with us. Most places in the world you can't just wander in the woods or camp in the kind of amazing places that you can here.
Joel: A lot of people think this area is all about fishing, but that's only a tiny fraction of what happens here. There's biking, kayaking, walking, skiing, foraging for mushrooms, picking cranberries…so many other things!
Q. What's the community like?
Kaitlin: The people really make Soldotna the warm, welcoming place it is. They're humble, real, and authentic. Those who grew up here, like us, come back for the quality of life and to rejoin this community. People remember picking fresh blueberries or going fishing with their family. It draws them back because they can't get that anywhere else in the world. Once here, they're ready to roll up their sleeves and make things happen for their community. They say, "Oh, I could start a business," and they do!
Joel: I feel like a lot of people in our community grew up here, left for a while and then returned to make this their home again. When you're a teenager it can be a hard place to live because there's not that much going on for that age group. But you go away to learn and grow, and then we'll welcome you home whenever you're ready with your fun crazy ideas and energy
Q. What makes Soldotna unique from other destinations in Alaska?
Joel: Other places are more geared toward tourism that comes from a train or cruise ship. But we don't have that pass-through traveler, or businesses owned by big cruise lines. We definitely get a boost from summer tourism, but I think it is also a great place to visit year round or make it a hub for a variety of adventures.
Kaitlin: Also, there aren't a lot of seasonal workers, so there's not a big swing from having a packed town to having no one here. Instead, it's just locals—a lot of small local business owners who run places like Declination Roasting Company, Everything Bagels, or Lucy's Market.
Q. How does the community feel here inspire you?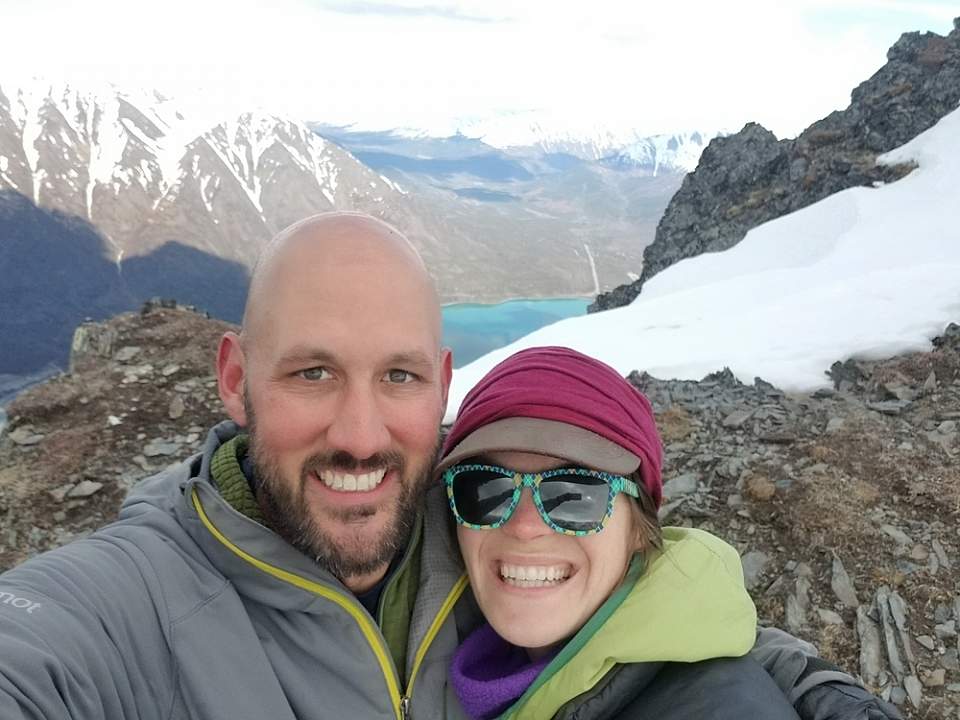 Kaitlin: Soldotna makes me feel like it needs me as much as I need it. If the community needs me to step up and help make it better, like make the bike paths safer for kids, or be an entrepreneur to provide something more for the community, I can take it on. Other places make me feel like maybe they don't need me.
Joel: It's true—and it's easy to make a difference in this community. In another place it would take a long time to be in a position to make substantial changes. But here, whatever idea I have, like for changes to our park system, we can try!
Q. What do you do for work?
Kaitlin: I'm the regional director at Cook Inletkeeper, a community action studio dedicated to protecting Cook Inlet—the water, the sea life, everything. There's also a community kitchen and art gallery, and entrepreneurs have incubated in that space.
Joel: I'm the Assistant Director of Soldotna Parks & Rec. We manage the town's hockey rink, campgrounds, and day use fishing areas, along with local neighborhood playgrounds, dog and skateboard parks. Soldotna Creek Park is the main hub, with an amphitheater—it's where they do festivals and live music.
Q. What's special about Soldotna Creek Park?
Joel: It's truly Soldotna's living room! You may run into friends and family there, and it brings the community together for music and other events. It's been a huge asset to our community to have those interactions and see each other face to face. It's something we lacked, and I don't think people completely realized how valuable those interactions were. The park has been life-changing for the community. Every weekend there's some event that our community rallies together for.
Q. What's your favorite time of year?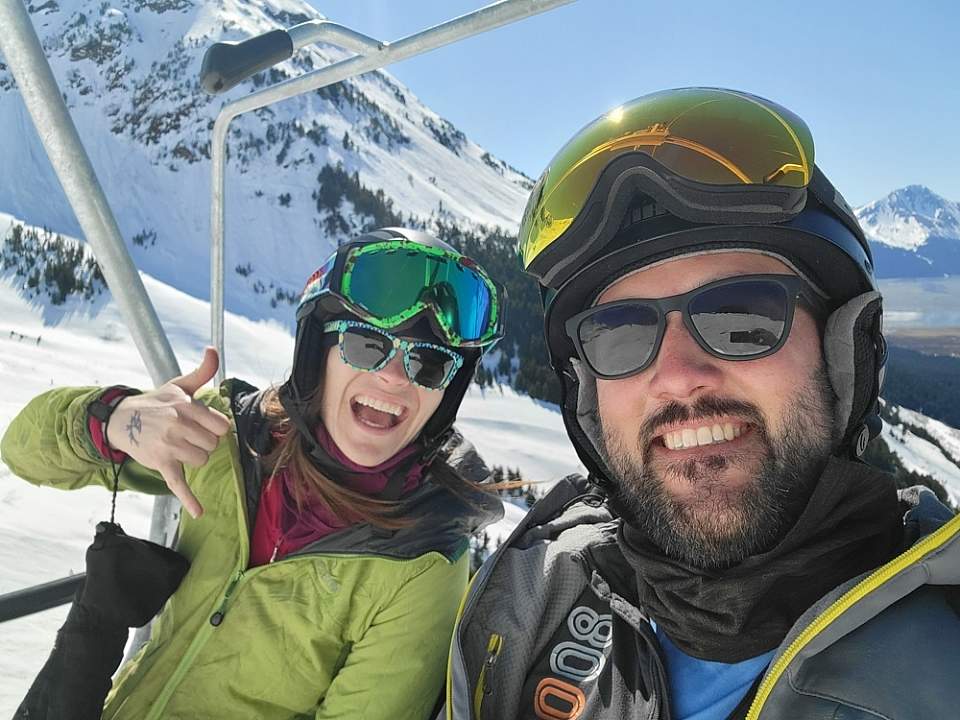 Kaitlin: Ski season!
Joel: We both love to backcountry ski. I snowboard, she skis.
Kaitlin: And we're still friends!
Joel: We also love the Tsalteshi Trails, right in downtown Soldotna. I walk across the street from my job and am on lighted ski trails.
Q. What is Soldotna like in winter?
Joel: Everyone slows down in winter, and the community really regroups from the summer frenzy. There's also lots of fun stuff. The Frozen River Festival started 4 years ago. It's an outdoor beer festival with fireworks and live music. Everyone thought the organizers were crazy, but it's really popular because it's different.
Kaitlin: There's also A.R.C Lake, which has a few hockey rinks, and last year they started plowing a skating path there. Every Saturday they bring a bunch of rental skates for a free family skate, and to end the season they showed a movie. There were hundreds of people ice skating and watching a movie on the lake and enjoying being outside. People loved it!
Q. For someone interested in history, what would you suggest?
Kaitlin: There's a really rich indigenous history in Soldotna. The Dena'ina are an Alaska Native Athabaskan people, and there are a lot of speakers of the native language living and working in the area. You can even participate. Kenai Peninsula College has a Dena'Ina language class I got to take a few years ago. There are also some informational signs at the Soldotna Chamber to learn more.
Joel: The Kenaitze tribe is based in Kenai. They've been building up a lot of resources in the Kenai area, like a new youth and education building in Kenai and the Dena'ina Wellness Center there. They provide a variety of services for the health of the community.
Q. Finally, what are your top recommendations for things to do?
Kaitlin: Mountain biking is awesome here. Go to Beemans and rent a mountain bike or skis and hit the Tsalteshi Trails or the single track at Slikok. You could find a paddleboard or kayak and go out to the end of Keystone Drive for a paddle and end at Soldotna Creek Park. Foodies will love it here, too—visit the cheese shop at Lucy's Market and have brunch at Addie Camp. It's also a super-fun base camp. Kasilof has a lot of mushers. There are scenic cabins on the bluff at Clam Gulch. Also, about 45 minutes north are awesome mountain ranges in Cooper Landing to play in. Just south there's Homer and Seward; you can pop off to those spots pretty easily.
Joel: Our local breweries are fantastic, too. Also, there's a great kayaking Facebook group for our area that plans after-work floats. Tsalteshi Trail system is run by a nonprofit that organizes community races, that are just a fun way to bring the community together—which as you can tell, is what we're all about!