Photo Credit: Nelson Brown
The Aialik Glacier Day Trip: A Guide's Perspective
By Hannah Lafleur, Kayak Adventures Worldwide | Photos by Nelson Brown
6 a.m.
The clatter of pots and pans and the hissing of thermoses filling with hot water combine to create a chorus from the next room. I instinctively tune out the noise, sipping steaming coffee as I click through the 9 open tabs on my laptop. The back of the Kayak Adventures shop is bustling as guides prepare for the day, and I focus on checking weather from buoys, satellites, and forecasts published by state and federal agencies. I softly shut the computer as I take my last sip, satisfied with the data I've sieved through over the past 20 minutes of browsing models, noting wind speed and direction, and checking tides. The low pressure system that was shifting in our direction yesterday has changed course, and conditions look favorable.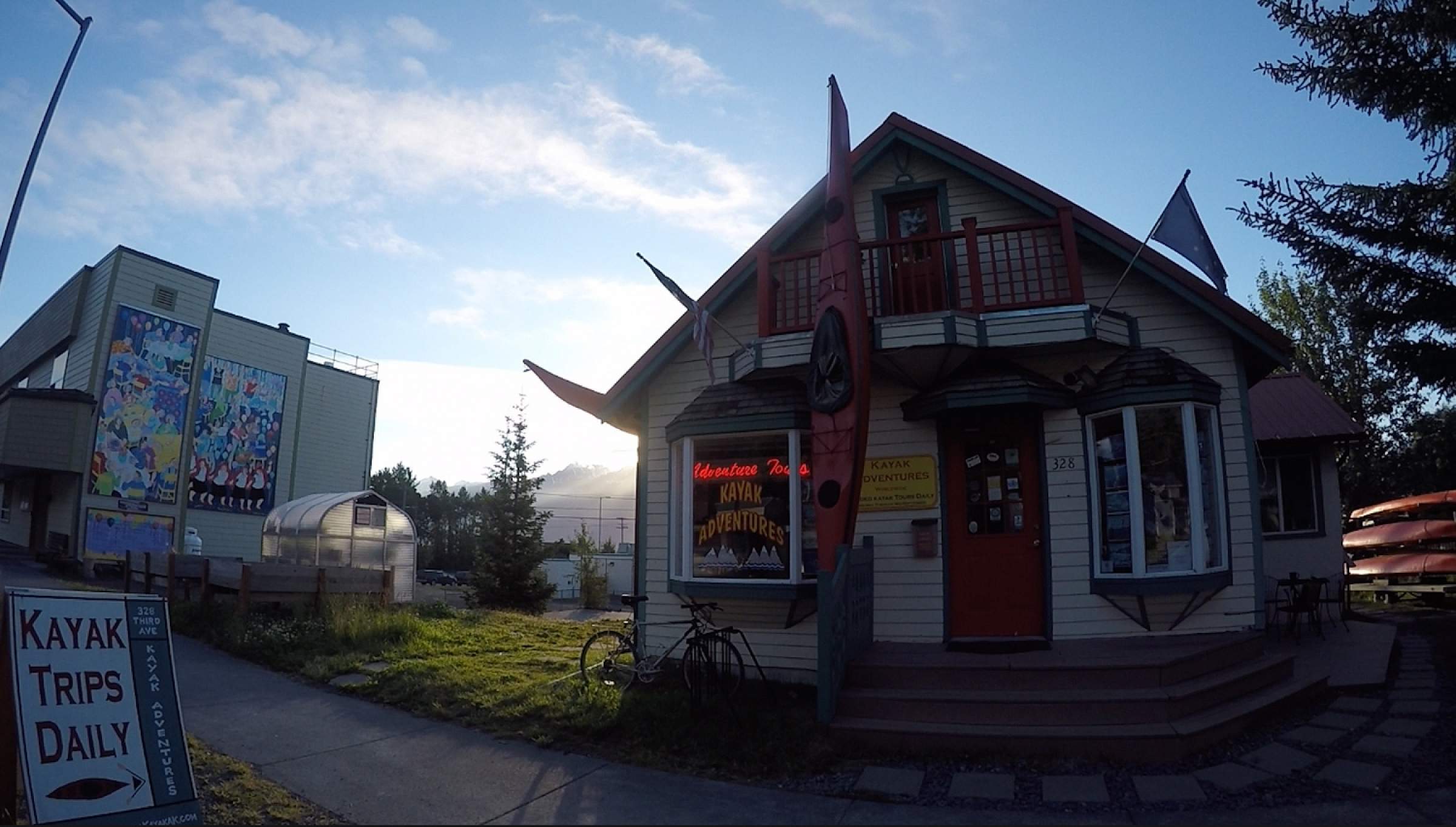 6:30 a.m.
The sun hits the kayak shop early in the morning this time of year, and the drop in temperature when I go inside to pack gear gives me goosebumps. I emerge with paddles, personal flotation devices (known as PFDs), and spray skirts for each of my guests, along with a big bag of other equipment and food for the day. As I'm counting out sandwiches that were dropped off by a local cafe, I notice the wind is perfectly still, thanks to the light cloud cover moving in. As a guide, it's a habit to notice things as slight as a shift in the wind, and I am relieved because clouds mean we'll have calmer paddling conditions. Every day in Kenai Fjords National Park brings something new and I'm already buzzing from the excitement about what today's trip will reveal.
My guests are similarly enthusiastic when they arrive at 7:15 a.m., but I can tell there's a sense of apprehension as well. I point out where we're going on the map, describe the plan for the day, and double check to make sure everyone has enough clothing and adequate rain gear for a full day paddling in coastal Alaska. Even though it's June, we often see temperatures in the 50s and 60s, especially when we're sitting in front of a mile-wide wall of ice. I feel a familiar sense of adventure building inside as I load everyone into the van for a short drive to the harbor.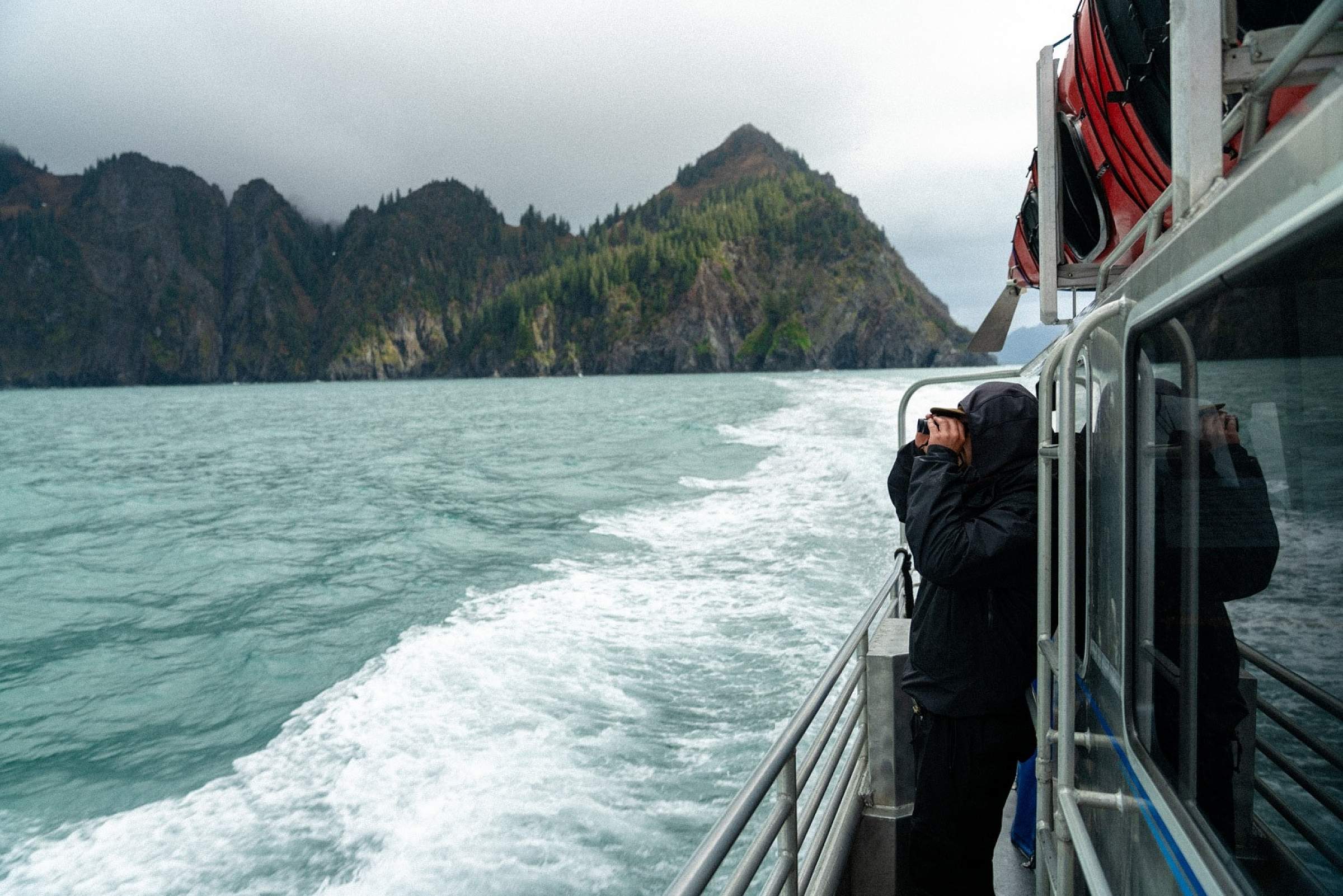 8 a.m.
Our water taxi captain slowly steers the boat out of the harbor and the bay stretches before us like glass. The jagged ridgeline of Mount Alice is reflected in the water, interrupted only by the ripples of a sea otter back-pedaling away from the rock jetty.
My guests are chatting with one another and it's clear that the two groups have a lot in common, even though they're from opposite ends of the country and don't know one another. I love the camaraderie that builds quickly in shared outdoor pursuits and experiences. While waiting for the boat to depart, I asked everyone their goals for the day: glaciers, wildlife, and one guest who is an aspiring birder. While everyone is busy scanning the water, hoping to be the first to spot a harbor seal, I dream up a plan to include each person's curiosities into our day; I'm envisioning the exposed cliffs we'll pass at Cape Aialik that make a perfect nesting site for kittiwakes and tufted and horned puffins.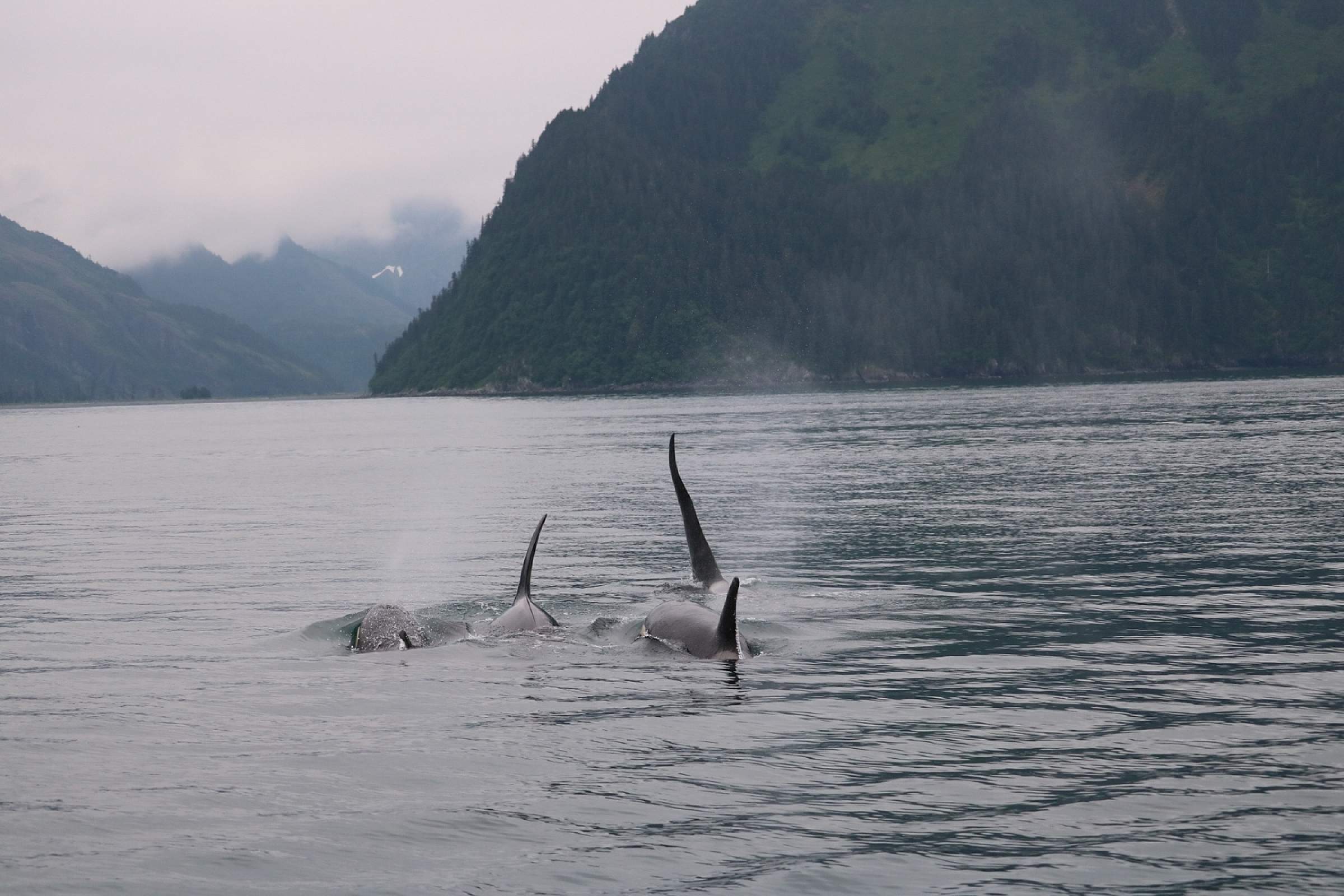 9 a.m.
Rounding the bend into Agnes Cove, the boat goes quiet and the calls of the gulls overhead are accentuated. Even the engine cuts, so I know that something special must be close by. Killer whales, or orcas, are elusive, fast-moving, and cover an enormous distance, so crossing paths with them is a rare treat. We've lucked out today and a pod, referred to by local researchers as the AT-1s, are traveling through. I get chills as we wait in silence, and my breath catches when a black dorsal fin slices the surface.
The encounter is short, and minutes later we're back en route, everyone on board now murmuring in excited, but hushed tones. As we round Cape Aialik, the boat is rocked by a gentle swell that travels uninterrupted from Hawaii, a reminder of the vast and interconnected ocean. We soon pass the Cape and tuck back into the protected waters of Aialik Bay. I gather my group to give more background on the killer whales we saw, what is known and still being studied about them, and the threats they're facing today, including the long-term effects of the infamous 1989 Exxon-Valdez oil spill. The conversation is engaging, and only comes to a close when the captain spots a large smack of moon jellies near the surface, providing an awesome photo opportunity.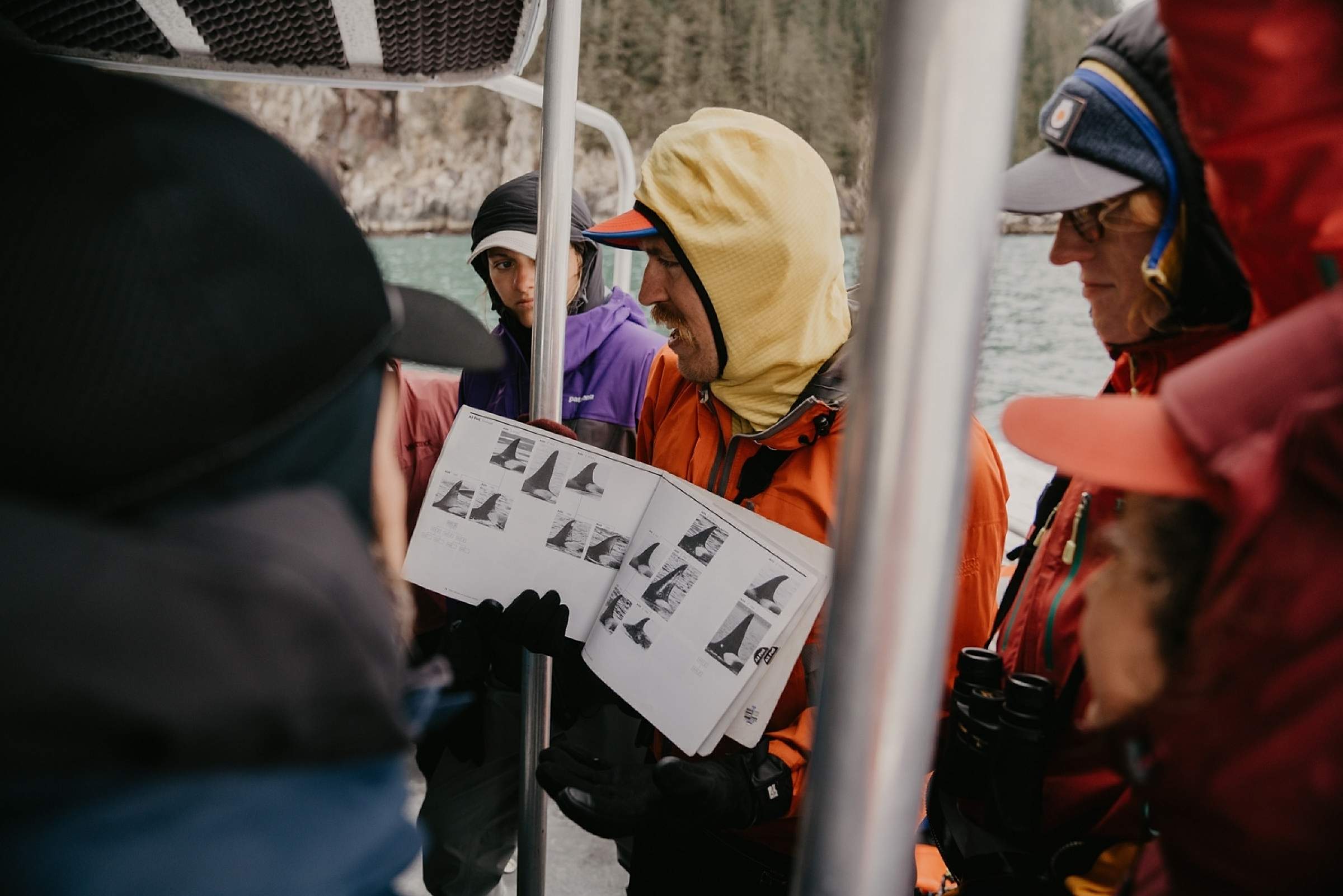 11 a.m.
Three groups of kayakers have disembarked the water taxi onto a rocky beach, and with the help of the other guides and a couple of eager guests, I've lined up our double kayaks at the water's edge. After demonstrating how to put on and adjust gear, get into and out of the kayaks, and what to do in case of wind and waves, everyone is tangibly buzzing with that same excitement I felt this morning. We paddle north, closely contouring Slate Island so we can take advantage of the low tide to observe the plethora of mussels, chitons, sea stars, barnacles, and other critters who make their lives clinging to the rocks of the intertidal zone.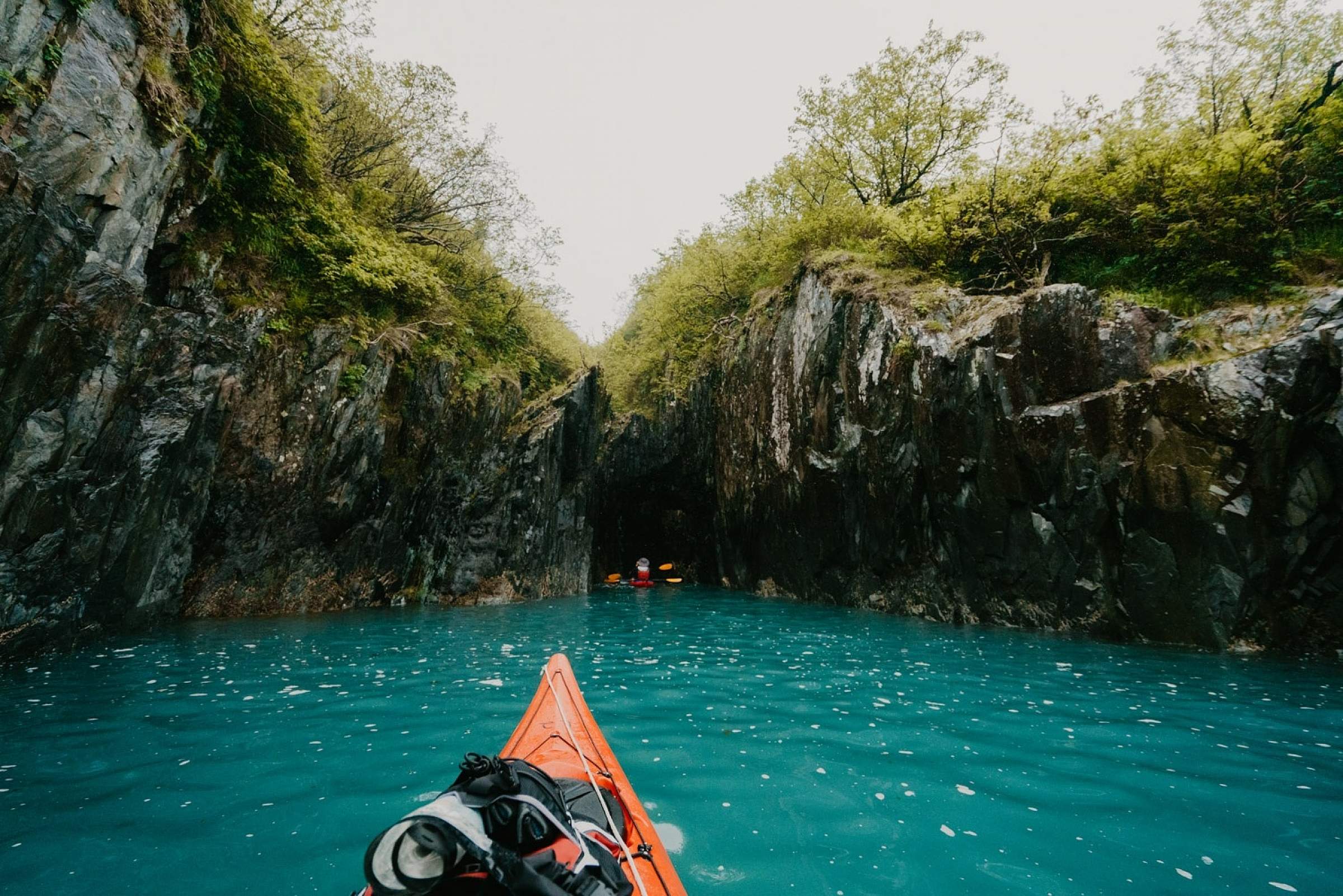 What was at first haphazard bits of floating ice becomes denser as we move north and west, and the tinkling song of shattered ice bumping into the hulls of our kayaks becomes a melody, an almost rhythmic cacophony. I feel humbled, as I do every time I'm here, by the sheer space; the miles-wide U-shaped tub of the fjord carved by glacial retreat; the face of Aialik Glacier towering nearly 600 feet above the water; and the millions of shards of ice floating around us. We paddle single file now as I crest the thick ice and make space for the double kayaks. A new sound entirely, one that first alarms and then delights my guests, rumbles like thunder as chunks of ice rip from the glacier's face and plummet into the bay.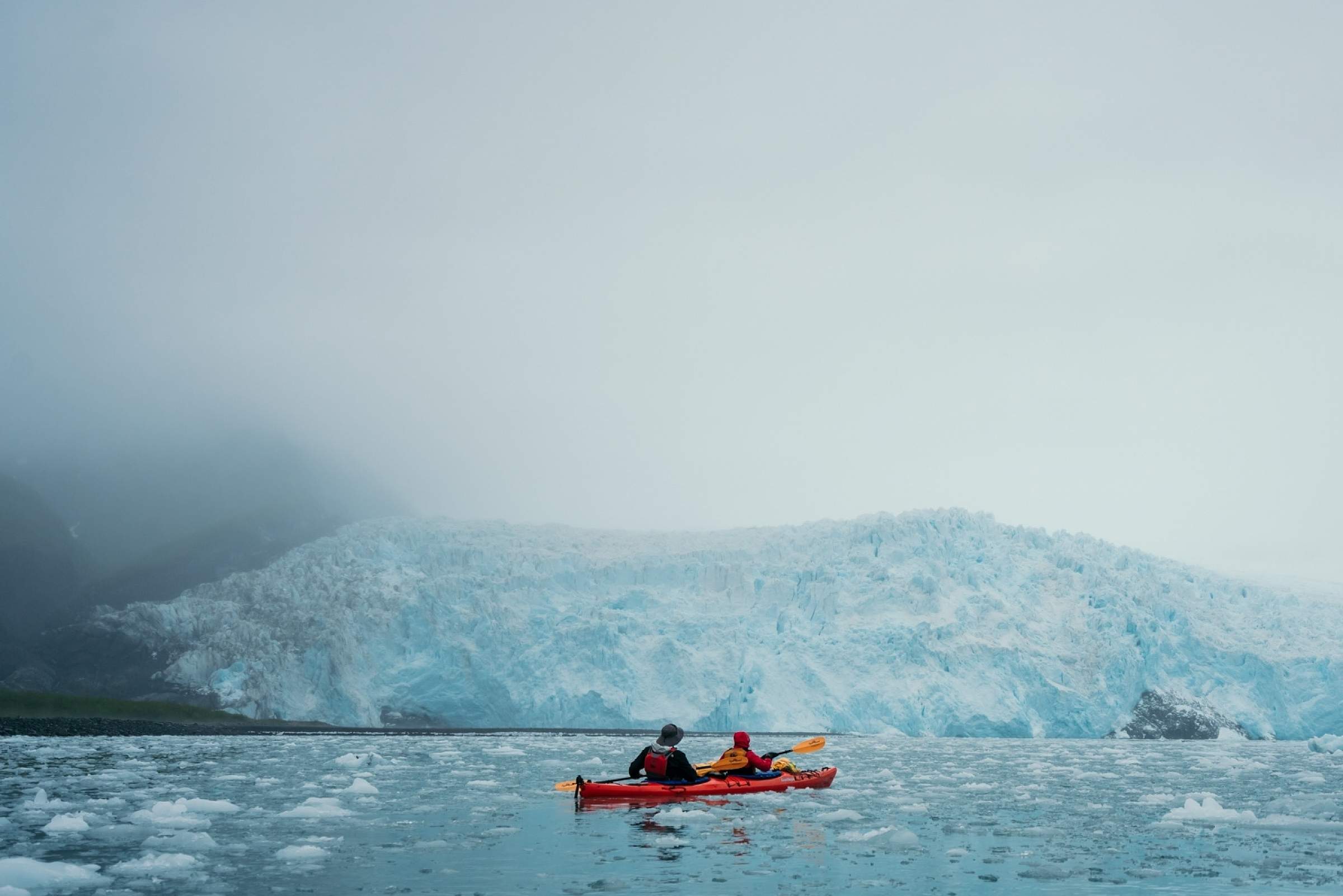 At the half-mile mark, I let everyone know we won't be getting any closer, and it's obvious why - the power of nature is irrefutable in places like this, and that feeling of vulnerability is one of the reasons I return again and again to wild spaces. My guests share my reverence, and once I'm done explaining how the glacier's movement begins with a single snowflake falling on the 700-square-mile Harding Icefield, we drift silently for a couple minutes, appreciating how fortunate we are to be here.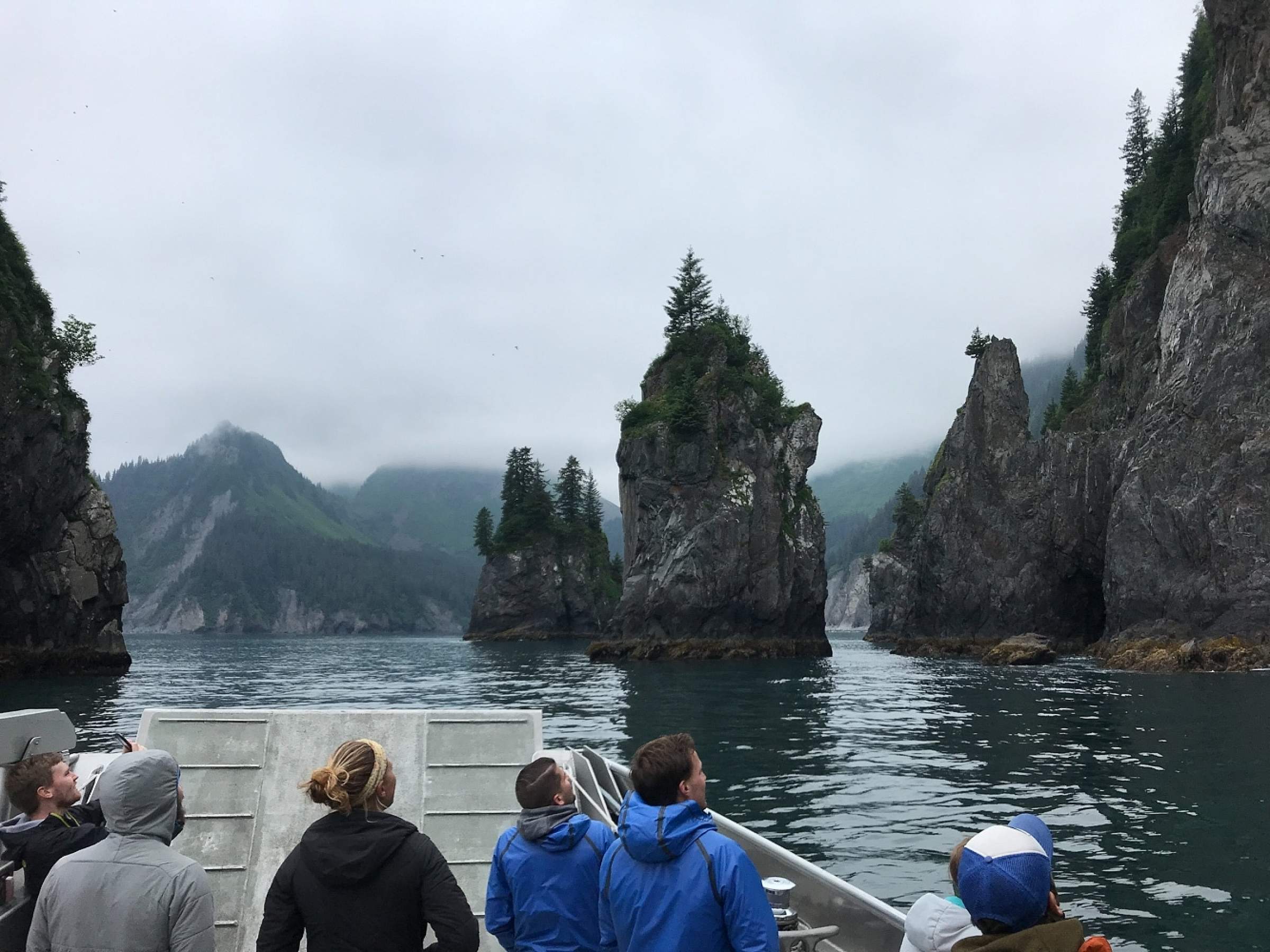 3 p.m.
Back on the rocky beach, we wait for the water taxi to return as we finish our snacks. A whole new ease permeates my group, combined from the ingredients of shared activity, awe, and wonder. On the boat ride home, we talk more about the concerns for Kenai Fjords, and other similar places. What will happen to one of the world's largest phytoplankton blooms, and the wildlife that depend on it, if it's no longer fed by the nutrients running off tidewater glaciers? And how do we fit into this whole picture, not just as visitors, but as stewards of our planet?
It's not doom and gloom, and I am fascinated by the discussion my guests are having about the attitudes towards stewardship and the robustly-supported initiatives in their home states and other places they've traveled. I tell them about our membership in 1% For The Planet, and hand out wooden tokens, explaining that when we return to the shop they can use their token to choose which local environmental non-profit they'd like their share of our donation to go towards. We also reflect on our favorite parts of the day - that is, until we're surprised by the loud snorting breath of a group of sea lions.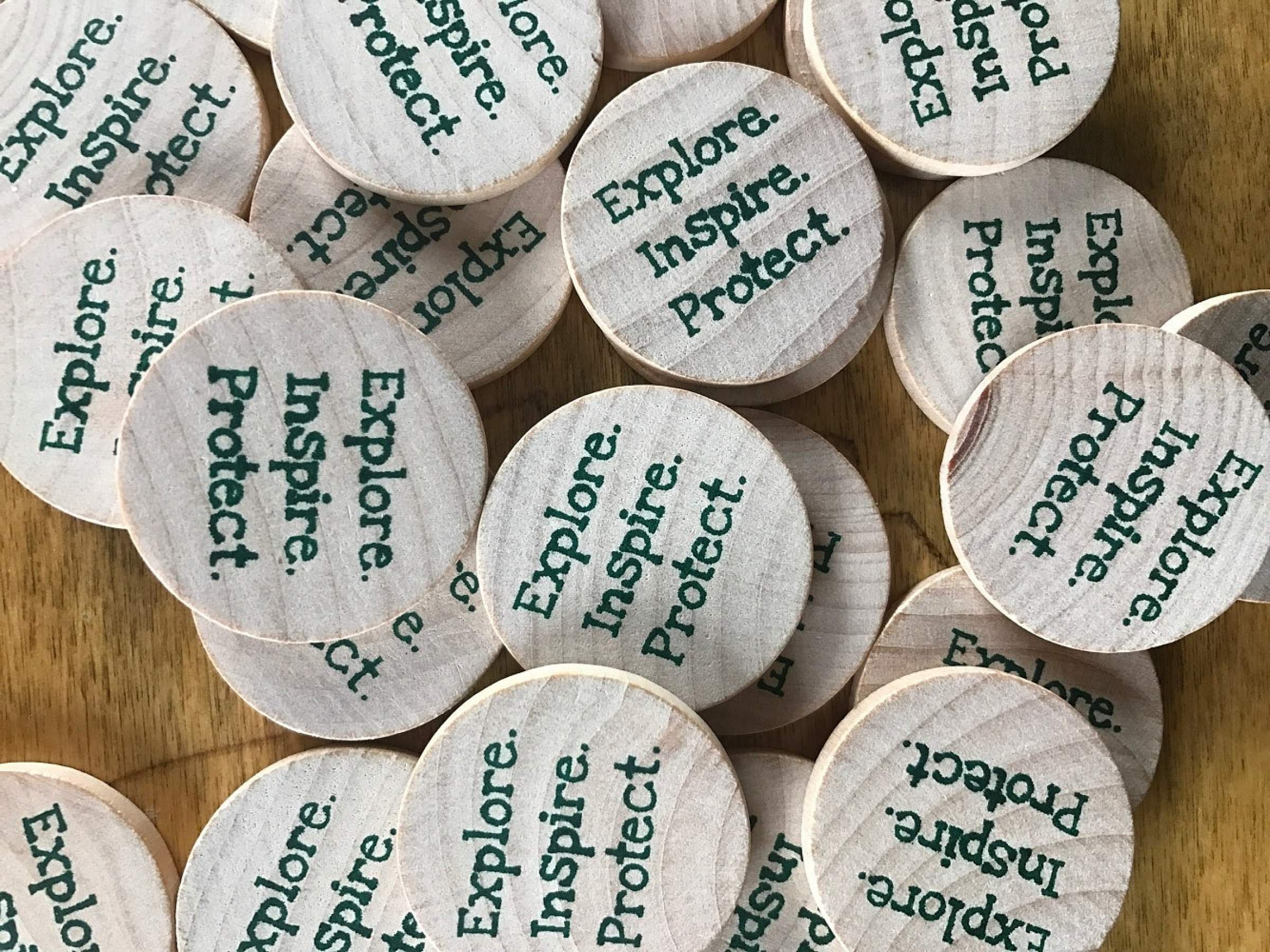 5:30 p.m.
Back at the kayak shop, there's talk of dinner, tomorrow's activities, and where to stop on the drive to Denali. I share the photos I took of everyone in front of the glacier, and a few action shots that I caught while no one noticed. I recommend everyone swing by the Seward Alehouse for a well-deserved cold beer to top off a day of paddling, and give a wave as the groups depart in different directions. They wave back with the same smiles that greeted me this morning, but now they feel entirely different, because something in each of us has changed.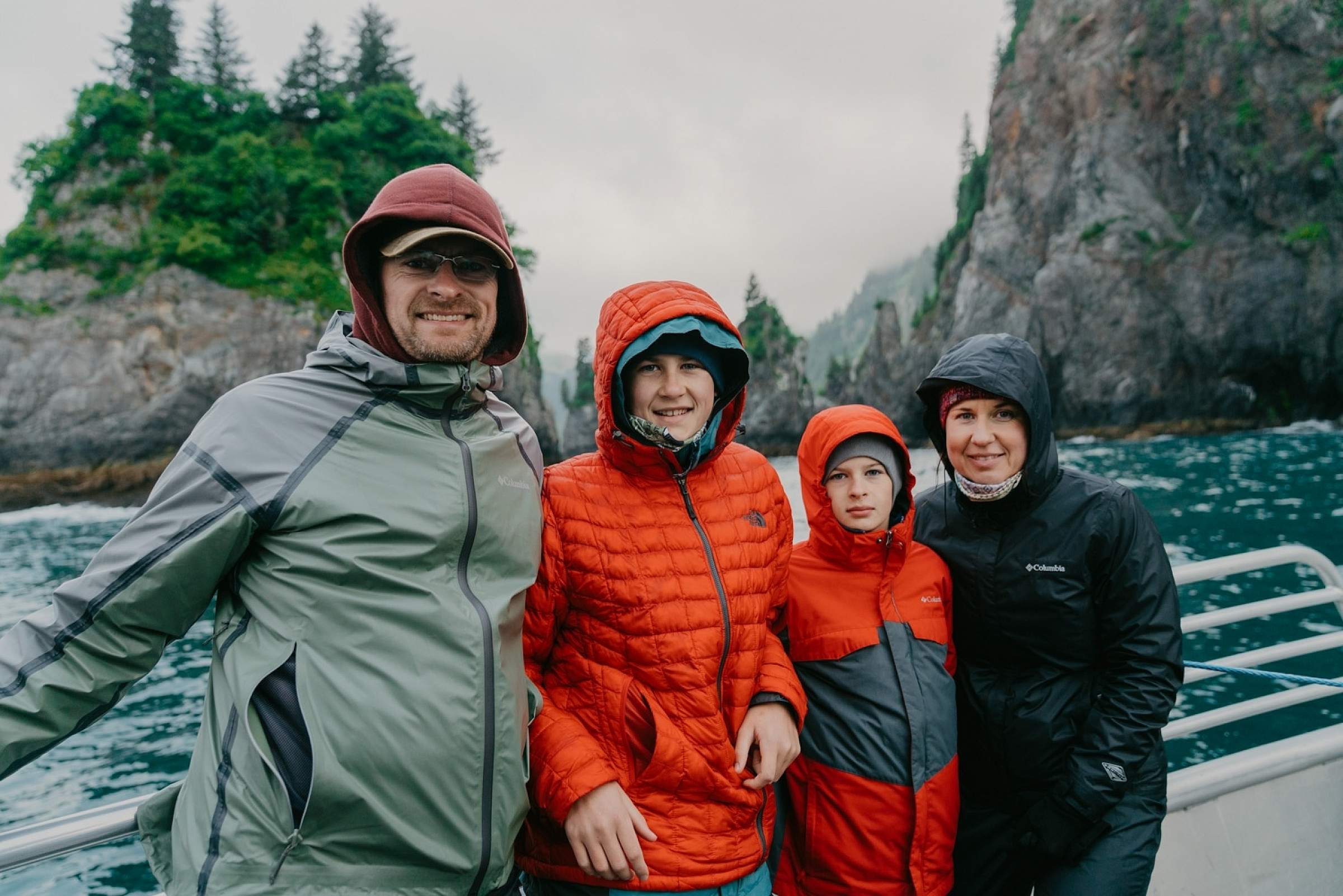 6 p.m.
I'm putting PFDs and paddles away, plugging in my VHF radio, and reflecting on something a guest mentioned while we stood on the bow of the water taxi, motoring into the harbor an hour earlier. She commented how the day invoked in her an even deeper commitment to stand up for healthy ecosystems, and an appreciation of how connected we all are to each other and to the places we call home.
Want to book a trip? Check out the tours available with Kayak Adventures Worldwide.