Photo Credit: View from the Butte Trail
3 Days in the Mat-Su Valley
Season
Mid-May through mid-September
Transportation
Why This Trip?
The Mat-Su Valley is Alaska's agricultural heartland, and it's full of fascinating places to stop, as well as fun adventures. This quick trip gives you an overview of the area while offering the opportunty to see glaciers and wildlife.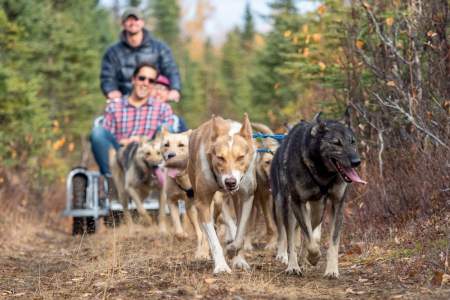 Pick up your rental car in Anchorage for about an hour and 20 minutes to Willow. Willow is famous for being the starting point of the world-famous Iditarod sled dog race! En-route, stop at the Iditarod Headquarters in Wasilla. Watch a video on the Iditarod, explore the exhibits and memorabilia, and peruse the gift shop. Know that you know all about the Iditarod, try dog sledding for yourself! You'll ride in a modified cart through wooded trails that simulate a true winter mushing experience. Meet the pups and the mushers, many of whom have run the Iditarod themselves! (Note: some summer dog sledding tours fly to a remote glacier, departing from the Knik Area, just 45-minutes north of Anchorage)
Overnight in the Palmer / Wasilla area, just 45 minutes south of Willow.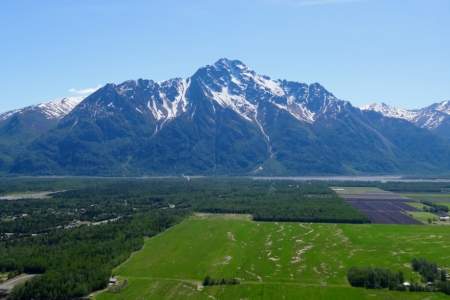 Today it's time to drive back to Anchorage and fly home. Before you depart, make sure you take in some of the attractions in the Palmer / Wasilla are. At the Musk Ox Farm, you can check out one of the Arctic's oldest living species, the musk ox; around 80 of them live here. And at the Reindeer Farm, you'll have the chance to pet a reindeer!
If you crave outdoor recreation, Hike a trail in Hatcher Pass and explore Independence Mine. Or take the family on a hike up Bodenburg Butte (pictured); it's only 1.5 miles long, and the summit offers incredible views. If you're looking for something to up the adrenaline level, take an ATV tour.
The drive from Palmer to Anchorage is about an hour, so give yourself plenty of time before your departing flight.