Photo Credit: Katie O'Connor
A range of wildlife inhabits the boreal forests, brushy foothills and extensive tundra near this Bering Sea community of 4,000, including a healthy population of moose. What makes Nome so extraordinary among many remote Alaska communities is its extensive gravel road system. Three different highways reach up the coast and into the peninsula's wild interior. Renting a vehicle during summer into fall seasons enables visitors to explore sub-Arctic country that would ordinarily be extremely difficult or very expensive to access.
Where Will You Find The Most Moose?
Cruise the road system with binoculars (and patience!) In general, moose will be found in forested areas and creek bottoms dominated by willow, often adjacent or viewable from the highway shoulder. The animals will often disperse into higher elevations during the green season. As fall matures and snow falls, they will move down into river valleys. Snow season will transform most Nome roads into winter routes usable only by snowmobiles and non-motorized modes like dog sledding, snow-shoeing and skiing.
On the Nome-Council Road, make stops at the Skookum Pass Pullout and Fox River Bridge. On the Nome-Taylor Highway, Cape Horn and Pilgrim River Bridge are notable spots. On the Nome-Teller Highway, stop at the Snake River Bridge and the Nome-Teller Vista.
Getting There
View on Map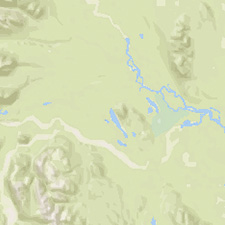 Coordinates
Latitude: 64.505855
Longitude: -165.402865
Nome is located in far western Alaska about 540 miles northeast of Anchorage and has no highway connection the continental road system. Many air carriers offer daily service from Anchorage and Fairbanks. After renting a car, visitors have access to nearly 300 miles of maintained roads during summer and fall.
Driving Directions