Whether you're looking for world class bear-viewing or want to experience a breathtaking flightseeing tour, Kodiak-based Island Air Service can make it happen.
The Kodiak Experience
Kodiak is a quintessential Alaskan destination: a lush, beautiful island with rugged mountains and deep valleys. It is the perfect destination for sport fishing, hiking, kayaking, bird watching and whale watching, among other Alaskan activities. Start your bear-viewing tour here and you'll have a shorter flight time compared to leaving from Anchorage. Even if you're just here for a day while your cruise ship is in port, it's easy to fly out and witness the majesty of these impressive creatures. Plus, when you go with Island Air, you'll be in a 6-person DeHavilland Beaver—the ultimate Alaskan bush plane.
Tour Options
The Katmai Tour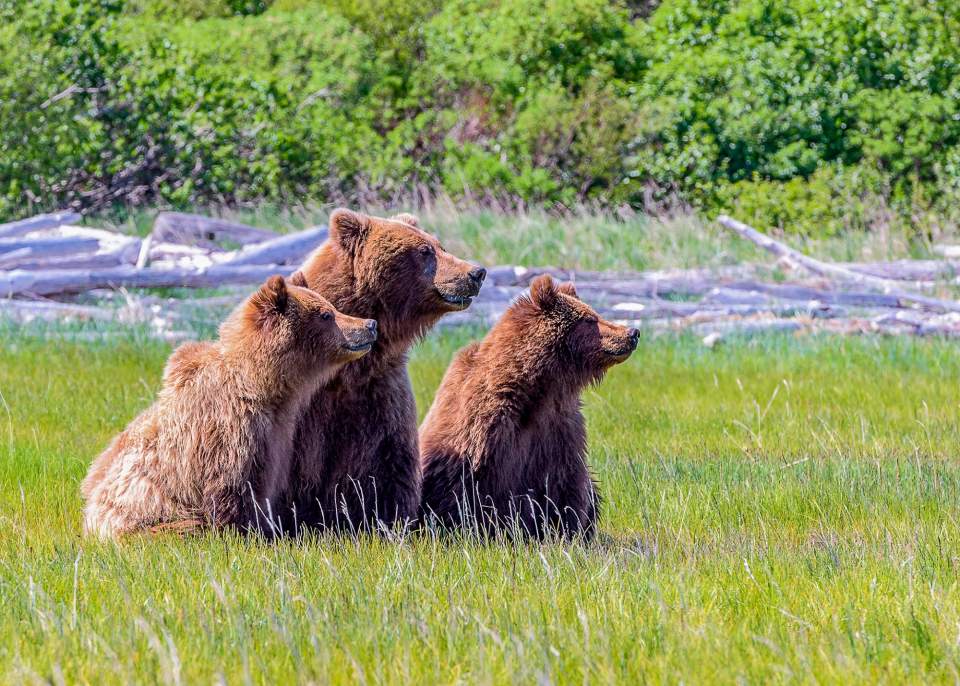 The Katmai Tour is a 4.5-hour trip that operates from June to September. You'll take a 45-minute flight across the Shekilof Straits to Katmai and land at either Hallo Bay or Geographic Bay—wherever the bears are more prevalent. Every day will be a little different. Early in the season the bears may be grazing on grass, while later on they may be at the mouth of the river, feeding on salmon, or digging clams at low tide. Tours can be modified to include a flightseeing trip on the return leg. Lunches are provided and attention is taken to include any special dietary needs.
The Frazer Lake Tour
The Frazer Lake Tour, which operates in July and August, is also a 4.5-hour tour with a 45-minute flight—this time out to Frazer Lake on the South End of Kodiak Island. Here you'll find a fishing weir where fish are directed and counted as they swim upstream. Of course, where you find fish, you can find bears, which converge on the weir during the salmon run. Lunch is provided for the Frazer Lake tour.
Flightseeing
If you just want to see Kodiak's rugged mountains and valleys, try the 1.5-hour flight seeing trip that departs from the airport. Island Air's knowledgeable pilots can customize your flight to look for whales, mountain goats or overfly glaciers. Kodiak has a rich Aleutic and Russian history and you will see points of interest along the route. Salmon fishing has driven Kodiak's economy for decades and the Island boasts several remote salmon canneries – two still in operation today.
About Island Air
Island Air has been in business for more than 40 years. Founder, Bob Stanford, was a true bush pilot who was featured in the first season of Alaskan Bush Pilots. The current management team at Island Air is committed to providing safe, reliable transportation while continuing to carry on the legacy of Island Air. They fly scheduled air service to the area's island villages, have a full schedule of floatplane services, and of course flights to the home of Alaska's Brown bears in the remote and majestic wilderness of Katmai National Park.