A scenic flight to an uncrowded location to watch bears: it's about as Alaskan an experience as one can have. And that's exactly what Kingfisher Aviation provides on its four-hour trips to Kodiak Island and the Katmai Coast. With a maximum of four people, Kingfisher is able to customize each trip, making for an intensely personal experience.
Fabulous Photo Ops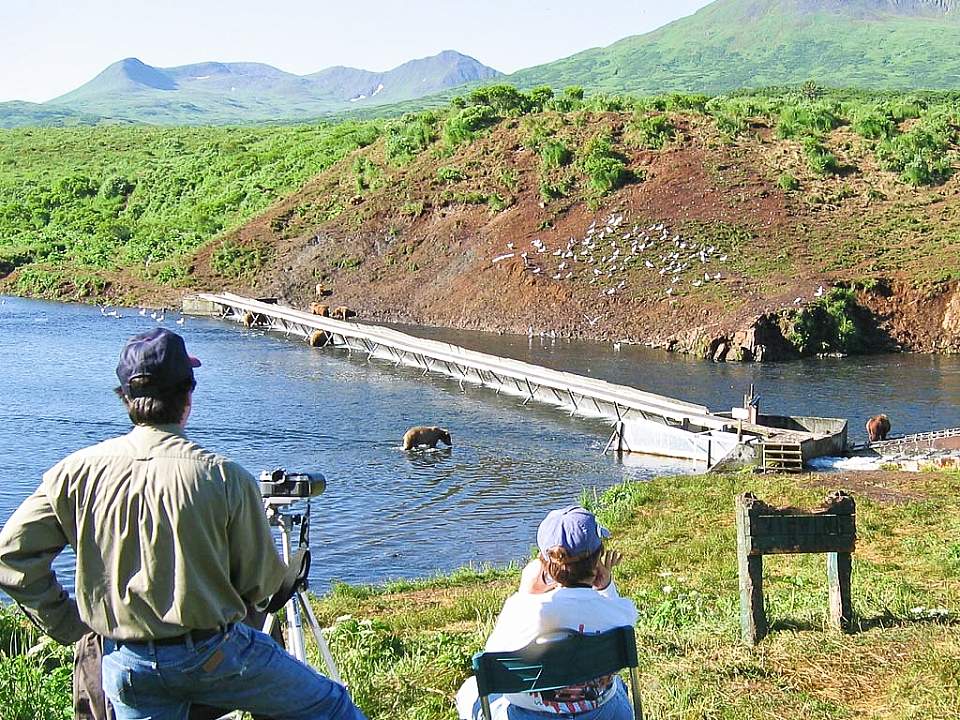 You'll start off in the town of Kodiak, where you'll board a floatplane for a one-hour flight. Owners Glen and Kyle Eaton pilot the planes, new Bush Hawks. With the large windows and strong motors, these planes are perfect for Alaska flying. And Glen and Kyle are the perfect pilots and guides: they'll share stories about the land below and tell tales about growing up and living in Kodiak.
The flight to the bear viewing destinations is stunning. You'll take in the majesty of snow-capped peaks, fjords, and glistening lakes. Look out for whales, bears, mountain goats and deer. On the Katmai coast, you'll fly over both glaciers and volcanoes—so be sure to have your camera handy.
Just You and the Bears
In prime bear-viewing season (mid June to mid August), you'll set down on Frazer Lake. It's an easy, 3/4-mile walk past wildflowers (hint: keep an eye out for eagles) back to a riverside bear-viewing hot spot. You'll be just 50 or 60 yards from 8 to 10 bears, watching them swipe at the water and the teeming runs of red salmon, while the cubs play on the river banks. Best of all, you won't be jostling with others to get a great view: there are usually only a handful of people back here at any one time.
In the shoulder seasons (early May to mid June and mid August to early October), your destination is the scenic Katmai Coast. Out here, bears don't fish for salmon—instead, they dig for clams. While the concentration of bears during these times may not be as high as in summer, watching them forage and play is just as captivating.
The Ultimate of Your Trip
At both places, you'll spend an unforgettable 90 minutes with these magnificent creatures, then walk back to the plane for your flight home. Many travelers find the flight and bear viewing to be the highlight of their Alaskan adventure, well worth the money.
Kingfisher Aviation also offers shorter flightseeing tours, as well as charter trips to hunting lodges and fishing camps.
The weather in Kodiak can be unpredictable and flights sometimes have to be cancelled. Plan to spend 2-3 days in Kodiak to guarantee a departure.