Take off in a helicopter for the thrilling experience of aerial flightseeing through the Chugach Mountain range. Then land on a glacier, donning crampons and a helmet, and explore the blue ice with your world-class glacier guide. It's an exciting, educational half-day trip that you won't forget!
This awe-inspiring excursion begins in Girdwood. You'll take off in the helicopter and fly over areas inaccessible to anything but aircraft offering incredible views of mountains and surrounding glaciers out every window. You'll then land on a glacier where an Ascending Path mountain guide will take your small group (6 people or less per guide) to witness breathtaking ice features. Discover blue ice, hidden ice caves, crevasses and vivid deep blue pools of water. Learn how glaciers carved the landscape and how they're affected by climate change. It's an experience that's simply not possible without a helicopter!
For even more adventure, add-on the unique experience of ice climbing. Get expert instruction from your ice climbing guide. Grab your provided ice-climbing axes, crampons, mountaineering boots, ropes and hardware to learn how to scale a wall of ice like a Rockstar for this top-roped ice climbing experience!
Both trips include a deli boxed lunch, bottled water and snacks.
Times: Operating 7 days a week year-round from Anchorage and Girdwood. Trips run 6-12 hours depending on departure location with several departure times daily. Requires advance reservation and limited space fills up quickly!
EPIC TOUR: Train // Iceberg Kayak // Helicopter // Glacier Hike
Ride Alaska Railroad to Spencer Whistle Stop, kayak with iceberg giants, and hike to the toe of the glacier. Hop in a helicopter for a short flight up glacier. Trek on the ice for 2+ hours (on average) with a glacier guide and fly off with another helicopter flight back to Portage/Girdwood. EPIC!
No previous glacier experience is necessary. Your guide will teach you how to paddle a tandem kayak and walk in crampons. However, this is a moderate to strenuous activity, so please be prepared for a full day of activity in most weather conditions.
Times: Operating 7 days a week from Anchorage and Girdwood. Customized check in times anytime between: 7:00am and 12pm. Total trip duration if departing from Girdwood averages 8-12 hours, which may include a weather contingency buffer. Exact time slots are customized for you by our office based on your desire, group size and helicopter availability.
Departs 7 days a week from Alaska Railroad Anchorage Depot: Check in 9am – Return 9:15pm
Ultimate Glacier Overnight Adventure
The Ultimate Overnight Adventure includes AP's Spencer Glacier Kayak tour by train with an added Helicopter flight to overnight camping on a Glacier… and then another helicopter ride back to Alyeska Hotel the next day.
On this glacier "glamping" experience you will ride the train, paddle past ancient ice, hike near the face of the glacier, then fly up and camp on the glacier with a professional glacier and kayak guide. Peer deep into crevasses, find ice caves and learn how glaciers are formed. Glacier exploration is by Alaska Railroad, then sea kayak across Spencer lake amidst icebergs. This trip ticks off a lot of Alaskan adventures on the bucket list in 24 hours.
Nowhere else in the world can you: ride a train, sea kayak, explore ice, sleep and dine on a glacier as well as experience 2 scenic helicopter flights all in two days!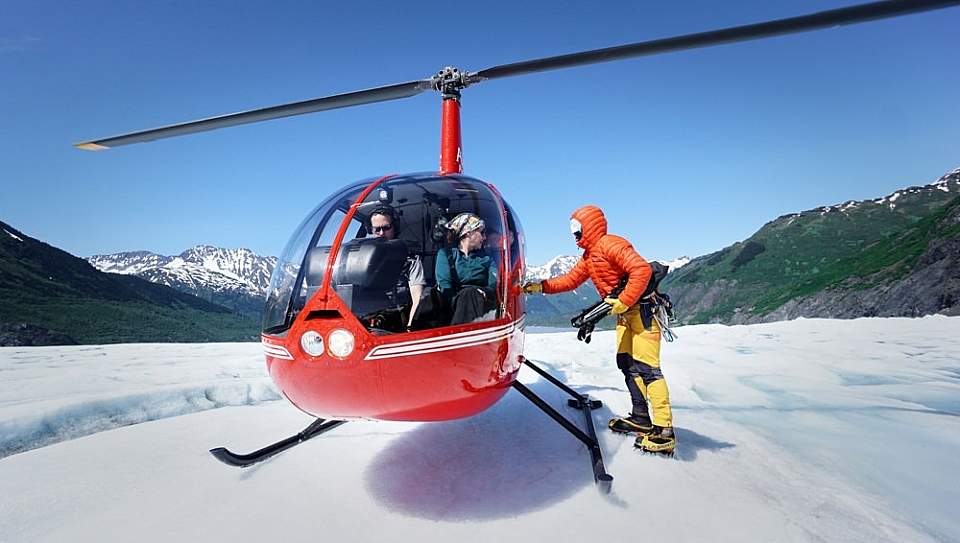 Since you will be staying the night on the glacier, you will have extra time to explore the ice and take photos. You will enjoy dining on the glacier during the midnight sun with panoramic glacier, mountain and lake views while eating a memorable King Crab dinner. Your sleeping arrangements will be in a comfy North Face 2 Meter Dome or Space Station tent on the glacier with cots, pillows and sleeping bags. The next morning will include a hot breakfast, more exploration, lunch and a helicopter pickup at 2pm for the flight back to Portage or Hotel Alyeska.
Times: Operating 7 days a week from Girdwood. Customized check in times anytime between 7:00am and 12pm, and returns the next day anytime between 10:30am and 3pm. Total trip duration averages 27 – 32 hours, which may include a weather contingency buffer. Exact time slots are customized for you by our office based on your desire, group size and helicopter availability.
About Ascending Path
The local owners of Ascending Path, Matt and Heather Szundy, live & have been growing the business since 1995. (In fact, they met on an ascent of Denali!) Matt and Heather have spent their adult lives exploring, from Nepal and New Zealand to Antarctica and Alaska. Matt has guided for Hollywood film crews, acted as a stunt double for ice climbing films – and was even called on by the White House to guide President Obama on a 2015 trip to Exit Glacier. Their company is award-winning and has been a Recipient of TripAdvisor's Certificate of Excellence for almost 10 years running.
Here are some of the reasons Ascending Path is the go-to guiding company for so many:
Exclusive Access
Ascending Path is one of three permitted operators at Spencer Whistle Stop in the Chugach National Forest. Ride the train to the Spencer Whistle Stop and then travel by bus or van for closer access to the Spencer Glacier. Ascending Path nurtures relationships with clients and local partners – such as the Alyeska Resort, Alaska Railroad and Alpine Air – so that visitors can have convenient access to Alaska's wilderness areas.
Accomplished and Enthusiastic Mountaineering Guides
Ascending Path is the rare guiding company that employs expedition guides for day trips. Your adventure may be led by a guide who has summited Denali, kayaked on month-long ocean expeditions and/or climbed in the Himalaya mountains. Enthusiasm and love of the outdoors is something the Szundy's look for in every guide they hire. So, when you opt for an Ascending Path guided trip, you're guaranteed a fascinating adventure filled with tons of interesting facts (and maybe a corny joke or two).
Small Ratios
Each trip Ascending Path offers a small group to guide ratio. Small groups have less impact on the environment and allow for maximum interaction between guests and guides. Having a fun, friendly and attentive guide can make a regular outing a spectacular day. Learn about glacier formation while sea kayaking or walking beside an iceberg-strewn lake. Discuss the uplift of coastal mountains, and then identify wildflowers. The pros here not only guide, but they teach and inspire, and with very small ratios, you won't be lost in a crowd. Each trip is customized to your skills and interests. No previous experience is necessary!
As soon as there is the potential for the unknown and uncontrollable, that's where adventure begins.
Meet me