Seward & Kenai Fjords Small Ship Adventure Cruises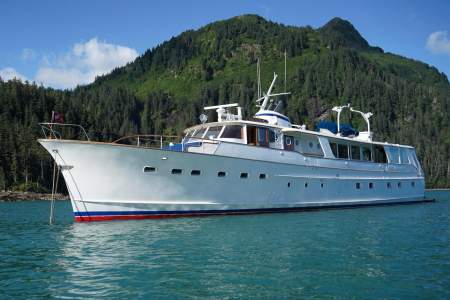 Season: May - September
$6,200+ (Inside Passage $2,650+)
5 days / 4 nights
Cruise Ship Type: Small Ship Cruises
Ship Name: M/V Sea Star
Set sail for 5 days and 4 nights with the crew of the M/V Sea Star for small ship adven­ture cruis­ing in Prince William Sound, Kenai Penin­su­la or along the Inside Pas­sage. The well-appoint­ed yacht accom­mo­dates just 12 guests, allow­ing for a per­son­al­ized expe­ri­ence where you are the explor­er! Unplug from day-to-day life and soak up the won­ders of Alaska's amaz­ing coast­line. All meals pre­pared by an on-board chef and fea­tur­ing fresh local ...more
Season: Early May - Sept
$2,500 day trip (whole boat, up to 6 max), $5250+ personalized overnight trips
Day Trips, or Multi-Day up to 5 Days
Cruise Ship Type: Small Ship Cruises
Ship Name: Darby
Explore Alaska's Res­ur­rec­tion Bay and Kenai Fjords Nation­al Park ful­ly with a three-day/t­wo-night cus­tom adven­ture per­fect for fam­i­lies or cou­ples. Alas­ka Fjord Char­ters guides you to the best mix of kayak­ing, glac­i­er view­ing, whale watch­ing, and fish­ing, all in one leisure­ly tour.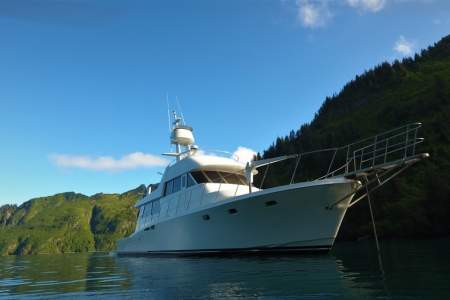 Season: April - Sept
$4,000 Day-trip | $8,000+ Multi-day
Cruise Ship Type: Small Ship Cruises
Ship Name: M/V Caroline
Spend the after­noon, or a few days explor­ing the waters of Res­ur­rec­tion Bay and Prince William Sound aboard the M/V Car­o­line, a beau­ti­ful cus­tom-built yacht set for adven­ture! It's the per­fect set­ting for a fam­i­ly or small group vaca­tion. Fill your days loung­ing on the fly­bridge, fish­ing, kayak­ing, strolling beach­es and cruis­ing to your next fan­tas­tic destination.