Photo Credit: Scenic Mountain Air
Flightseeing in Alaska affords you a spectacular bird's-eye view of the landscape—some excursions take you close to Denali and other tall peaks. But Seward offers up a different and unique perspective.

Lift off from Seward and in minutes you could be flying over the massive Harding Icefield; across Resurrection Bay, where tidewater glaciers spill into the water; and above the craggy green cliffs and rock formations rising out of the water in Kenai Fjords National Park. It's not uncommon to spot whales and other marine wildlife in the shimmering water, mountain goats clinging to the cliffs, and bears walking along the shore.

For a small town, Seward serves up a variety of flightseeing options. You can take to the skies in a helicopter, a fixed-wing airplane, or a floatplane that lifts off from a glacially fed lake just 25 minutes north in the town of Moose Pass. All are magical. All companies offer the opportunity for landings mid-flight. Helicopters come with the option of landing in unique spots, like on a glacier for some heli-hiking or dogsledding, or on a mountaintop for an unforgettable picnic.
Here are our recommendations for Seward flightseeing companies.
Season: May - Sept $224+ 30 min - 2 hrs
Get a bird's‑eye view of one of Alaska's most dra­mat­ic land­scapes — Kenai Fjords Nation­al Park — on an unfor­get­table scenic flight out of Seward. Expe­ri­ence the extreme­ly rare oppor­tu­ni­ty of a Glac­i­er Land­ing on the Hard­ing Ice­field on this small group, inti­mate adventure.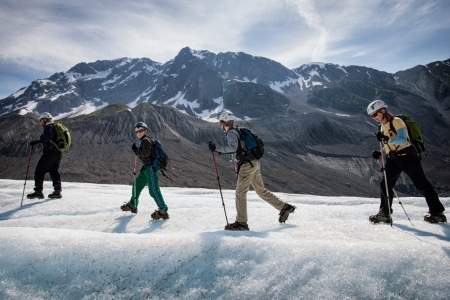 Season: May 20–3rd week of September $395+ 3+ hrs
Start with a dra­mat­ic flight­see­ing trip in either a heli­copter or ski plane and then get out onto an ancient riv­er of ice for a thrilling glac­i­er explo­ration either hik­ing or climbing.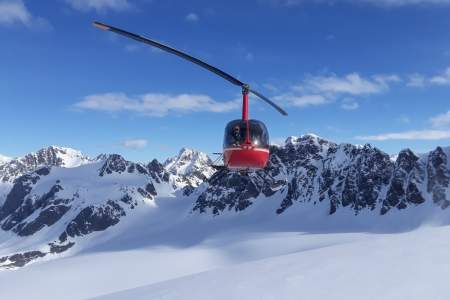 Season: May - Sept $75+ per person 5 - 60 minutes
The area around Seward abounds in glac­i­ers, mak­ing it the per­fect place to go heli-flight­see­ing. Fly above town and Res­ur­rec­tion Bay, opt for a glac­i­er land­ing, or longer flights over Kenai Fjords Nation­al Park. They can even drop you off on top of Seward's famous Mt. Marathon to enjoy the amaz­ing views.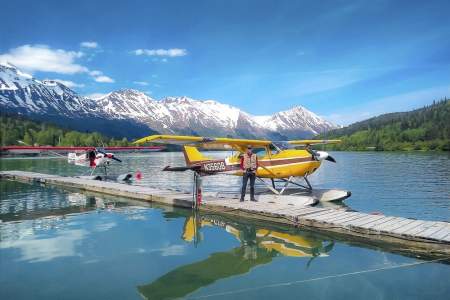 Season: May 15 - Sept 15 $99+ per person 15+ minutes
With Scenic Moun­tain Air and you'll be fly­ing over one of Alaska's most beau­ti­ful areas from Moose Pass. Set on the Kenai Penin­su­la, 25 miles north of Seward, this cen­tral loca­tion makes it easy to explore icon­ic nat­ur­al fea­tures — like glac­i­ers, ice fields, and moun­tain lakes. Or, use their exper­tise to fly to remote pub­lic use cab­ins or lakes for fishing.