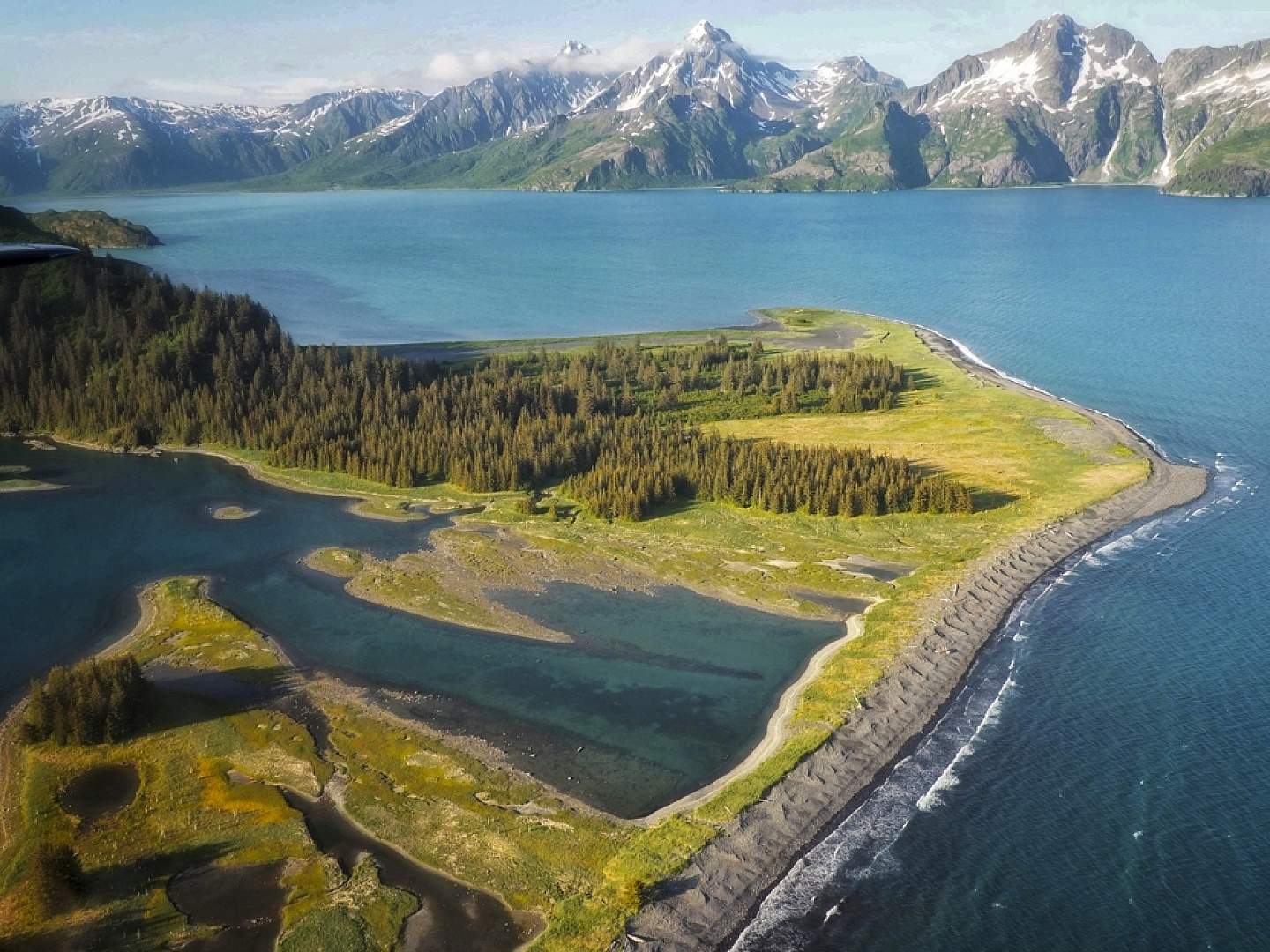 Get a bird's-eye view of one of Alaska's most dramatic landscapes—Kenai Fjords National Park—on an unforgettable scenic flight out of Seward.
Tidewater glaciers calving, mountains shooting right up out of the water, wildlife everywhere: The view out over Kenai Fjords National Parks is probably unlike anything you've ever seen.
And the best way to fully appreciate the area's dazzling natural beauty is by air.
Intimate, Small Group Tours
You can also take advantage of Seward Air Tours' air taxi service—the only local flight service to the Harding Icefield. They also offer beach landings in their Piper Super Cub, which unlocks access to camping in remote locations. Whether you're looking for a unique way to commemorate a special occasion, or you just need a lift, the owner and pilot, Joey, can get you there safely. Celebrating an elopement, engagement, or birthday? Bring cupcakes and Champagne and have the most incredible party ever!
Tour Options
Bear Glacier Scenic Flight
The company's most popular tour flies over stunning Bear Glacier. You'll look down on this ancient river of ice, as well as the lagoon, where massive icebergs float in the vibrant blue water. It's the perfect way to see a lot in a short amount of time. It's also great for families with smaller kids!
Aialik Glacier Scenic Flight
Go deeper into your exploration of gorgeous Kenai Fjords National Park with this flight to the famous Aialik Glacier. It's one of the more active glaciers in the area, so you may well catch some calving action! You'll witness the majesty of Bear Glacier and the lagoon before cruising over the snow-capped mountains to Aialik Bay, where you'll peer down on the namesake glacier, along with Pederson Glacier.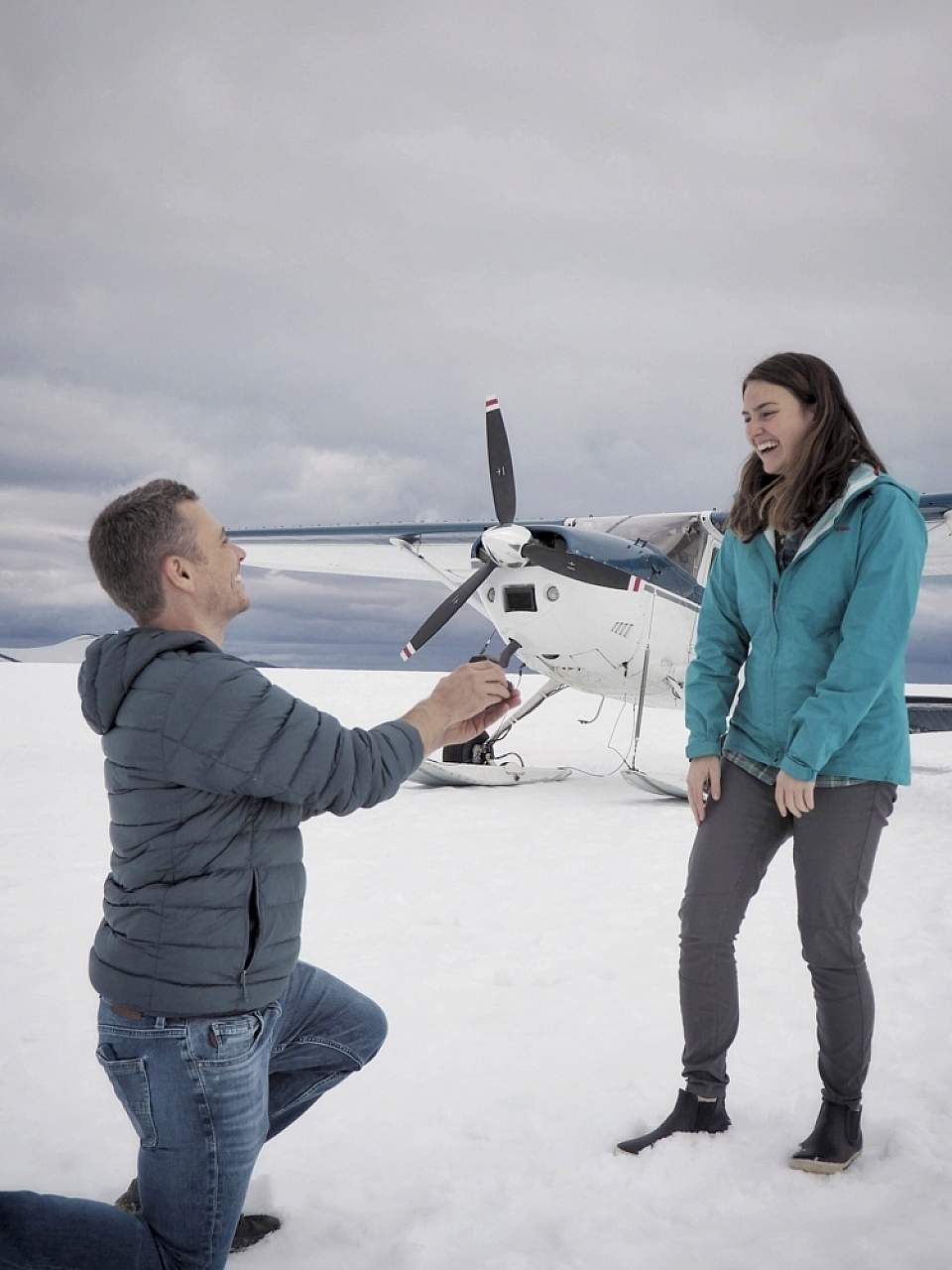 Northwestern Fjord Scenic Flight
This is the granddaddy of scenic flights! You'll cover quite a distance, giving you lots of time to soak in the details of the landscape and search for wildlife. You'll see countless hanging glaciers and their waterfalls spilling out dramatically from under the glaciers and falling hundreds of feet below—all of it seems so close you could reach out and touch it. This tour also gives you the rare opportunity to witness the unique geography around granite rock mountains, where the landscape suddenly shifts and makes everything feel lighter, brighter, and truly special.
Glacier Landings
With Seward Air Tours, you have the chance to add a Glacier Landing to any scenic flight. This experience comes highly recommended as it is an extremely rare opportunity to witness a truly untouched Alaskan landscape. Guests who have experienced a Glacier Landing on the Harding Icefield attribute it to landing on the moon, or being transported back in time when Mammoths once roamed the earth. With new snowfall every winter, it's often likely you are the first people to step foot on this part of the planet, and you're the only humans for miles and miles. It's an experience you will not only see, but you will feel deep within you. This is also your time to personalize your trip; bring a frisbee, make snow angels, take pictures and bring cupcakes to celebrate that special occasion.