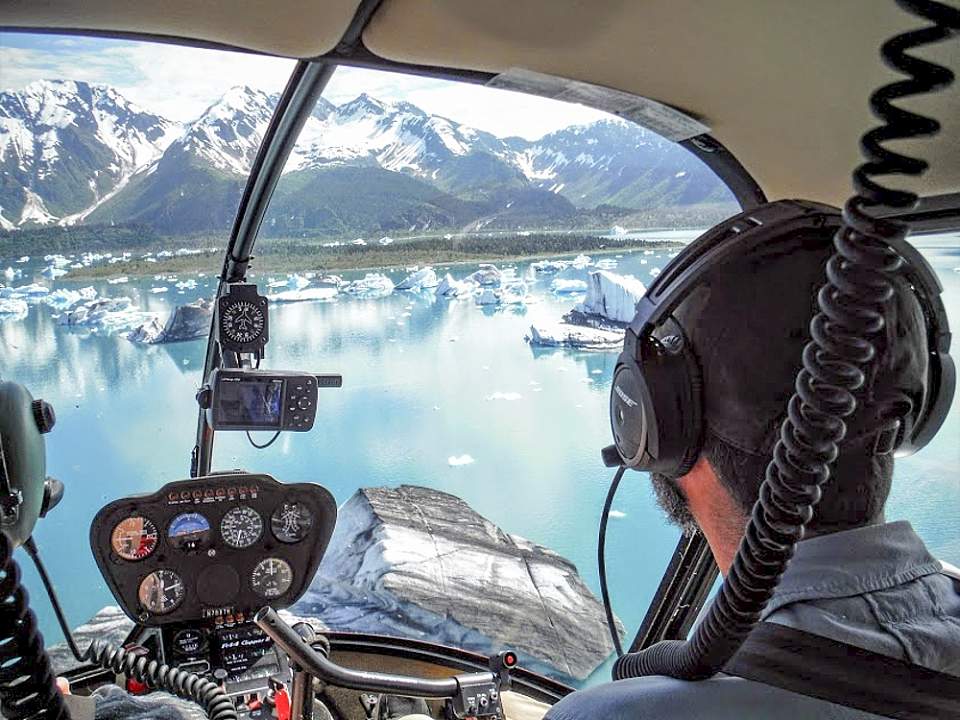 There's a reason glaciers are on every Alaskan traveler's bucket list: These ancient rivers of blue ice are stunningly beautiful and endlessly fascinating—and seeing them from above gives you some real perspective on them. Fortunately, the area around Seward abounds in glaciers, making it the perfect place to go heli-flightseeing. In fact, even on a 15-minute flight, you'll see no fewer than 5 glaciers!
That's not all you'll see. From gorgeous fjords to an abundance of wildlife—there are bald eagles nesting right near the airport!—some of Alaska's greatest hits are super-close to the charming community of Seward.
And when you travel with Marathon Helicopters, you'll be flying with experienced pilots with deep knowledge in the area. You'll have a variety of options, from shorter flights above town to hour-long flying expeditions customized to whatever your interests are. They can even drop you off on top of Seward's famous Mt. Marathon to enjoy the amazing views.
Everyone gets a window seat, and on longer tours with a landing, those in the front and back seats can switch positions to get a different perspective on this magical landscape. Even the company office is unique—a converted, 40-foot shipping container with a front and back porch, and rooftop deck where you can enjoy a drink pre- or post-flight and watch for wildlife!
Most Popular Tours
Bear Glacier Tour
This 30-minute journey takes you over the shimmering waters of Resurrection Bay, where you'll look for marine life in the water and for goats and bears in the surrounding valleys. You'll head to Bear Glacier Lagoon, an area studded with icebergs, then fly over that glacier, the famous Harding Icefield, and Exit Glacier. Want to customize your trip with a landing? Do it! One popular spot is a beach with glaciers in the background–ideal for proposals or engagement shoots.
Glacier Landing
Sample heli-flightseeing and the experience of standing on a glacier: This tour gives you 15 minutes of both, making for an unforgettable combo that could well be the highlight of your entire Alaska voyage.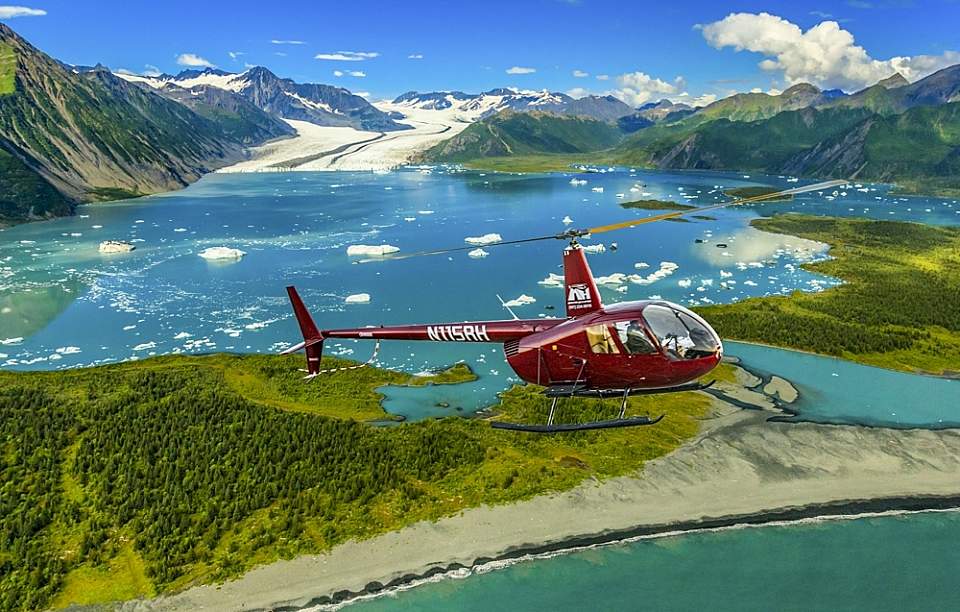 Longer Tours
Spend some more time in the air and explore deeper: Book a 40-, 45-, or 60-minute flight. These longer trips are ideal for visitors who want to see wildlife and as much of the national park as possible, as well as parts of the park only visible by air. In just 45 minutes, for example, you can do a round-trip from Seward to gorgeous Aialik Glacier in Kenai Fjords National Park—a trip that would take a day by boat.
Custom Tours
What do you most want to see? Bears, waterfalls, glaciers? The pilots at Marathon are pros when it comes to the area, and can craft a journey that hits on your highlights to make the most fun, fascinating, and scenic journey possible.
Mt. Marathon Drop-off
Mt. Marathon is famous for its Fourth of July foot race up and down the mountain, but you can enjoy the amazing views from the top without all that effort! Get a scenic lift up to the mountain's peak by helicopter, enjoy a picnic, and then get picked up or choose to hike down.
About Marathon Helicopters
Owner Mike Culver came to Alaska in 2012, after flying helicopters in Phoenix and South Carolina. And once he arrived in Seward, he fell in love with the area. It was the most beautiful place in Alaska he had flown. So he settled here and launched Marathon Helicopters, named after the famous mountain that overlooks the town.