Photo Credit: Liane Minster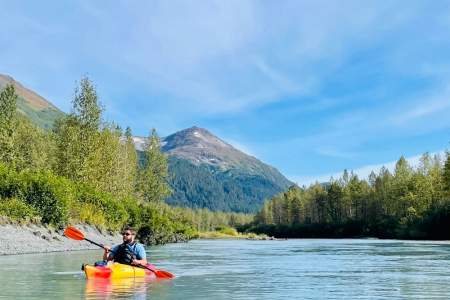 Season: Mid May– Early September $30+ day rentals 1+ day rentals
Whether it's kayak­ing, canoe­ing, or pad­dle­board­ing, you'll find top-flight equip­ment for rent at AK Paddlesports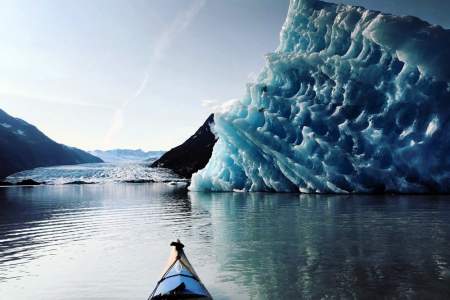 Season: June 3 - Sept 17 $399+
Enjoy a mag­i­cal morn­ing or evening kayak­ing the calm waters of Spencer Lake, in the awe-inspir­ing pres­ence of a jagged ter­mi­nus glac­i­er. Your time on the water is sand­wiched between two train rides that offer up some of Alaska's most scenic rail miles. It's a full day of unfor­get­table expe­ri­ences in our country's sec­ond largest nation­al for­est – the Chugach.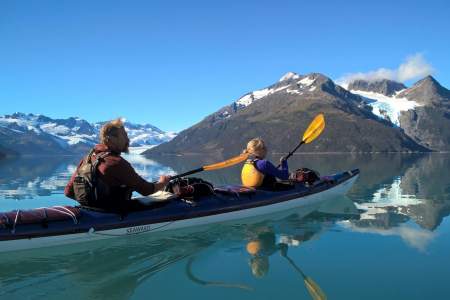 Season: May 15 to Sep 15 $360, Full Day 8 hrs - Full Day
Lazy Otter offers guid­ed kayak tours and trans­porta­tion to seclud­ed areas of Prince William Sound. The calm waters have a gor­geous back­drop of the Chugach Moun­tains' ser­rat­ed peaks. Keep an eye out for the crea­tures that walk the shores and swim in the sea: orcas, hump­back whales, sea lions, puffins, seals, sea otters, eagles, goats, and bears.