Photo Credit: Liane Minster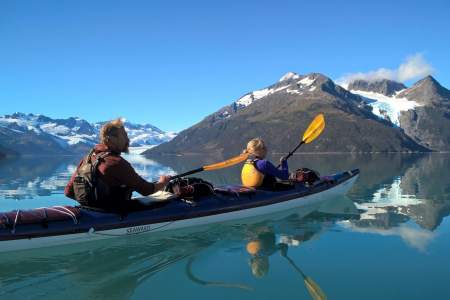 Season: May 15 to Sep 15 $55+ 8 hrs - Full Day
Lazy Otter offers guid­ed kayak tours and trans­porta­tion to seclud­ed areas of Prince William Sound. The calm waters have a gor­geous back­drop of the Chugach Moun­tains' ser­rat­ed peaks. Keep an eye out for the crea­tures that walk the shores and swim in the sea: orcas, hump­back whales, sea lions, puffins, seals, sea otters, eagles, goats, and bears.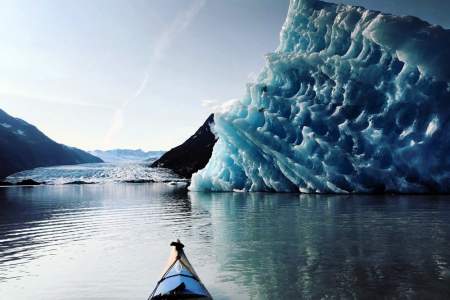 Season: Jun 04 to Sep 11 $399+
Enjoy a mag­i­cal morn­ing or evening kayak­ing the calm waters of Spencer Lake, in the awe-inspir­ing pres­ence of a jagged ter­mi­nus glac­i­er. Your time on the water is sand­wiched between two train rides that offer up some of Alaska's most scenic rail miles. It's a full day of unfor­get­table expe­ri­ences in our country's sec­ond largest nation­al for­est – the Chugach.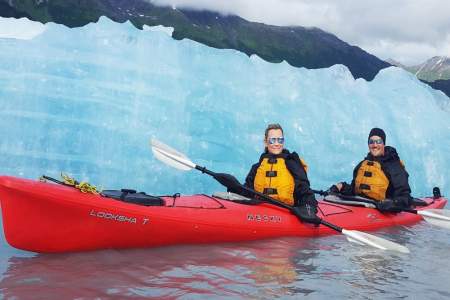 Ride the rails, sea kayak through an ice­berg-strewn lake and hike off-the-beat­en-path towards the face of Spencer glac­i­er, all in one trip! Local­ly-owned Ascend­ing Path designed this awe-inspir­ing out­ing, pack­ing sev­er­al excit­ing ele­ments into one sat­is­fy­ing day. Trust­ed by locals and Hol­ly­wood pro­duc­ers alike, Ascend­ing Path will take you on an unfor­get­table Alaskan adventure.