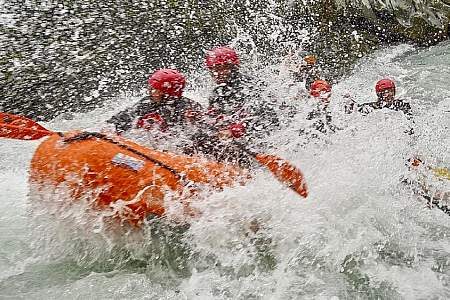 Season: May 10 - Sept 15 $200 per person 3 hrs
Join Flow AK on a back­coun­try adven­ture with expert guides as you nav­i­gate the nar­row canyons and chal­leng­ing rapids of Six Mile Creek. With small groups and per­son­al­ized atten­tion, you're sure to make new friends and unfor­get­table mem­o­ries. Just a short dri­ve from Anchor­age, this excur­sion is not to be missed!
Six Mile Creek is one of the most famous — and most chal­leng­ing — white­wa­ter runs in the entire state of Alas­ka. Your heart will be pound­ing and your mus­cles burn­ing as you pad­dle through rapids called ​"Big Rock Drop," ​"Suck­hole," and ​"Let's Make a Deal."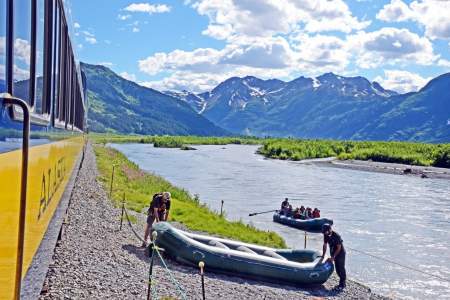 Season: May 27 – September 17 $235+
The orig­i­nal hall­mark trip that got the Alas­ka Rail­road to bring the Glac­i­er Dis­cov­ery to Spencer Glac­i­er in 2002. This is one of the most scenic glac­i­er riv­er trips in Alas­ka and a per­fect float for all ages. Your trip begins with a scenic ride on Alas­ka Railroad's Glac­i­er Dis­cov­ery train, which runs from Anchor­age, Gird­wood, and oth­er pick-up points along the rail­belt. Enjoy a beau­ti­ful ride down Tur­na­gain Arm and the Plac­er Riv­er Val­ley and ...more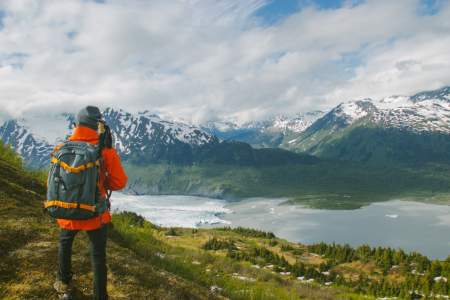 Season: Jun 01 to Sep 17 $849 per person
Expe­ri­ence the wilder­ness of the Chugach Nation­al For­est from sev­er­al dif­fer­ent per­spec­tives. Com­bine a heli­copter ride, alpine hike, glacial lake tour, and train ride all in 9 – 10 hours! It's one big and bold Alas­ka tour de force with Chugach Adventures.