Photo Credit: Portage Glacier
With its extensive wetlands and lakes, Southern Alaska may be one of the best places in the world for skating wild ice. More and more people have been discovering skating routes close to Anchorage. They invite exploration of unexpected enclaves and mazes.
These frozen passageways meander along sloughs. They crisscross pond-to-pond over wetlands. Some follow frozen river channels for miles, offering slick access to territory only reachable by boat in summer. Others center on vast lakes, some freshwater fiords beneath stunning mountain walls.
The sport becomes especially satisfying during that in-between season when the world has frozen solid but snow has not yet become too deep.
Depending upon snow depth, the season for skating wild ice can be short—ranging from a week or two to a couple of months. Many people find that skating remains fun even with a couple of inches of snow on the ice. A lot depends on the texture and density of the snow cover, and the underlying smoothness of the ice surface. Most winters, snow does eventually become too deep, and you have shift your skating adventures to ice that's been shoveled off or mopped.
Still, even after snow blankets most ice, a mid-winter meltdown can sometimes strip the cover and rehab the frozen surface for a new round of skating.
Best Places for Adventure Skating Near Anchorage
The Anchorage Parks Department monitors ice thickness and then authorizes hop mopping and maintenance in skating zones at five lakes and one skate pond.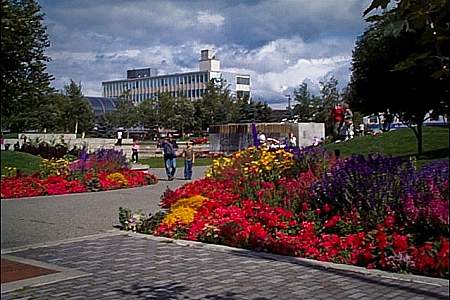 In 1984 when the Per­form­ing Arts Cen­ter was being built plans were includ­ed for Town Square. In the sum­mer it is a good spot to sit and take a break. In the win­ter, the trees are strung with christ­mas lights and an ice skat­ing rink is cre­at­ed at the cen­ter of the park.