Photo Credit: Paxson Woelber
Ice Skating, Skiing & More at Portage Glacier
For an otherworldly encounter with a famous glacier you can't easily approach or even glimpse during summer, lead the family across frozen Portage Lake to a fantastic wall of jumbled, blue ice. Once the lake surface has frozen solid at least four to six inches thick and is safe for travel, people flock across on foot, ice skates, skis and bikes to enjoy a unique spectacle.
Sunny weekends can inspire hundreds to make the six-mile round-trip into the cove where icebergs thunder and calve during summer. Winter makes it the most accessible glacier in the region.
Caution: Experts recommend staying well back from the glacier face itself. Large hunks can collapse without warning even during winter, or explode from below water level and shatter upward through the lake surface. Stay off icebergs for the same reasons.
Miles of cruising around . . .
People who arrive on ice skates, skis or snow bikes often tour the upper end of the lake—a one-mile expanse from glacier face to opposite shore. They follow twisty trails in the snow, or venture into the rollercoaster-like foothills. Depending on surface conditions, you might be able to climb all the way to Portage Pass with a glimpse of the ocean in Passage Canal. If a firm crust has formed, capable of supporting your weight, the trip can be a blast, as exciting as a downhill ski run.
So what gear?
Which travel mode to use—ice skates (Nordic skates that clip to bottom of ski boots work best,) skis, bikes, snow-shoes or foot—strongly depends upon current conditions. The quality and texture of Portage Lake ice can vary a lot over the winter, even changing dramatically from one day to the next. The valley's notoriously fickle weather can transform ice overnight from frictionless sheen excellent for skating to uneven rubble better suited for biking or walking with grippers. It can morph from deep snow requiring classic skis or snow-shoes to a firm crust that can be skate-skied at race pace.
Our advice: Get good reports from people who have gone recently. (Check the local trail forum for Portage Lake.) As a back-up alternative, always take along boots suitable for walking if ice conditions won't accommodate your first gear choice.
Is the ice safe enough?
Gauging ice thickness and stability is the crux of making this trip safely. Never forget that frozen Portage Lake is wild ice over a 600-foot-deep freshwater fiord. Here are the precautions to take for any trip over unmaintained or untested ice.
A few suggestions:
First, try to confirm that other people have been traveling safely across the ice, followed by many days of sub-freezing temperatures.
Call the U.S. Forest Service in Girdwood. Rangers may have evaluated ice conditions or have reliable reports. (907) 783-3242.
If reports are sparse, check the temperature history over the past few days. (Go to this page and click on the station icon for Portage Lake.) Don't go if Portage Valley has been thawing.
Read the latest avalanche advisories for Turnagain Pass. It will give you a sense of the area's weather history (as well as alert you to avoid pending avalanche hazards.)
Check Portage Road weather for real time conditions and National Weather Service forecasts for the day.
Once at the lake, use common sense. If gobs of people are en route, and ice looks utterly bombproof, confidence rises. If no one has gone out or you can see standing water, you probably should do another adventure.
To ensure that you can scramble to safety if you break through into the water, carry a pair of ice safety spikes, commonly used by ice fishermen. Many outdoor stores sell them. Carry them around your neck outside of your clothes. (A couple of Phillips head screwdrivers linked by a short rope will also do the trick.)
Bottom line: If the route looks unsafe, and you aren't prepared to drill your own hole to evaluate the ice, trust your instincts and stay off.
What else can you do in Portage Valley in winter?
The five-mile Trail of Blue Ice extends from Moose Flats Day Use Area to the parking lot at Portage Lake. It's often great for classic skiing and can sometimes be biked. Avoid Williwaw Campground and Five Fingers areas during periods of avalanche hazard.
The Byron Glacier Trail leads up valley (southwest of the lake) 1.4 miles to the toe of the glacier. Avoid completely during periods of avalanche hazard. During winter, the road might not be plowed, adding another 2 miles to the trip from the parking lot area.
Drive through the Anton Anderson Memorial Tunnel to Whittier and Prince William Sound. First blasted from solid rock by the U.S. Army during World War II for rail access to a secret military base, the 2.5-mile one-lane portal is the longest shared highway-train tunnel in North America. Travel from Bear Valley to Whittier is usually on the half-hour, depending on train traffic, and costs $13 for a passenger car. For much more detail: http://dot.alaska.gov/creg/whittiertunnel/index.shtml
Photos: Paxson Woelber, Flicker
Getting There
View on Map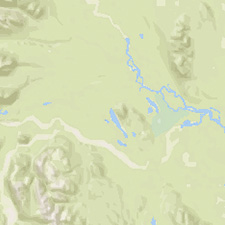 Coordinates
Latitude: 60.784671
Longitude: -148.841775
Portage Valley is 45 miles southeast from Anchorage down the Seward Highway at the head of Turnagain Arm. Portage Glacier Road extends another five miles east to the parking lot overlooking Portage Lake. From the beach, travel parallel to the southern (left) mountain face about 2.3 miles to where the lakeshore makes a sharp turn to the left (south.) The looming glacier rises looms about .75 miles further
Driving Directions