Photo Credit: Paxson Woelber
Ice Skating on Rabbit Slough & Wasilla Creek
These frozen channels wind for miles across the Palmer Hay Flats State Game Refuge off the Glenn Highway in the mouth of the Matanuska and Knik river valleys. Either travel the streams or explore extensive pond networks on the flats.
The brushy expanse offers fabulous views of Pioneer Peak and the Chugach Mountains, including an otherworldly vista of icy peaks towering over the head of the Knik River valley. The notorious Matanuska winds often keep the flats almost snow free, so skating tends to last longer into the winter here than at many other "wild ice" venues.
Watch for moose . . .
As the winter goes on and uplands grow snowier, moose tend to congregate on the Hay Flats, drawn by easy walking through winter browse. That phenomenon can transform any skating adventure into a great chance for moose viewing. Considering taking along binoculars or lightweight scopes.
Photo credit: Paxson Woelber, Flickr
Getting There
View on Map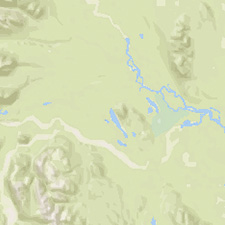 Coordinates
Latitude: 61.533901
Longitude: -149.266495
Take the Glenn Highway north 35 miles to the Parks Highway. Continue another mile toward Wasilla and exit on Trunk Road. Head south (left) across the highway to the roundabout and exit onto the frontage road heading back the way you just came. Follow the frontage road east and south along the highway about two miles to the turn off to the Rabbit Slough boat launch. A parking area on Wasilla Creek is about a half mile further.
Here is an Access map.
Driving Directions