Photo Credit: Paxson Woelber
Freeze-up turns this seven-mile long fresh-water fiord in Chugach State Park into a multi-mode travel corridor for ice skaters, hikers, skiers and bikers. Adventure skating can be good before snow gets too deep, or after mid-winter thaws or wind rehabs the surface.
When conditions deliver an expanse of smooth, glare ice, this trip is like no other in the region. Families will skate out a mile or two, or explore the outflow channel toward the dam. Ambitious skaters sometimes skate all the way to the upper end of the lake and back, specks dwarfed by a backdrop of mile-high peaks.
Like several other wild ice venues, Eklutna Lake can accumulate too much snow or become too rough for fun skating. Much depends upon the texture and density of the snow, combined with the quality and smoothness of the underlying surface. It's always a good idea to bring along skis, snowshoes, bikes or snow boots as an alternative to skating.
Photo credit: Paxson Woelber, Flickr
Getting There
View on Map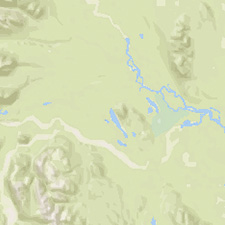 Coordinates
Latitude: 61.387146
Longitude: -149.043024
Take the Glenn Highway north about 26.5 miles to the Eklutna exit, then drive about 10 miles into the mountains to state park parking at the lake. $5 fee or state parking pass required.
Driving Directions