Photo Credit: K2 Super Cub © Dave Parkhurst
In the mid-1970s, most folks didn't see the point of flying to Denali unless you were going to climb the mountain. Jim Okonek saw it differently.
From his base in Talkeetna, he began taking visitors to the snow-covered peaks, teaching them about the geology of the area, and even landing on glaciers. When he took up well-known photographers, their photos inspired others to seek out the same views.
Jim's company, K2 Aviation, became the go-to company for Denali flightseeing. He even piloted the first iMax crew to film there.
Almost half a century later, Jim's vision has turned Talkeetna into the flightseeing capital of Alaska.
Q. What's unique about what you've created? What life experiences led you to where you are today?
I was a helicopter pilot in the Air Force and got a lot of experience in rescue operations. I flew all over the state and met a lot of people in the air taxi business. After I retired from the military, we began spending more time at our property near Talkeetna.
My son started getting involved in climbing. Around the dinner table, he would tell us how wonderful it was on the mountain.
Flightseeing hadn't materialized in Alaska yet at all. It hadn't occurred to anyone that people would pay good money just to go look at something.
When we had a chance to buy K2 Aviation, we jumped on it. I didn't consider myself a bush pilot at the time, but my military experience served me well.
We realized there was a market for sharing the beauty of the area with visitors. It was a hard sell at first. The weather had to cooperate for one thing. I used to get up at 5 a.m. and drive a half mile to see if there was clear weather at the mountain. I would call into a radio show at the exact time every morning to announce if it would be a good day for a flightseeing trip or not.
Q. What makes Alaska special for you?
The geology and the long, marvelous summer days, and long, dark winters, all add to the adventure.
But it's the people that really make the difference. I find that Alaska is exciting because the population is younger and a little more adventuresome.
When my wife and I would go back to Wisconsin to meet with old friends, we would run out of things to talk about after about 10 minutes. I think they were equally as content as we were, but they hadn't expanded their horizons one iota. That always amazed us.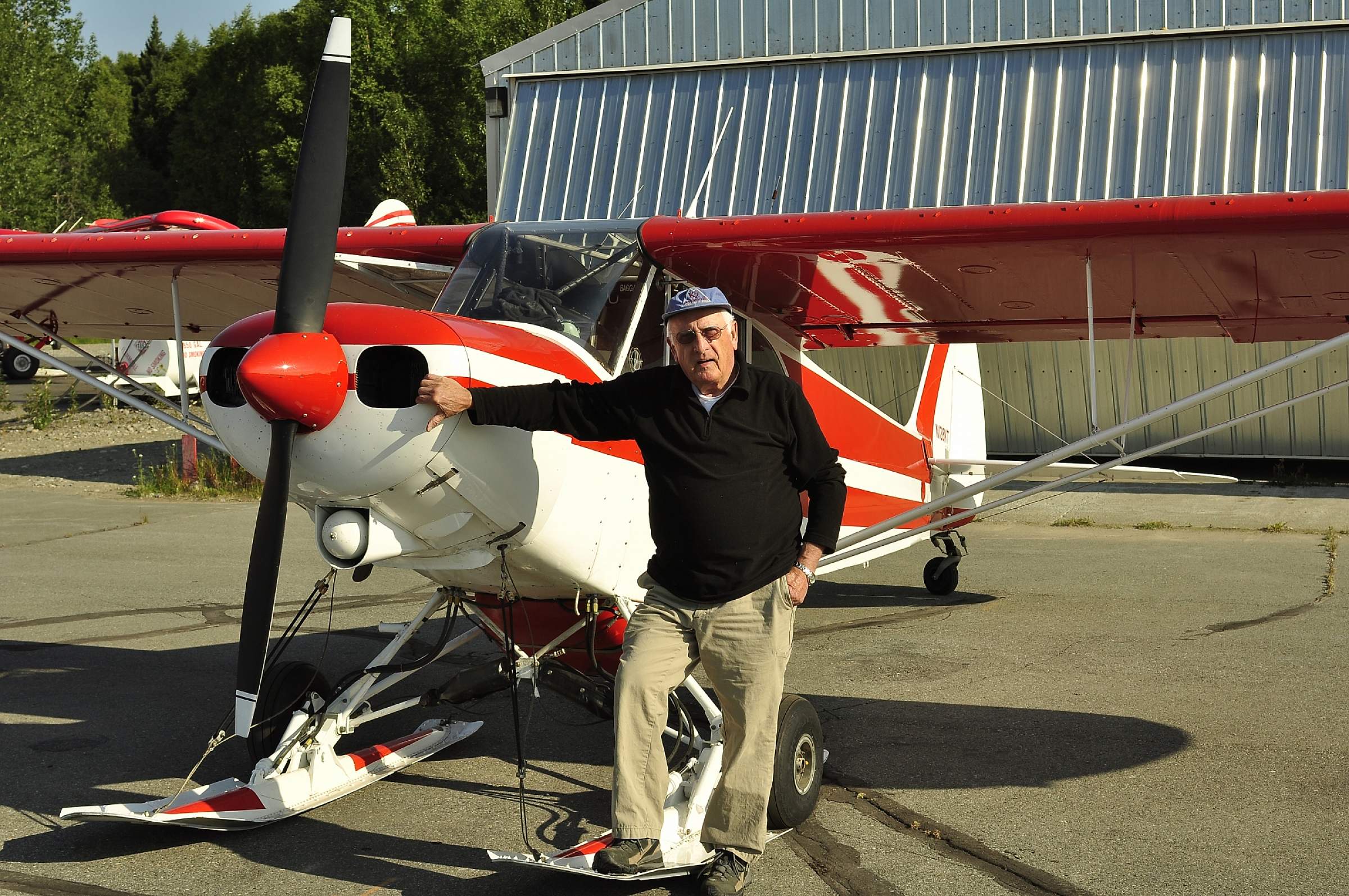 Q. What are your favorite places and/or experiences in Alaska? What do you remember most about them? What have you learned from them?
The Denali Park area, especially east of Talkeetna. It's a big change from the rock and ice of Denali. The landscape turns to beautiful lakes and forest. I enjoyed taking hunters to that area in the fall.
McCarthy/Kennicott was a favorite place, for the history and what was left behind. I visited there in 1965 as part of an aerial search I coordinated looking for a man who had gone missing while sheep hunting.
At that time, McCarthy was just incredible. The people who had worked at Kennicott had short notice to get on the last train out when the mine closed down in 1938. We saw dinner plates still on the table and clothes still hanging in closets. The general store was still stocked with everything, even a whole stack of 1939 calendars.
We were there for a week, but never found the hunter. He had likely fallen and was injured or killed. Alaska can be very unforgiving.
Q. Tell us a favorite story from an Alaska trip.
A lot of my stories come from making connections with people in Alaska.
Once we had a group of young men come from Mexico to climb McKinley. A businessman came along with them, but wasn't going up on the mountain. He hung around Talkeetna for a week and we went to lunch once in a while. It turns out he had been their Cub Scout leader for several years. They had graduated onto bigger things and were there to climb McKinley together. I ended up taking him up to the base camp, and he met them when they came off the mountain. That's one dedicated Cub Scout leader! We got to know him really well, and stayed with him when we traveled to Mexico.
Another time, I was talking with a couple that was trying to decide if they should wait around to see if the weather was going to clear up enough to allow for flightseeing. I checked in with them a number of times, and eventually learned that the man was a physics professor at Cambridge. I had just read an article in Time magazine about a new particle that had been discovered that was going to be the building block of everything. I told them about it and they looked back and forth at each other. He had been part of that project. They were so amazed that someone in Talkeetna, in deep dark Alaska, would know that or even be at all interested. I got Christmas cards from them for the next ten years. And yes, we got in a good trip up to the mountain.
Q. How does the Alaskan wilderness make you feel?
The vastness and the untouched areas make me feel pretty humble sometimes.
People are always amazed at the lack of roads. When flying them to Denali, I could dazzle them by pointing out that if we kept going west, we wouldn't cross another connecting road until we got into western Russian, halfway around the world.
Q. What inspired you to go into the Alaska tourism industry? What feeling or memory or change would you like your visitors to leave with?
There was always some sort of mystique about Alaska, and I had appreciation for the outdoors. Alaska is so majestic. With the mountains, ocean, and rivers, it is really a marvel to see.
We were already taking climbers, fishermen and hunters out. Our air taxi got a lot of good publicity. We had beautiful airplanes. They were red, and always stood out against the glaciers.
My son was very enthusiastic about the national park, the Alaska range, exploration and the initial climbs of McKinley. I got to know all the peaks, and studied the geology.
We were getting more visitors to Alaska and I realized there was a market. I probably had the first flightseeing brochure in the state.
Q. What were some of those first flightseeing trips and glacier landings like?
Going up the first time into the mountains was a bit overwhelming.
The mountains are huge, and the spaces between them are very deep. You can easily get yourself in trouble with changing weather. It was quite an adventure. We went higher than the airplanes are intended to go.
A glacier is a marvelous place to be. It offers a nice long runway if you can avoid crevasses. My son and his climbing friends were very helpful. I relied on their experience to know where to land. They were invaluable.
After a season or two of getting some experience on the glaciers, I grew confident of where I could be and under what snow conditions.