Gates of the Arctic Wilderness Lodges
Escape to the heart of the wilderness and stay at an exclusive, remote wilderness lodge nestled in Alaska's Brooks Range, within the Gates of the Arctic National Park. Experience unparalleled access to a wide range of Alaskan adventures, from hiking and wildlife viewing to river rafting and fly fishing. In winter, marvel at the aurora or glide across the snow on a sled pulled by a team of dogs.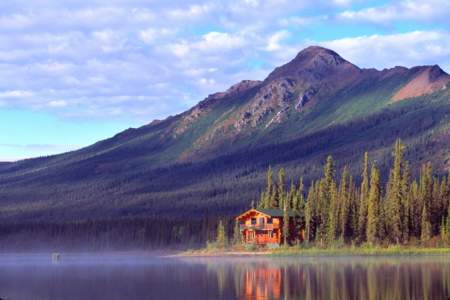 Season: June 20 - Sept 5 $9,250+ for 3 night, all-inclusive stay 3+ nights
Remote, exclu­sive, and all-inclu­sive, this fam­i­ly-owned lodge locat­ed north of the Arc­tic Cir­cle on the edge of Gates of the Arc­tic Nation­al Park caters to inde­pen­dent trav­el­ers look­ing for com­fort off the beat­en path. The sum­mer sea­son offers hik­ing for all fit­ness lev­els, fish­ing, boat­ing, and canoe­ing under the Mid­night Sun. Only one group is booked at a time, and a ​'concierge guide' is includ­ed for the dura­tion of your trip.