The northern lights are Mother Nature at her finest: Eerie, multi-hued wisps that waft across the sky, creating a dazzling spectacle of dancing colors. Alaska, of course, is one of the world's best places to see this mesmerizing phenomenon, which appears during the darkness of the winter months.
Chase the lights on a private tour with Wild Journeys Alaska and you'll be in the capable hands of local guides who know where to look for them and understand the science behind them.
Bring the family and spend a night on the lookout for the aurora or make it part of a multi-day journey. Either way, you'll leave with unforgettable memories.
Private Nightly Tour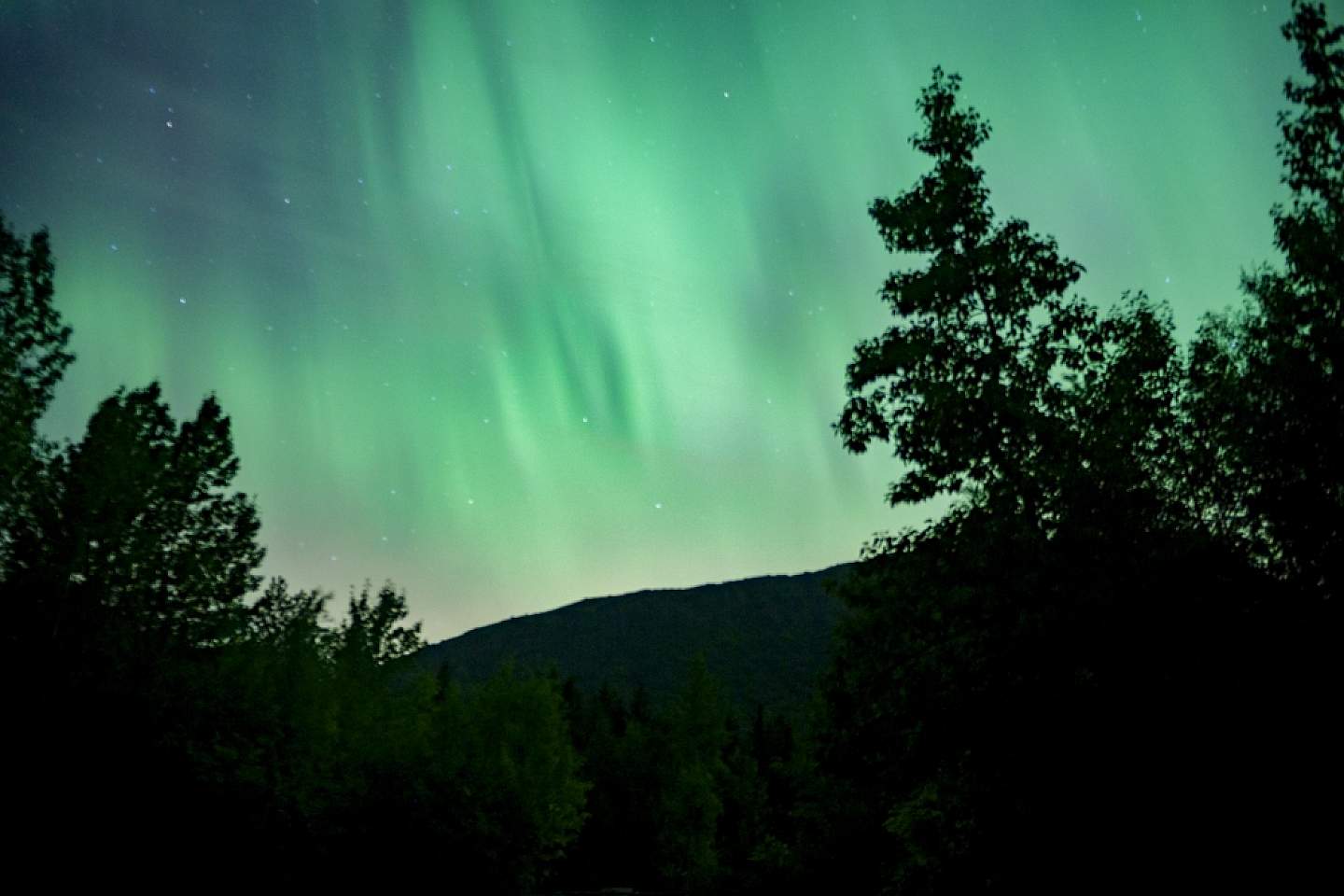 You'll head out of Anchorage (or Wasilla/Palmer) between 9 and 11 p.m., and for the next 7 or so hours, you'll be on a hunt for the aurora. You may drive a little, stop, scout the skies, take some photos, and continue to hunt, driving up to 3 hours outside of town to find optimal locations. Since the lights will dictate your path, no two nights are the same.
Can the lights be fickle? Of course! That's why Wild Journeys Alaska offers an aurora forecast consultation ($18 per person, per evening), after which you'll have the option to join the tour or not.
Along the way, your guides will fill you with fascinating information and take photos of the stars and lights, including Insta-worthy portraits. These photos will be available to you around 24-hours after your trip. You'll also enjoy reindeer sausage sticks, soup, apple cider, hot cocoa, and other treats.
Chasing the lights is a magical experience for all.
Private Multi-Day Tours
Why limit yourself to just one night? If you have 3 nights or more, increase your chances of seeing the lights by going on a multi-day expedition. Enjoy fun activities during the day and 3 nights of aurora viewing. Going for more than 3 nights? You'll get an aurora forecast each day, so you can pick which 3 nights to chase the lights.
You'll start with a phone conversation about your goals and favorite activities, then work to build out a custom itinerary. You may start in Anchorage and work your way north toward Fairbanks, for example; each night, you'll be strategically positioned in an area with the opportunity to see the northern lights.
During the day, you'll enjoy fun activities like dog mushing, walking with reindeer, snow machining, cross-country skiing, or a variety of other things. Your guides will arrange for everything except flights.
About Wild Journeys Alaska
Wild Journeys Alaska owner and guide Tim Cook has been guiding visitors in Alaska for 20+ years and has assembled a roster of exceptional guides. Guides on northern lights trips will be well versed in the science behind them, as well as where to find them. Other guides have their own specialties, like glacier hiking or snowmobiling. Plus, all of the guides are also locals; they'll take you to places they go to themselves as they give you a flavor for what living in Alaska is really like.