Learn what dog mushing is all about in a historic setting: The kennel of iconic musher Susan Butcher. As a four-time winner of the Iditarod (1986–88 and 1990), Susan dominated the sport and became a household name. She passed away in 2006, but her husband David, a Yukon Quest champion, and their children—passionate about mushing themselves—continue to share her joy for mushing, and it makes for a magical visit.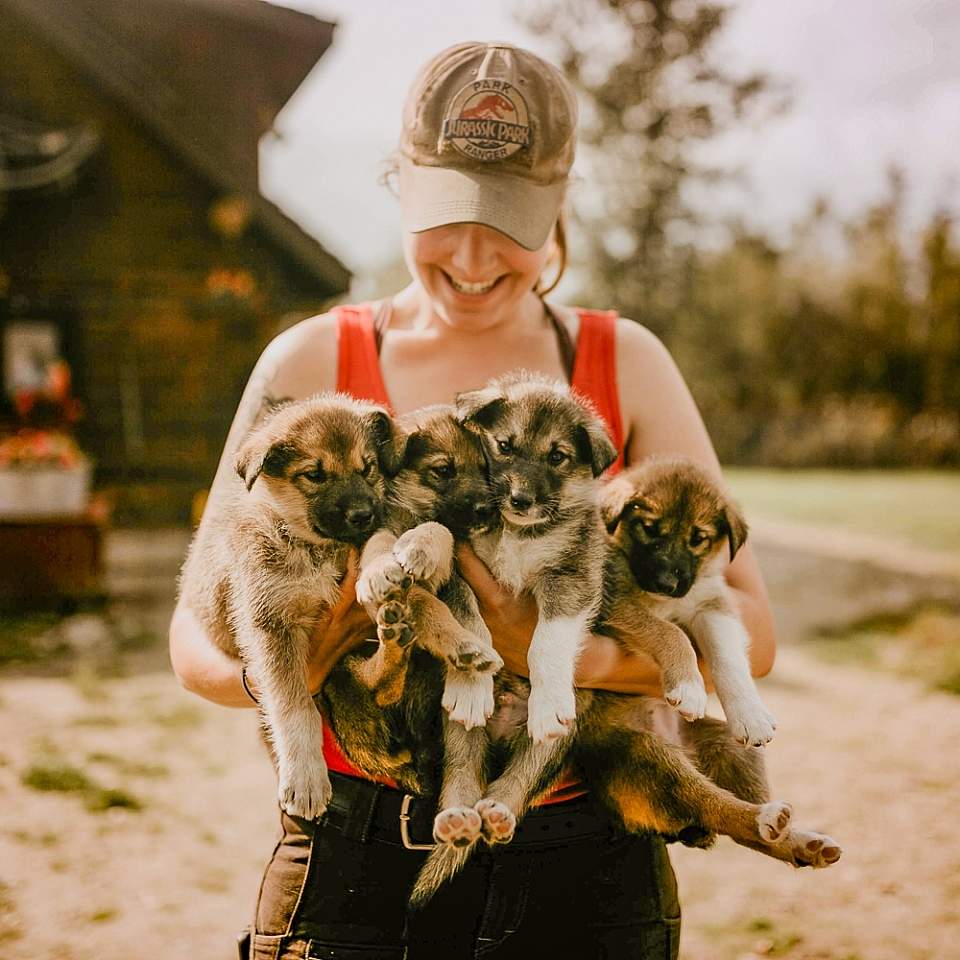 You can take tours year-round. You'll not only meet your musher-guide, you'll truly get to know them and have a very personal experience. Their passion for the sport and love for the dogs shines through as you learn how the kennel operates and how the dogs are trained. Hear how Susan and David built the kennel into a world-class facility and see her Iditarod trophies.
In summer, you can also get the perspective of what mushers see while training, by having the excited dogs pull you around the property! Then watch them cool down and play in the Chena River before going to cuddle their puppies. Or you can visit for a mushing demo and kennel tour, or take a walking tour of this historic kennel. In winter, you can go out on an actual sled and mush in the snow!
You'll be in a gorgeous spot just outside the city center of Fairbanks, near the confluence of the Chena and Tanana rivers, with a spectacular view of the Alaska Range. The kennel is owned and operated by Susan's husband, David (a successful musher and 1988 Champion of the Yukon Quest), and two daughters, Tekla (one of the lead guides) and Chisana (a dog handler). Some of those working here have run the Iditarod and other races; and everyone is passionate about the sport and upholding the legacy of an Iditarod icon. It's truly an authentic Alaskan experience.
Before you go, stop off at the Trail Breaker Trading Post for branded gear to commemorate your visit, like a shirt that famously reads: "Alaska: Where Men are Men and Women Win the Iditarod." You'll also find jewelry made by local artists, mosaics, stickers, and more.
Summer Tours
Dog Sled Cart Ride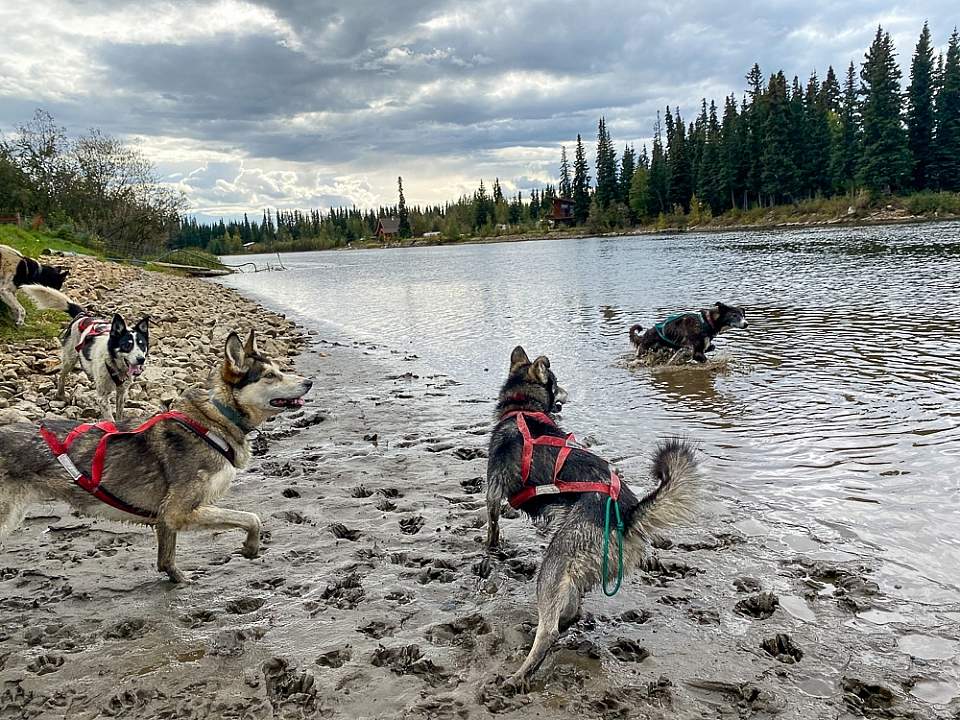 On this 1.5-hour experience, you'll meet one of their mushers, talk about how they operate this famous kennel and train the dogs. Then you'll hop in 5-passenger ATV and experience an exhilarating dog sled ride around the property. At the end, watch the dogs play and cool off in the Chena River before going to see the puppies!
Mushing Demo & Kennel Tour
Want to learn more about this fascinating sport and see sled dogs in action? This tour gives you the inside scoop, as one of their mushers take you on walking tour of the kennel. You'll meet the dogs and hear how they prepare for both long and short distance races. You'll watch as mushers hook up a team of sled dogs and see them go on a little training run along the lake. Then meet the puppies! You'll come away with a better understanding of the sport and a super-personal view of the process.
Historic Kennel Tour
This is perfect for families with young kids and those who want to learn about the sport. Your musher-guide will take you through the history of the kennel then lead you on a walking tour as you learn about their lifestyle and the history of mushers in Alaska. You'll also get to meet the dogs and cuddle their puppies!
Winter Tours
Dog Sled Ride
Enjoy the magical experience of mushing just like the Iditarod mushers do—on snow! You'll take a kennel tour and meet their huskies. And you'll gear up for a once-in-lifetime experience of mushing out onto the frozen tundra of the Alaska wilderness.
Custom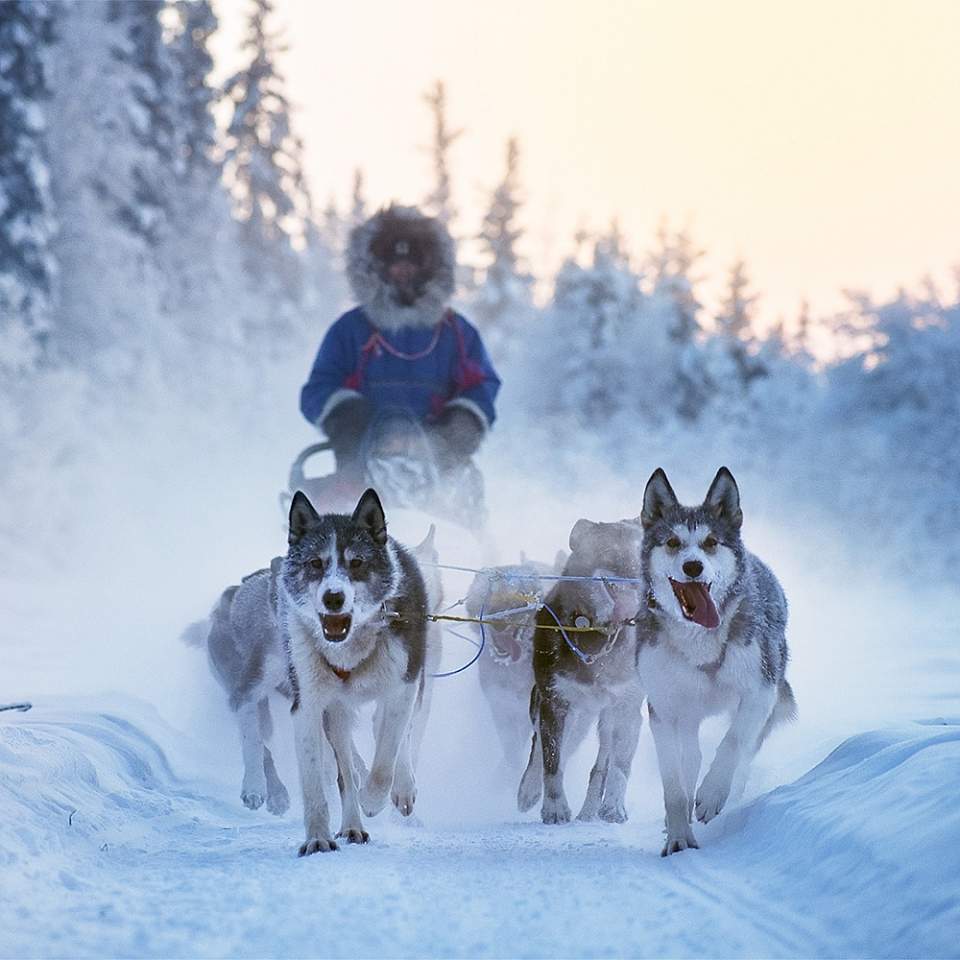 Explore expeditions, aurora tours, and visits where you can learn to mush. They can help you craft an experience tailored to you!
Spring & Fall
Shoulder-season tours are weather-dependent, so always call in advance. You may be able to do a cart tour in fall before the snow falls, or a sled tour in spring before it melts.
History of Trail Breaker Kennel
Susan Butcher founded Trail Breaker Kennel in 1976, when she was a young musher in the Eureka/Manley area of Alaska. Soon after that, she and David Monson met and decided to join forces, mushing out of Trail Breaker Kennel together. The late 80s were a time of huge success: David won the 1988 Yukon Quest, and Susan won the Iditarod in 1986, 1987, 1988, and 1990. Susan is the only female, and one of seven mushers, to win four or more Iditarod's. They moved the kennel to Fairbanks, where it is now, and raised their two daughters there, but kept and maintain the homestead in Eureka.
Susan passed away in 2006, but her legacy lives on. Her daughters, Chisana and Tekla, have both mushed 700 miles of the Iditarod trail with their own team of dogs to honor their mother and celebrate her legacy. And Alaska officially commemorates her achievements: The first Saturday in March is Susan Butcher Day, an annual state holiday.