Set on a private lake, this remote, 6-bedroom luxury lodge is nestled in the Talkeetna Mountains, making for the perfect getaway for everyone from couples to families.
Stephan Lake Lodge is not only the closest full-service remote lodge to Anchorage, but also delivers access to more private land—40,000 acres!—than any other lodge in Alaska. Even getting there is part of the adventure, as you'll take a short flight on a bush plane or a floatplane from Talkeetna or Anchorage.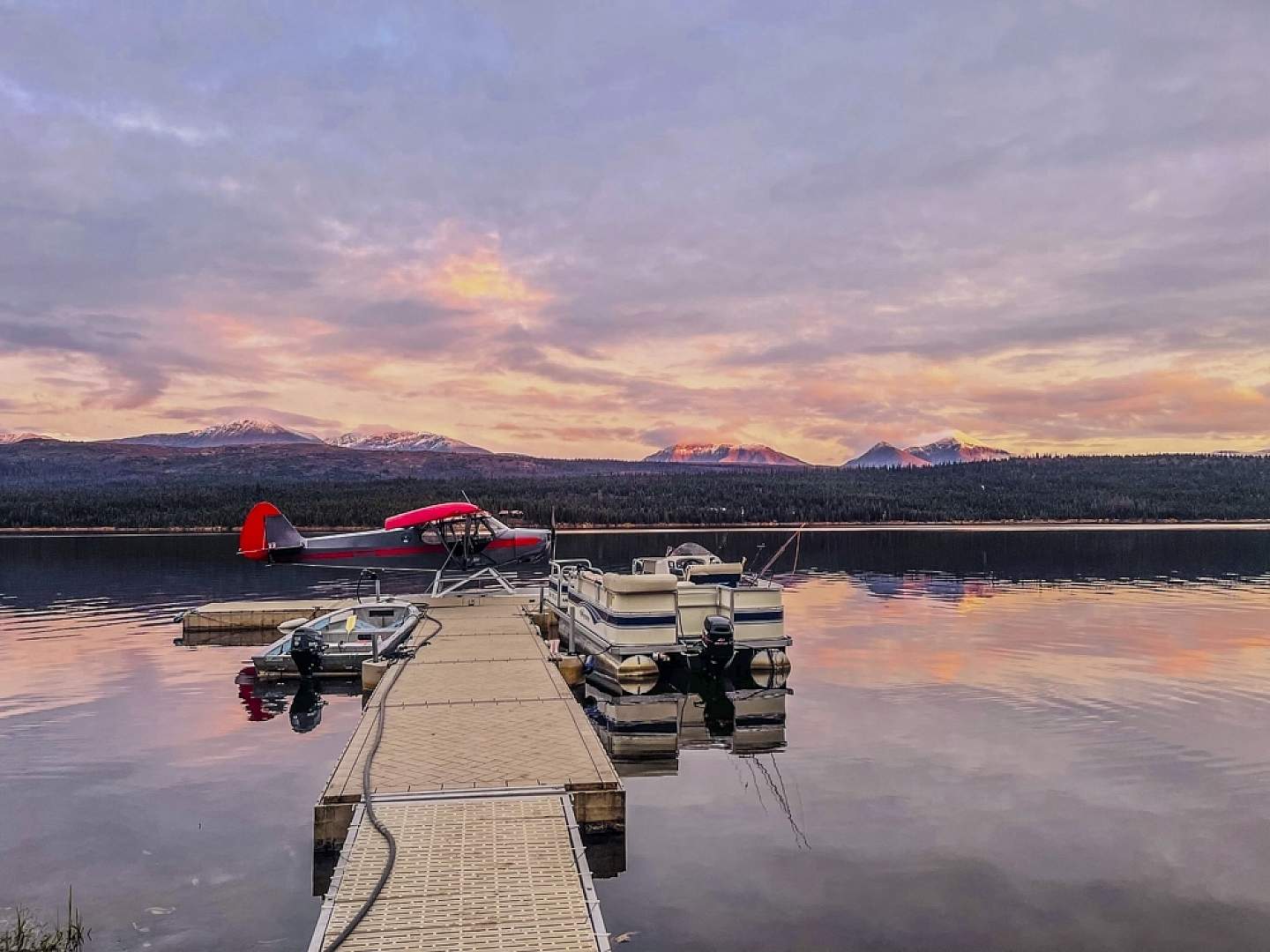 Built with spruce logs right from the property, the lodge itself is a cozy, inviting space that boasts unique features like a fireplace made out of an Alaskan steam engine train and a great room filled with taxidermy. Floor-to-ceiling windows overlooking the 5-mile-long lake help connect you to the outdoors, while a large deck is perfect for breathing in fresh Alaskan air while looking for birds, caribou, wolverines, wolves, bears, and moose. The coziness extends to the 6 bedrooms, all of which have en suite bathrooms and showers.
All meals are included, so you'll be properly fueled up for a day of activities like kayaking, paddleboarding, hiking, and of course amazing fishing. (And yes, the staff will clean and cook whatever you catch). Book the plane for an unforgettable day or remote hiking, fishing, or wildlife viewing. Or simply just relax and gaze out at the Alaskan tundra. Then hop on the pontoon boat for a sunset cruise.
Wind down your day with a sunset cruise on the pontoon boat, followed by a cocktail in the inviting bar, or gathered around the firepit on the grassy lawn. Then sit down for a gourmet dinner at the family-style dining room table. The menu might include local salmon and lake trout, Wagyu beef burgers, or other Alaskan fares, along with vegetables fresh from the lodge's garden and prepared by world-class chefs.
Stay one night or several, or rent out the entire lodge for events like weddings and corporate team events. Since the property features endless spots for camping, you can invite as many people as you like!