This casual restaurant at the Alaska Glacier Lodge is focused on providing fresh, Alaska-grown ingredients while also serving up amazing views of mountains and the glacier river valley.
The Experience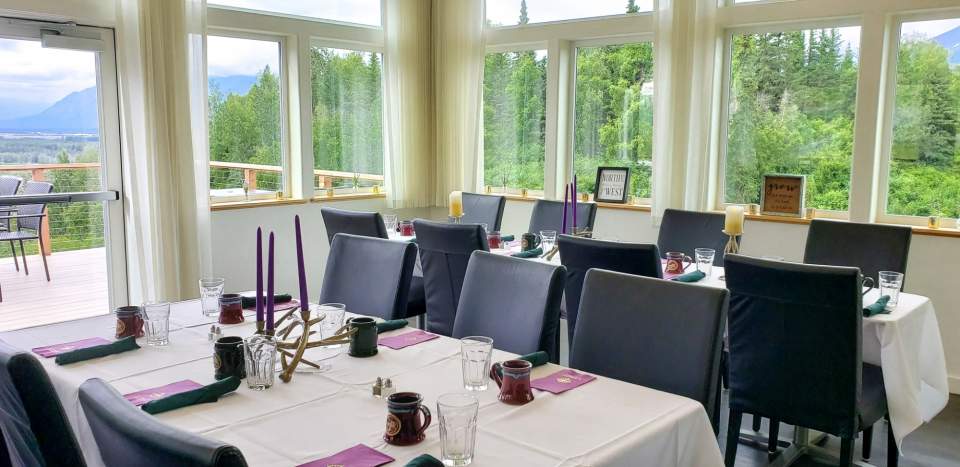 Just a 45-minute drive from Anchorage, Raven's Perch lies within the main lodge at the cozy Alaska Glacier Lodge, with big windows and an outdoor deck looking out to a spectacular view.
The warm environment of Raven's Perch highlights local culture and history—you'll find imagery of glaciers and agricultural history, and you can watch helicopters taking off and heading out to the glacier, then landing back at the lodge.
The focus here is on local, sustainable ingredients and products. The staff talks with local farmers and plans ahead to see what vegetables are coming into season to create their menus.
The Meals
Start your day off with a breakfast buffet stocked with local eggs, fresh-made oatmeal, pancakes made with Alaskan flour, bacon, reindeer sausage, breakfast potatoes, yogurt, fruit, and granola with yogurt.
Lunch brings awesome burgers and fries, while dinner features a variety of great dishes. Dig into a coffee-crusted ribeye, made with a locally roasted coffee rub and served with locally grown vegetables. Enjoy Alaskan scallops with a fresh, housemade herb pesto and wild mushroom risotto. You'll also find comfort foods like a macaroni that uses local beer in the sauce. There's no fryer, but try the baked fries, made with locally grown potatoes.
And don't miss another the lohikeitto—a delicious Finnish salmon soup inspired by the heritage of the lodge's founder. It's made using fresh local carrots and potatoes, then topped with fresh dill and grilled Alaskan salmon.
You'll also find a rotating menu for dessert. There's always a carrot cake, made with amazingly sweet Alaskan-grown carrots. You can also find Alaskan-made ice cream, with fireweed honey and blueberry flavors. Toward the end of the summer when berries are available, you can often find a berry cobbler—the perfect ending to a perfect meal.
Season
Memorial Day - September 30.