This 10,016-foot massif may be Cook Inlet's most fickle volcano, a tease when compared to its more active sisters. Scientists aren't quire sure when it last erupted, despite many questionable reports from Alaska's pioneer days. At least 28 times since the 1740s, Ilimana has emitted steam, produced seismic rumbling —or shook with colossal avalanches—only to drift into slumber once again. Still, the volcano has produced several big eruptions within the past 10,000 years and could explode again. Located about 130 miles southwest of Anchorage.
Best Viewing Spots
Anchor Point And Deep Creek
Iliamna rises less than 50 miles across the water from two state recreation beaches on the southwest corner of the Kenai Peninsula. With its craggy face and large buttresses, the mysterious massif can be mesmerizing. Try Deep Creek State Recreation Area at Mile 137, where camping on the beach may be available. (Breakfast with a volcano!) Anchor River State Recreation Area at Mile 157 offers more fabulous viewing.
Cook Inlet beaches
Both Iliamna and its sister volcano Redoubt—they are only about 30 miles apart—offer stunning vistas from just about every beach park, recreation area and overlook between Kenai and Anchor Point along the Sterling Highway. Don't hesitate to check out pullouts or beach access during clear, sunny days.
For More Information
Getting There
View on Map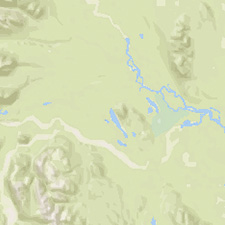 Coordinates
Latitude: 60.0325
Longitude: -153.088
Iliamna and its approaches are not on the Alaska highway system, and there is no practical overland route. For most visitors, stepping foot on Iliamna or viewing the mountain up close basically requires chartering an aircraft or hiring an expert guide.
To fly over Iliamna, check out Natron Air about their Glacier Volcano tour!
Driving Directions