Photo Credit: Brent Voorhees
This 10,197-foot massif about 110 miles southwest of Anchorage and 50 miles west of Kenai is one of the most active volcanoes in Alaska. A 1989-90 series of eruptions caused more than $160 million in damages and lost revenue, the second most costly eruption in U.S. history. Half of that damage occurred when a KLM jumbo jet flew into its ash cloud, lost power and plunged nearly three miles before restarting engines only 12,000 feet above the ground. The volcano also created a huge mud floe, a lahar, that partly inundated the Drift River Oil Terminal, a tank farm that stores crude pumped from production platforms in Cook Inlet. Another eruption in 2009 also sent lahars down the Drift River.
Best Viewing Spots
Kenai Area
With its craggy mass and conic shape, Redoubt looms over the western horizon on the other side of Cook Inlet from the mouth of the Kenai River. Viewing the volcano from the seashore maximizes its impact. On a clear, sunny day, you will be agog. In Kenai, take Spruce Street to the North Beach parking lot. As an alternative, park in the town near the Kenai Visitor Center and walk to the beach down Meeks Trail from Alaska Way. Redoubt is visible throughout the area, whenever there's a unobstructed view of the sunset.
Cook Inlet beaches
Both Redoubt and its sister volcano Iliamna—they are only about 30 miles apart—offer stunning vistas from just about every beach park, recreation area and overlook between Kenai and Anchor Point along the Sterling Highway. The two best may be Deep Creek State Recreation Area at Mile 137 and Anchor River State Recreation Area at Mile 157. The volcanoes will be 40 to 50 miles away.
For More Information
Getting There
View on Map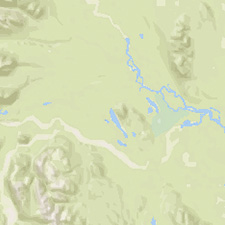 Coordinates
Latitude: 60.48528
Longitude: -152.743
Redoubt and its approaches are not on the Alaska highway system, and there is no practical overland route. For most visitors, stepping foot on Redoubt or viewing the mountain up close basically requires chartering an aircraft or hiring an expert guide.
To fly over Redoubt, check out Natron Air about their Glacier Volcano tour!
Driving Directions