Photo Credit: Tracia Craig
This 12,011-foot volcano rises only about 37 miles due east of Glennallen in a storybook cone with a snowy crown. Although Drum had a dramatic prehistoric eruption history, scientists believe it has not exploded in about 800,000 years.
Best Viewing Spots
Glennallen Area
About 180 miles northeast of Anchorage
A great view of Drum (and its sister volcanoes of Sanford and Wrangell) fills the windshield during the final 10-mile-drive east into Glennallen on the Glenn Highway. Many pullouts in the area, and along the Tok Cutoff Highway toward Gakona and Chistochina, will feature different views of this colossal peak.
More views can be found at the Wrangell-St. Elias National Park Visitor Center at Mile 106.8 of the Richardson Highway, about 10 miles south of the intersection with the Glenn Highway.

For More Information
Getting There
View on Map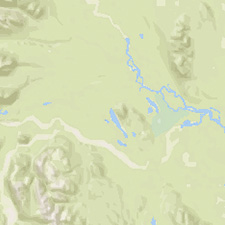 Coordinates
Latitude: 62.116191
Longitude: -144.637907
Drum rises from a rugged wilderness area inside the national park on the other side of the Copper River from Alaska's highway system and has no practical overland approach. But backcountry adventurers and mountaineers do visit and climb Drum or explore its vicinity after getting dropped off by small aircraft. Drum is a popular flightseeing destination.
Driving Directions