Sprawling Wrangell-St. Elias National Park has huge mountains, North America's largest concentration of glaciers, and thousands of rivers—but just two roads. That's why taking to the local rivers is such an excellent way to explore the park: this operator out of McCarthy offers multi-day adventures that embrace the rugged wonders of the park, while keeping you comfortable enough so that you relax and enjoy it.
Nik Merlino, who spent much of his childhood in Alaska, started McCarthy River Tours in 2010, after having an epiphany far from home. He had spent a few years working for a paddle-style rafting company in another huge destination—the Grand Canyon— and realized what a wonderful way it would be to explore the national park and Kennicott Valley.
Respecting the Land (and Water)
Indeed, paddle-style rafting adds just a little bit of challenge and adventure to the usual river trip. McCarthy River Guides combines that user-friendly, hands-on experience with a passion for local, responsible tourism—like staying in the most appropriate areas, using elevated fire pans for camping, and even buying locally sourced food.
While McCarthy River Guides offers some day trips—four-hour trips that focus on Kennicott Glacier Lake and the Kennicott River—the multi-day trips offer more immersive experiences (and not just in terms of getting wet).

You have two options of the style of trip: the first is an Oar Boat trip (where your guide is the only one with paddles), which gives you more time to hang out on the boat, take pictures, and relax. The second option (and requires parties of four or more) is a Paddle Boat trip, where everyone gets a paddle and pitches in with paddling.
Even if you are literally pulling your own weight, to a certain extent, the service you get on your trip is carefully thought-out: The guides are highly-skilled (they're wilderness first responders), and for your safety, you'll be issued a helmet. For your extra comfort, you'll also get a dry suit—a welcome addition when the water can dip to 35 degrees.
Locally Sourced Cuisine—Including Fresh Brownies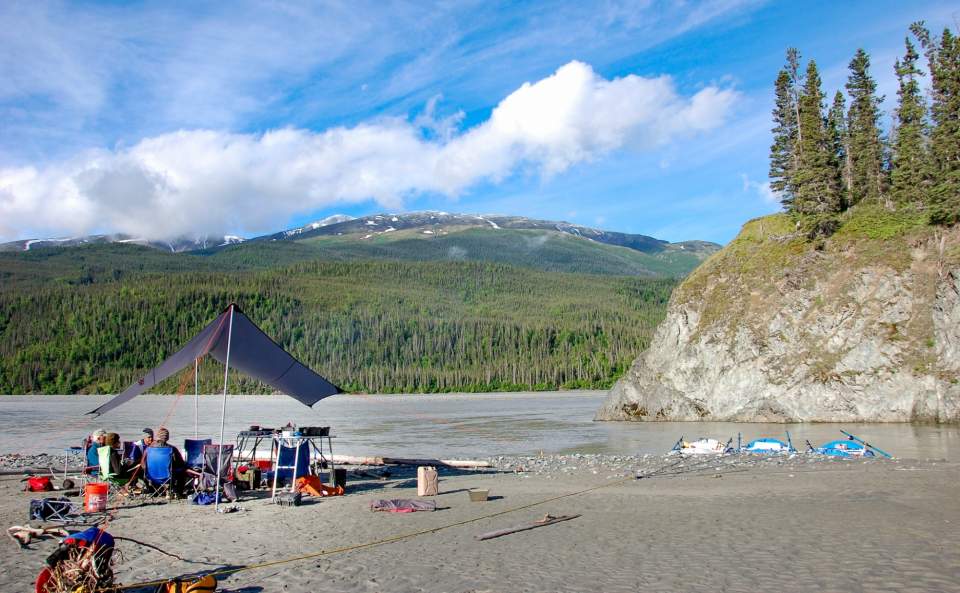 Your trip also includes all the gear (in clean, excellent condition) that you'll need to camp: tents, sleeping bag rentals and a kitchen set-up and a camp set-up, with rain tarp/sun shade, elevated fire pan, and food.
Speaking of food, McCarthy River Tours plans out your menus, asking you about what kind of foods you like or don't like ahead of time, so they can cater it to your taste. Within those parameters they also source your food as locally as they can for literal local flavor: Local farmers, lots of greens, meats from Kenny Lake a few miles away. Nik says that the guests who come for the scenery end up raving up the food more than they expected—indeed, this isn't freeze-dried camping cuisine. Expect meals like eggs, bacon, hot coffee and pancakes with Alaska berry compote in the morning; hearty sandwiches at lunch; and grilled salmon or steak in the evening, followed by brownies baked in a Dutch oven.
You can choose among six trips—or even create a custom trip—but here are three of the most popular options:
Upper Nizina
This 3-5 day trip with unbelievably beautiful scenery starts with a quick bush-plane flight from McCarthy to Nizina Lake, which is loaded with white icebergs. Then, you head out onto the Nizina River, which is a dividing line between the Wrangell Mountains and the St. Elias Mountains. You'll feel like you're floating in a painting.
Along the way, you'll experience fun class-2 and 3 rapids—the river here is very braided, but still fast-flowing—and the scenery includes the Chitistone Gorge, Mile-High Cliffs and countless waterfalls.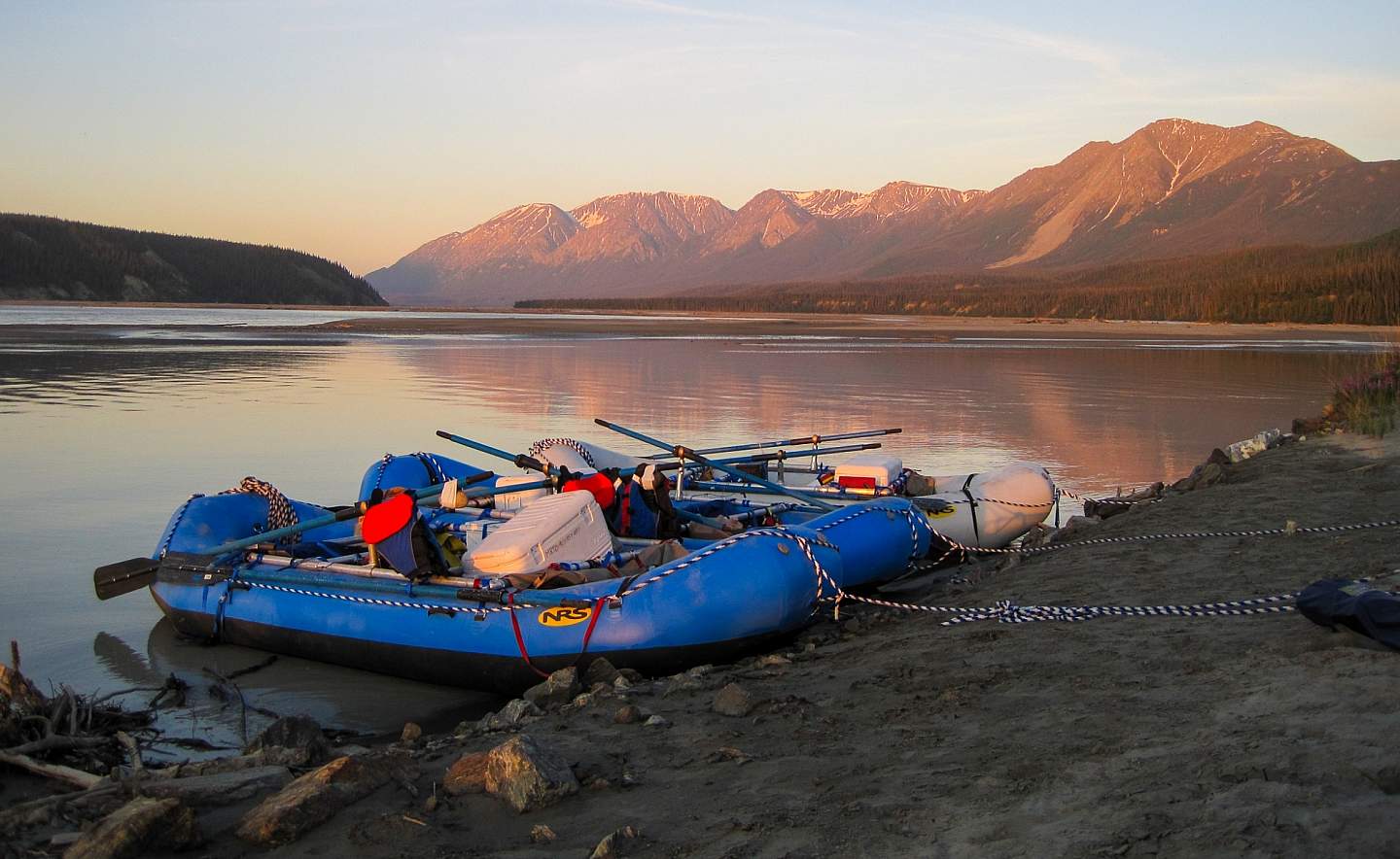 Copper River
This 6-7 day trip starts with a trip from the little town of Chitina. You'll float down the Copper River through the Chugach Range, and the mountains get higher as you go. By the end of the Chugach, the Childs and Miles glaciers are easily within view, coming all the way to the water's edge. This trip features fun class 2 water all the way, so it's both scenic and mellow—not a lot of splashing.
Rivers to Riches
This 3-4 day trip on the Lower Chitina is like the beautiful little brother to the other two trips. It's great for travelers on a budget, or for someone who is a little short on time.
Experience Unique McCarthy
Most multi-day trips start with a meeting, the night before departure, in McCarthy (Copper River trips have their meeting place in Chitina). Nik recommends that guests get to McCarthy at least one full day before the trip, and you'll need at least a day after the trip to get back to Anchorage. The drive from to McCarthy from Anchorage takes a good 6-8 hours—an experience in itself, given the 35-mile speed limit on the gravel McCarthy Road.
In fact, he recommends you block out at least 2 days before your flight home, in case of bad weather. Luckily, a couple days in McCarthy are well spent: you can take a historical tour, walk on the glacier, or just relax.
Going with the Flow
Once your river voyage has started, the amount of time you spend in the raft each day depends on the overall length of your trip (say, for the Upper Nizina, you'll spend 6-7 hours a day on the raft for a 3-day trip , and 4-5 hours for a 4-day trip). In general, mornings tend to have the calmest waters, and after a couple hours on the river, you'll stop for lunch and to explore. Indeed, the trips make many little stops along the way to hike or see historic sites—like the old railroad tunnel on the Copper River. Then you'll set camp up for the night and kick back: to read, explore, or go on more hikes. Or, you can just sit and watch the river go by—an increasingly rare experience in this day and age.
Afterward, guests tell Nik that their river voyage has been the highlight of their trip: a combination of good service, overall comfort and—best of all—a vivid experience that lets you see and feel the majestic expanse of Alaska.