Sprawling Wrangell-St. Elias National Park has towering 16,000ft mountains, North America's largest concentration of glaciers, and thousands of rivers—but just two roads.
That's why taking to the rivers is such an excellent way to explore the park, and this operator out of McCarthy offers a day trip that lets you embrace the wonders of the park in a comfortable, hands-on, way.
Hands-On Adventure
Nik Merlino, who spent much of his childhood in Alaska, started McCarthy River Tours & Outfitters in 2010, after having an epiphany far from home. He had spent a few years working for a paddle-style rafting company in another huge destination—the Grand Canyon—and realized what a wonderful way it would be to explore the national park and Kennicott Valley.

Indeed, paddle-style rafting adds just a little bit of challenge and adventure to the usual river trip. McCarthy River Tours & Outfitters combines that hands-on experience with a passion for local, responsible tourism—like treading on the most appropriate areas of the park, employing guides with rigorous water safety skills and keeping travelers' utmost comfort and safety in mind: you'll be issued a helmet and a dry suit on day trips—a welcome addition when the water can dip to 35 degrees.
While McCarthy River Tours offers some multi-day trips—ranging from 3 to 8 days—you don't have to stay around here for days to get an up-close experience in the Wrangell Mountains.
Here are the tour options:
4-Hour Kennicott Glacial Lake Inflatable Tour: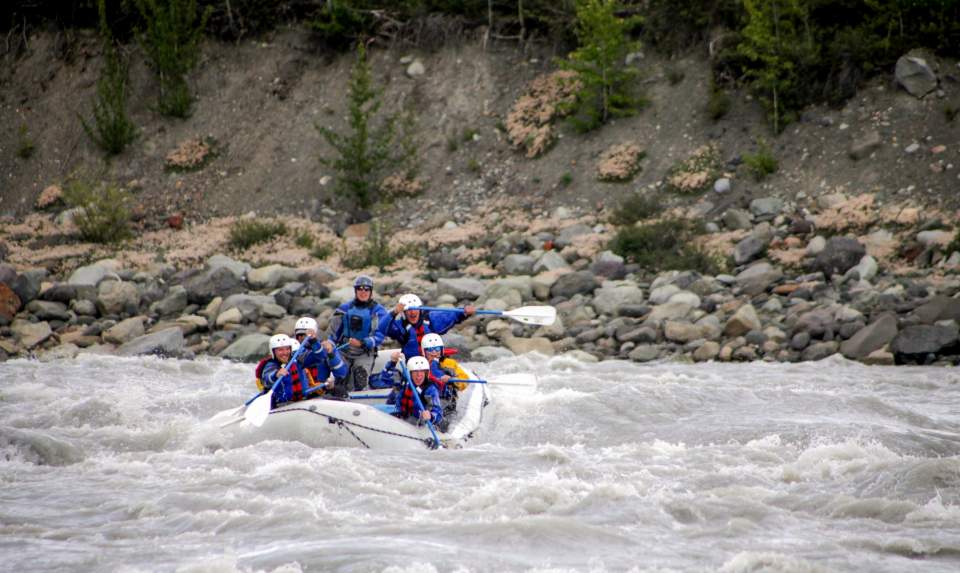 This relaxing, four-hour tour focuses on a novel segment of nature—literally. This lake has only formed in the past 20 years or so, so its scenery is constantly changing—but you can count on seeing plenty of icebergs in the lake. The trip includes the use of either an inflatable Kayak or Stand Up Paddle Board: you'll paddle around, learn about history of the area, and talk about glaciation, as well as learn about life in McCarthy. Tours are private. Rates are per person based on the number in your group.
4-Hour Kennicott Glacier Lake & River Rafts:
This tour is also four hours, spending time on Kennicott Glacial Lake. But you also get some thrills during an hour-long stretch on the Kennicott River, a wide, high-volume glacial river. You'll start with class-3 rapids (expect to get wet) and then go on a stretch of relaxing class 2, giving you time to check out the glacier shoreline, Chugach and Wrangell mountains. As Nik would say, if this trip had a soundtrack, the first half would be John Denver (as in "Rocky Mountain High") and the second half, Black Sabbath. Tours are private. Rates are per person based on the number in your group.
Calm Waters, Sunny Skies
Beginners will like that, in the lake-plus-river trip, you get some lake time to get used to the boat before the thrill ride begins. But in general, if you want a gentle ride, take your tour in the morning, when the water is at is calmest, and the sun reflects nicely off the water (afternoons, meanwhile, get points for a few more thrills, and being a little warmer). Otherwise, Nik tells customers to dress in layers (nothing too bulky), bring a water bottle, and come about 15 minutes early to get fitted with a dry suit, helmet, flotation device, and river shoes, before you get shuttled down to the lake.
Afterward, guests tell Nik that their river voyage has been the highlight of their trip: a combination of good service, overall comfort and—best of all—a vivid experience that lets you see and feel the majestic expanse of Alaska.