Photo Credit: Ketchikan Zipline Tours
Ketchikan Aerial Zip & Rainforest Courses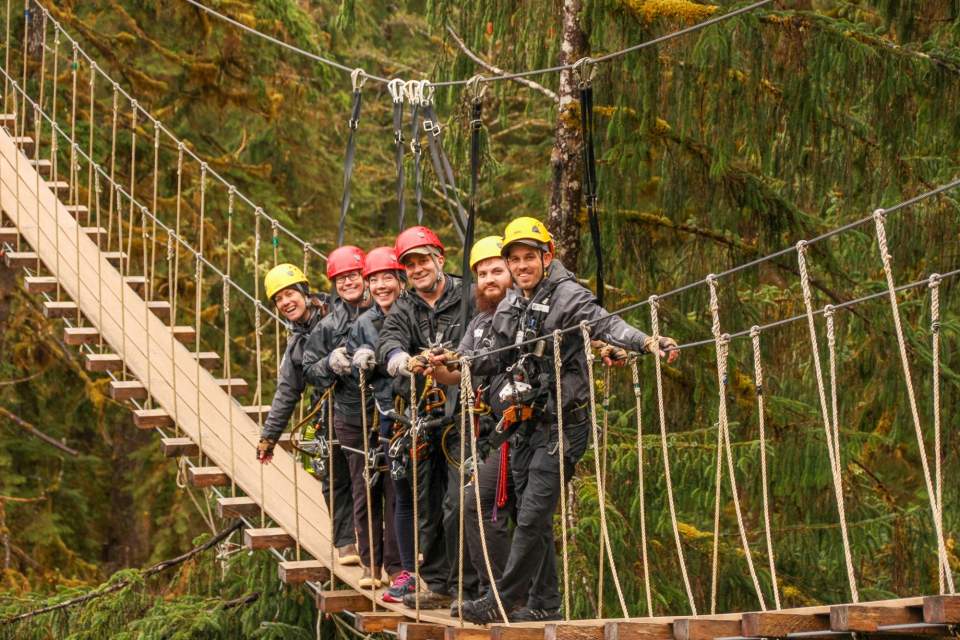 Fly through the upper stories of a temperate rainforest in a thrilling zipline adventure. Two exciting courses, each with 8 zips, are located within the Alaska Rainforest Sanctuary – home to spawning salmon, bald eagles, and black bear! Whether you're a newbie or an old hand, this is the ultimate location for a zipping good time.
Kawanti Adventures is located at Herring Cove, 8 miles south of Ketchikan, within the Tongass National Forest. Your destination is private 40-acre rainforest reserve where you can immerse yourself in a Tolkien-esque landscape with centuries old Western hemlock, Sitka spruce and red and yellow cedar.
Start out at the Ketchikan Visitors Bureau to board a van or coach for the short drive down the coast to rustic Herring Cove. The fun begins right away, as you hop in an all-terrain Unimog 4x4 that powers you up a steep hillside to the briefing area. Meet your energetic guides, who are eager to show you a great time – and who never forget safety for a moment! From the 4-point harnessing, and frequent equipment checks, safety is always the first priority. Two guides are assigned to each small group of 9, ensuring personalized attention.
For those who've zipped in other places, Kawanti Adventures offers two distinct differences. First, the location is phenomenally beautiful, and the possibility of seeing black bear below is a little surreal! Second, you are an active part of the zipping experience. Guides teach you the proper zipping position as well as how to steer, brake, and control your speed to achieve you maximum velocity. This keeps everyone engaged and feeling more accomplished than ever at the end of 8 zips. You'll start out with a 100 foot training zip to get comfortable with these techniques before entering the course. (Fair warning: You just might discover some stomach muscles you forgot you had – not just from zipping, but from laughing at your guides' jokes and the sheer fun of it all!)
Aerial Zip & Rainforest Courses
Kawanti Adventures has developed two courses within this scenic rainforest sanctuary. The Aerial Zip & Rappel Course is recommended for first-timers and families with younger children, but is still exciting enough for experienced zippers. The Rainforest Zip, Skybridge & Rappel Adventure is considered a more adventurous option, with zips up to 850 feet, but is doable for first timers as well.
Aerial Zip & Rappel Course
Notable because: Great for first time zippers and children! Learn the skills of zipping on a couple smaller zips before challenging the longer, faster, and higher zips at the end.
Views: Bear creek, lush rainforest
Zips: 8
Sky Bridges: 0
Tree platforms: 9
Highest point: 100 feet
Longest zip: 650 feet
Bonus: 2 separate rappels - one from tree platform to tree platform in the middle of the course and a one from the final platform to the ground.
Rainforest Zip, Skybridge & Rappel Adventure
Notable because: First and longest temperate rainforest zipline course in the U.S.
Views: Eagle Creek and Eagle Creek Falls, intertidal estuary, lush rainforest
Zips: 8
Sky Bridges: 3
Tree platforms: 11
Highest point: 135 feet
Longest zip: 850 feet
Bonus: Zip to a 55-foot viewing tower, and then rappel down to the ground.
No matter which course you choose, you'll be zipping in an incredible location, and soaking in views from high above the forest floor. These are great locations from which to spot black bears that may be wandering below, or eagles soaring through the trees or fishing for salmon. Before your return to Ketchikan, be sure to stop in at the Alaska Raptor Center exhibit to see birds of prey – like bald eagles, hawks and owls – close up. After all, you know what it's like to fly through the trees now!
Tips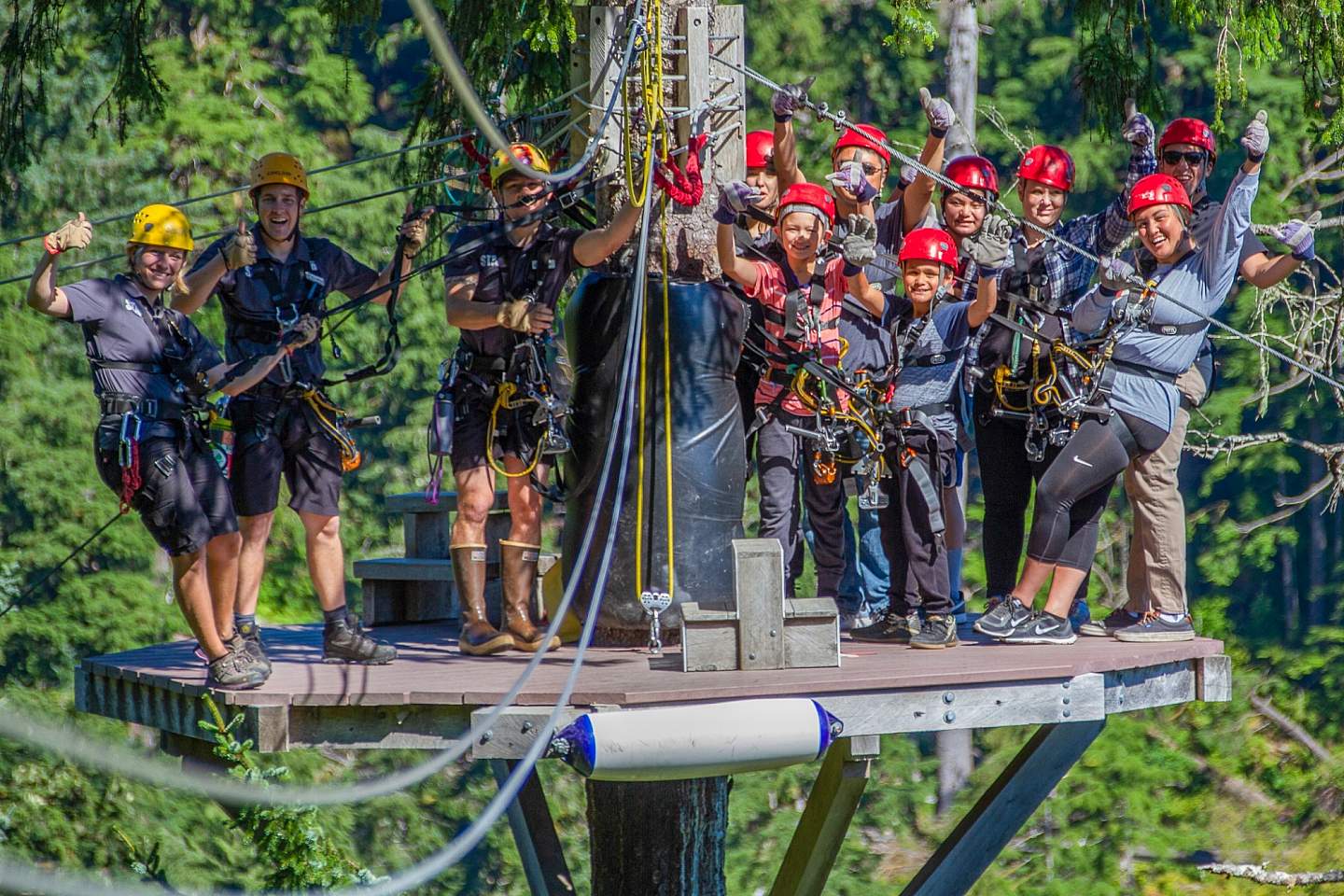 Your stuff: Storage lockers are provided for your belongings. You don't want to zip with extra items that could get in the way or fall irretrievably beneath the course.
Photos: You can take along a small camera or GoPro, but it must be secured as you zip (your guide will help). Kawanti Adventures staff do take some photos for you to preview and purchase at the end of the excursion. So smile while you're zipping!
Dealing with fear: Your guides understand if you have trepidation at being hundreds of feet up in the air. They are encouraging, patient and calm, with the goal of helping you find the inner confidence to really enjoy the course. Most visitors embrace the feeling of freedom they experience once they try the first few zips – then it's a breeze, and a blast!
About Kawanti Adventures
In 2005, Kawanti Adventures (formerly Alaska Canopy Adventures) opened the first zipline course in Alaska, providing an exciting new way for visitors to experience Southeast Alaska's temperate rainforest. Its unique placement within a rainforest sanctuary, with opportunities to see eagles and black bear while zipping along, have earned top awards within the tourism industry, and rave reviews from enthusiastic guests. High demand spurred development of a second Ketchikan zipline in 2008, making this adrenaline-pumping adventure more available than ever. Kawanti Adventures manages the Alaska Rainforest Sanctuary, which offers walking tours and bear viewing excursions in the same location. Owner Brien Salazar also owns Taquan Air, a leading local airline providing passenger and freight service to the small communities of Southeast Alaska, along with flightseeing tours that highlight dramatic landscapes and abundant wildlife.