Bald eagles are known to nest in this wooded spot near Resurrection Bay—and when you sign up for a tour with Stoney Creek Canopy Adventures, you'll get to soar just like these iconic birds. This three-hour tour—the only canopy tour on the Kenai Peninsula—combines ziplines, rappels and sky bridges, with panoramic views of Mount Marathon, Resurrection Peaks and all the gorgeous scenery around you. It's easy, and undeniably thrilling.
Experienced Guides with an Eye for Wildlife
Each tour is led by two highly trained, safety conscious, wonderfully personable guides. They are quick to offer up information about the local ecology, geography, and wildlife. If you're lucky, you may even spot some wildlife of your own from moose and porcupines to those nests of bald eagles.
Ziplining 101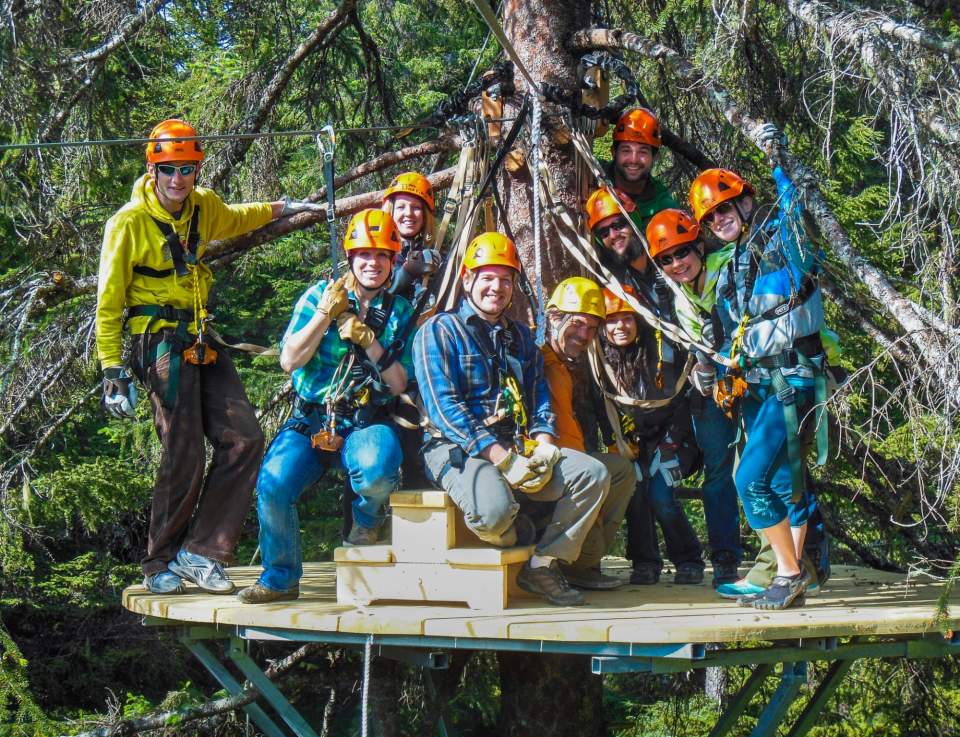 Your three-hour tour starts when you get picked up in Seward and taken to the course about 6 miles outside of town. Here, everything is done in the trees, even the yurt Welcome Center and gift shop is perched 10 feet up a Sitka Spruce. This is where you will meet your guides who outfit you with all of the gear that you need–harnesses, helmets, and gloves. Your guides also teach you how to zipline at Ground School before you start the course. All participants learn proper breaking technique and body positioning. Happily, you don't need any experience or special skills to get started: You just need to be over 10 years old, between 80 and 270 pounds, in average shape—and, to get the most enjoyment out of it, not have a chronic fear of heights. Next, you board the "Alaskan Safari Vehicle," a covered truck with built-in benches, and ride up the old logging road that leads to the top of the course.
Sweeping Views, Fabulous Memories
Riding to the top of the course is scenic, but getting back down is a blast. With one guide gliding in front of your group, and another behind, you're ready to start soaring. The course spans 8 ziplines, 2 rappels and 3 sky bridges. Along the way, you'll fly as high as 70 feet off the ground, zip as fast as 40 mph on the long 1,100 foot zip, rappel 50 feet down into the understory, and walk on suspended sky bridges over the moss-carpeted forest floor. Along the way you'll get sweeping views of the gorgeous landscape from mountains, a lily-covered alpine pond, and lush forest understory. The last zipline of the tour takes you over the place where it all began, but you're not done yet. A second rappel descends you 40 feet back down to terra firma, where you can start treasuring all the memories that will last a lifetime.