Enjoy the thrill of unique flightseeing out of Homer—or charter your own adventure!
Explore Volcanoes, Glaciers & Wildlife
From gorgeous snow-capped peaks to aqua blue glacier beds and cascading waterfalls, Homer is centrally located to some of the most beautiful untouched Alaskan scenery. Hop on a breathtaking flightsee among active volcanoes, wild run salmon streams, and even coastal Brown Bears feeding in the meadows. Whether your must-see list includes national parks, glaciers, great fishing, bear viewing, or more, Homer is not only a great base for flightseeing but also a great home base for your trip. Travel with Destination Alaska and have the peace of mind that you are flying with the best. Their pilots have undergone rigorous safety training and bring an unmatched passion for Alaska's majesty to all of their trips!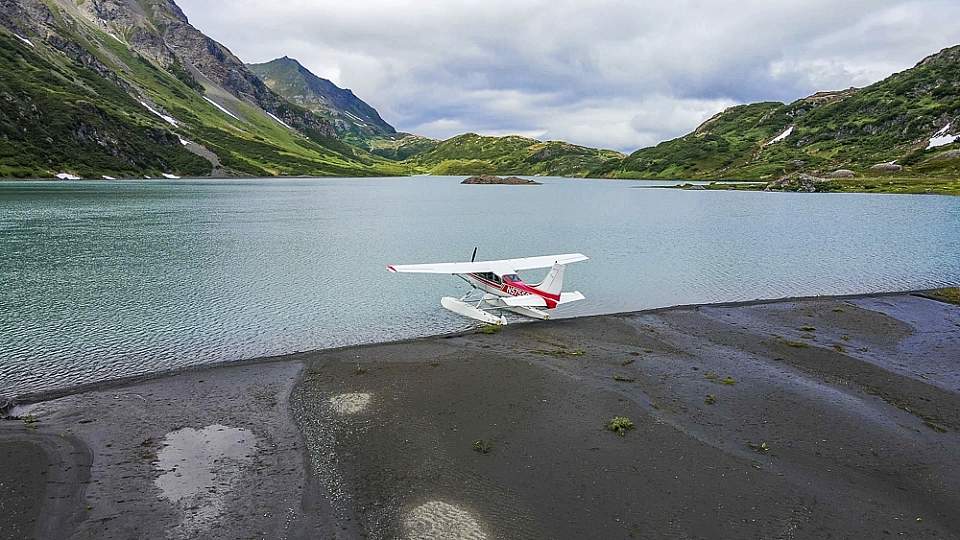 The Tours
Ring of Fire Flightsee
Homer is a short hop away from four of Alaska's active volcanoes. Take the Ring of Fire flightsee to get up close and personal with these resting giants. Cruise over steam vents, untouched glacial fields, wild run salmon streams, and even Coastal Brown Bears digging clams on the beach! From start to finish this is truly a flight of a lifetime. This trip lasts an average of 3 hours with an included half-hour stop to set foot on one of the volcanoes! Stretch your legs and take in the beauty of a volcanically formed island. This is for sure a trip to remember.
90-Minute Flightsee
With a full 90 minutes of flightsee, you'll have the chance to explore the hidden beauty of Kachemak Bay State Park. Soar around glacier fields, snowcapped mountains, cascading waterfalls, and unique wildlife. Make sure you keep an eye out for moose, black bears, mountain goats, foxes, wolves, and whales! About halfway through your flight, your pilot will land on one of the alpine lakes for pictures and a chance to check out the Alaskan alpine before finishing up this unforgettable excursion.
Custom Trips, Air Taxi Services, and Charter Flights
Dream up an adventure or let the pros at Destination Alaska help you create one. You could opt to fly off and see two amazing national parks—Lake Clark and Katmai—in one day (get those park passports stamped!), and even tack on some incredible flightseeing time. Backpackers can take advantage of the airtaxi service to explore the Tutka Backdoor Trail, Emerald Lake, Upper Hazelle Lake, or to do overnight camping trips. Anglers can enjoy remote spots with legendary dolly varden, arctic char, or grayling fishing. Looking for a way to get from Anchorage or Seward to Homer? Destination Alaska offers charter flights to accommodate!
About Destination Alaska Adventure Company
Family-owned and operated, Destination Alaska Adventure Company was founded in 2017 by the Jackson family— Scott, Barb, and their sons Chris and Brandon—who all have a passion for showing people the Alaskan outdoors, particularly in and around Homer. They saw a growing need for private, custom trips that were flexible enough to satisfy guests. In addition to flightseeing and aviation services, they have two state-of-the-art boats to bring guests out fishing or sightseeing in the waters of Kachemak Bay. Looking for help in planning your trip? Let their experts guide you in the best adventures and lodging. Their goal is to make your trip to Alaska a trip of a lifetime.