Touring Alaska by helicopter gets you to unimaginably wild and remote places. The pilot/owners of Alaska Ultimate Safaris have scouted some of the most amazing treks, just a short flight from Homer. Select an Ice Safari to land on a glacier surrounded by snow-capped mountains, or explore the steaming summit of an island volcano on a Fire Safari. In either case, the views are unparalleled and the experience is surreal.
Helicopter Touring – it's really as cool as it sounds
If the thought of boarding a helicopter that whisks you straight off the ground sounds cool to you, you're right. It's fabulous. You can see magnificent views out huge windows in every direction, with no wings to peer over. The R44 and R66 Robinsons operated by Alaska Ultimate Safaris are fully enclosed, warm, and comfortable. Contrary to popular belief, they are actually quieter than most small aircraft used for flightseeing, and you'll have headsets so you stay in close communication with your pilot. Your greatest challenge? Choosing which safari to take.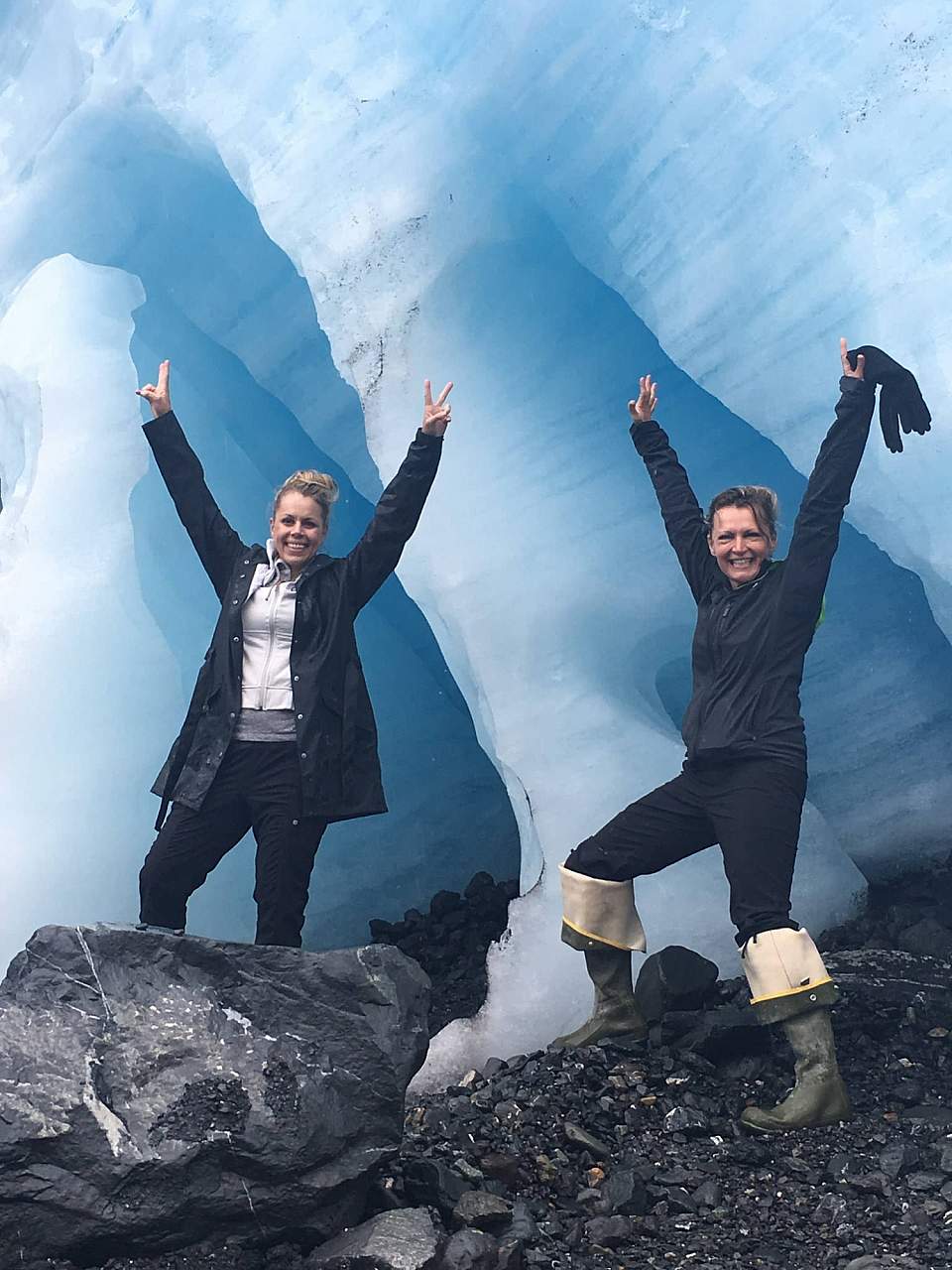 Ice Safari
There's no better place to contemplate nature and the powerful forces that shape the landscape than by setting up your camp chair in the middle of a glacier high up in the Kenai Mountains. A scenic 20-minute flight takes you from Homer, past several glaciers, over mountains and gorgeous waterfalls. Watch for mountain goats and possibly even black bears. You'll land on a glacier in the Harding Ice Field, a central feature of Kenai Fjords National Park. In spring and early summer, it's a white landscape of snow just right for making snow angels. Later in summer, the snow recedes to reveal mesmerizing deep blue ice. Take in the incredibly deep crevasses, the quiet of ice that's thousands of years old, and the amphitheater of mountains that surrounds you. Just think: this is what remains of a vast sheet of ice that once covered a third of the globe. Sit and relax with the view, or explore more on a short hike (your guides will outfit you with whatever safety gear you might need.) On a clear day, you'll see the Gulf of Alaska, Kachemak Bay, and Mount Redoubt, an active volcano in the Aleutian Range. 3-5 hours (50 minutes total flight time).
Fire Safari – Tour or Day Hike
Very few people get the chance to walk around an active volcano, but that's exactly what you'll do on the Fire Safari. Board the helicopter for a 50-minute flight to Augustine volcano, an uninhabited island in the middle of Cook Inlet. Augustine last erupted in 2006 and is still steaming, but is typically safe to tour. (Your guides do check in with the Alaska Volcano Observatory for current conditions before you go.) Explore sandy beaches, pumice fields and enjoy some champagne on Augustine's snow capped top, which offers a 360-degree view of the Kenai Peninsula, Alaska Peninsula and Kodiak Island. Wildlife viewing opportunities abound on this trip. On the flight over, you may see migrating whales, especially in June and July. As you approach Augustine, you'll likely spot sea otters, seals, red fox, eagles, cormorants, sea gulls and other water birds.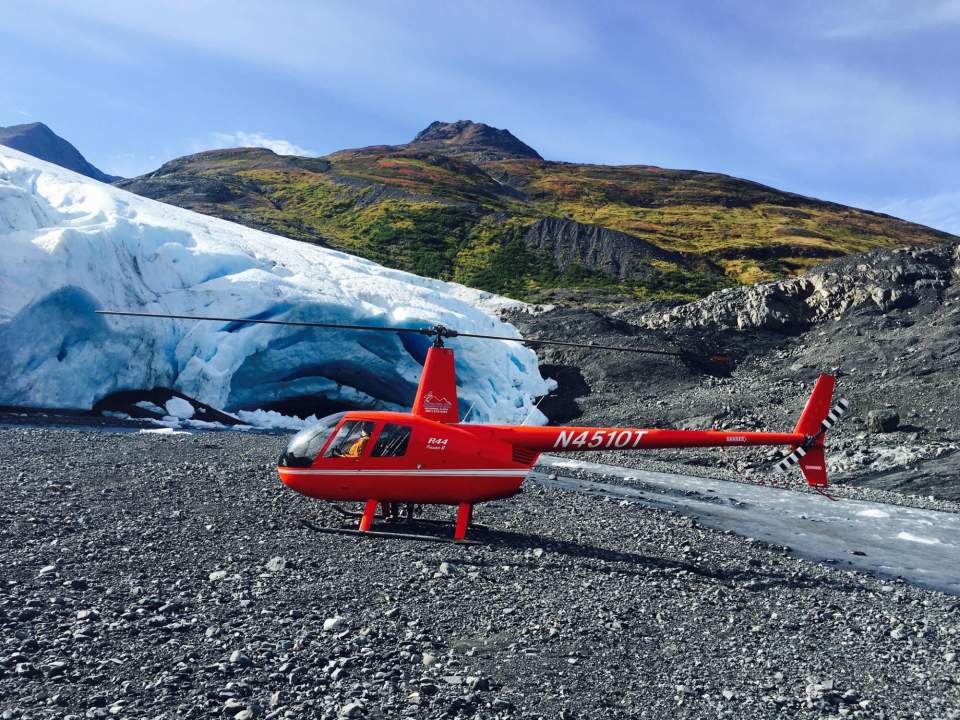 Fire Safari Tour – Land at the bottom of Augustine to check out the beaches, where the tide has created undisturbed ripples in the sand. You'll find boulders and cool rock formations, a result of previous eruptions. Then fly up to the dome, where evidence of previous eruptions includes ash, steam vents, debris and lava flows. 3-5 hours (1.6 hours total flight time).
Fire Safari Day Hike – If you love rugged adventuring, work your way to the summit on your own power. It's definitely a challenging hike, but the 4,500-foot ascent gives you more time to enjoy the dreamlike experience of being on an uninhabited island, one that continues to change over time with tectonic and volcanic activity. No climbing experience is necessary, but you should be prepared for vigorous activity and steep ascents over rough, rocky terrain. Lunch is included in this 10-12 hour excursion (1.6 hours total flight time.)
About your pilot-guides
Eric and Kirsten, the partnership behind Alaska Ultimate Safaris, are both accomplished pilots who met while learning to fly helicopters. Kirsten was born in Fairbanks and worked as a bush pilot for many years in rural Alaska, then operated medevacs out of Anchorage and Fairbanks. "Helicopters reinvigorated my love of flying," she says, noting that it's amazing to be able to show people the views she gets to see all the time. Eric, who first started flying at 15, came to Alaska more than 20 years ago and began working as a bush pilot. He served rural communities and also flew tourists to places such as Ft. Yukon, Denali, and to the Alaska Peninsula for bear viewing. After becoming a helicopter pilot, Eric wanted to offer the experience to tourists as the ultimate in flightseeing: with unparalleled views and easy access to remote locations. He began Alaska Ultimate Safaris and tailored trips to those experiences that he and Kirsten enjoy themselves: bear viewing and glacier and volcano landings. In fact, the two even got engaged at the summit of Augustine volcano!
Why Alaska Ultimate Safaris
Besides the cool factor of the helicopter and the thrill of landing on a glacier or volcano, there are other benefits to an excursion with Alaska Ultimate Safaris.
Small group touring – Groups are never larger than 3-4 per helicopter, and never more than 6 guests total. For groups larger than 4, two helicopters will travel together. You'll have your guide's undivided attention as you safely explore some of Alaska's most remote places.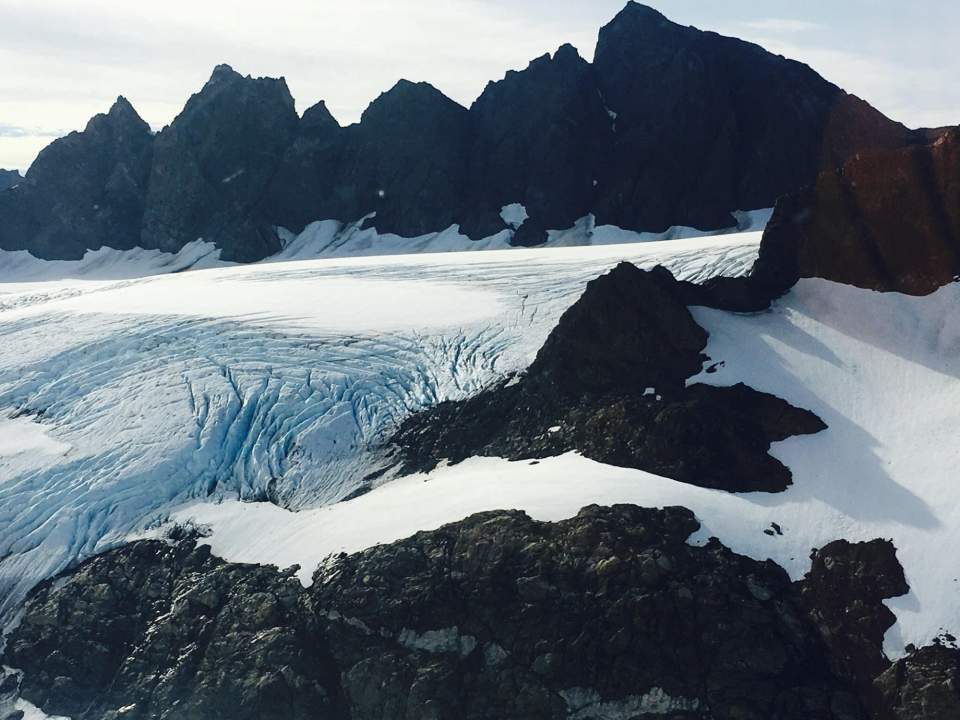 Exclusive permits – Tours take you to remote areas that require national park permits. Alaska Ultimate Safaris has the exclusive permit to take guests to Augustine volcano. Unless you're a volcanologist, there's no other way you'll get to see it!
Friendly, low key guides – Eric and Kirsten are not only extremely accomplished pilots; they've worked the tourism field for years and absolutely love sharing their passion for Alaska with guests, both those who live in state and those who come from further away.
Perfect photo ops – Of course you'll be snapping away, getting photos of the ocean, mountains and more out your window. If you are on a 2-helicopter expedition you can also capture photos of friends or family in the other helicopter.
Low key or all-out adventure – Choose the kind of experience you like: the variety of tours means that you can just sit back and relax, enjoying the view, or can push yourself to a full-day hike.