Photo Credit: Destination Alaska Flightseeing & Air Taxi
Homer offers many outdoor activities, making it the perfect base for your backcountry adventures. If you want to flightsee, hike, kayak, or fish, you'll find a guided tour perfect for you.

Guided Backcountry Adventures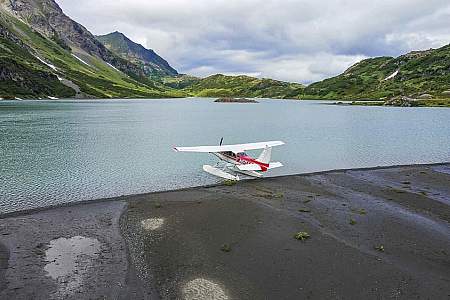 Season: May 15 - Oct 1 Call for rates
Fam­i­ly-owned and oper­at­ed, Des­ti­na­tion Alas­ka Adven­ture Com­pa­ny, has a pas­sion for show­ing peo­ple Alas­ka. Whether your must-see list includes nation­al parks, glac­i­ers, vol­ca­noes, great fish­ing, bear view­ing, or more, Homer is not only a great base for flight­see­ing but also a great home base for your trip. Browse avail­able tours, dream up an adven­ture of your own, or let the pros at Des­ti­na­tion Alas­ka help you cre­ate one!