The quaint town of Talkeetna draws artists, mountain climbers, adventurers, and travelers from around the world. It is a quiet and friendly place to rest from long road trips and is conveniently located halfway between Anchorage and Denali. What could be better than staying in a cozy rustic log cabin with great amenities, attentive staff and friendly owners?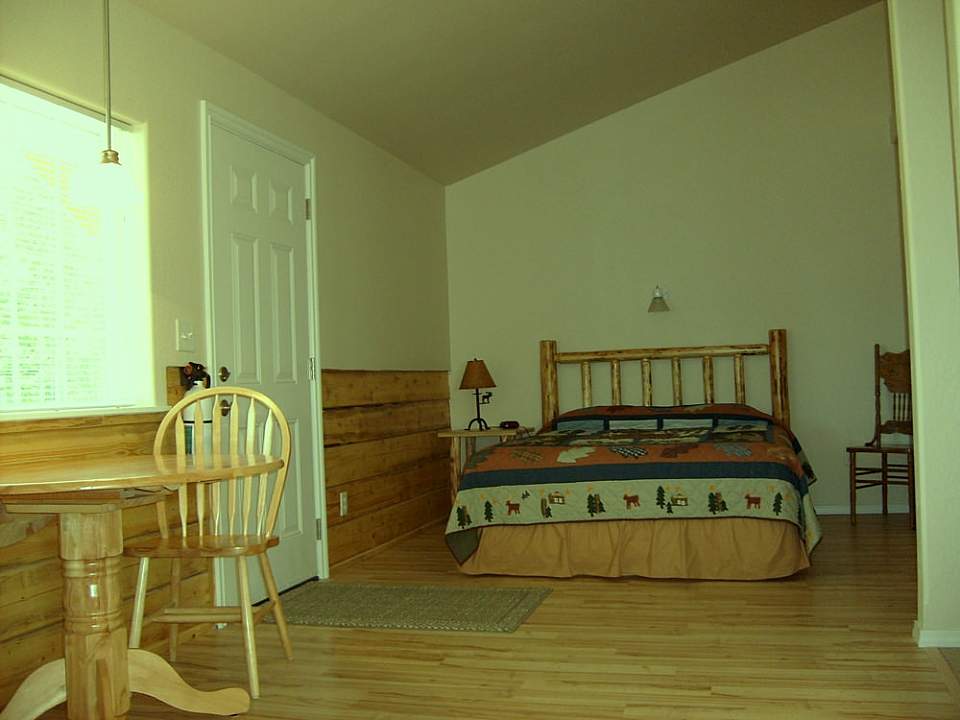 Denali Fireside Cabins & Suites is a top-rated, locally-owned lodging that guests enjoy for several reasons:
Central location in downtown Talkeetna
You can't beat the location, especially if you're arriving by train. Denali Fireside Cabins & Suites is just a few minutes from the Alaska Railroad depot. Walk on over, or ask for a complimentary ride from the station. Main Street, with its restaurants, shops and activities such as flightseeing, zip-lining and ATV rides, is just a short walk.
Hand-built and operated by local Alaskans
Don and Mavis opened the lodge in 2007 and spent years carefully designing, building and decorating the cabins and suites. They even hand-peeled the logs for most of the cabins, which is nearly a lost art. "It leaves little grooves in the logs," explains Mavis. "It's quite a chore, but I love that imperfect look." Don and Mavis are happy to talk with their guests about the process and what it's like to live in Alaska.
Clean, comfortable, well-appointed lodging
Mavis gets great satisfaction out of operating a sparkling clean facility, so you can expect the highest of cleanliness standards. She also has a knack for decorating, with a style that is warm, inviting, and Alaskan right down to the appliquéd quilts.
Affordable
Denali Fireside Cabins operates from May 1 – Sept. 30, with discounted pricing in shoulder and off-season windows.
Advice and discounts on local attractions
Get a local perspective on favorite activities, where to eat, and what to do in and around Talkeetna. Ask about coupons or discounts for activities such as fishing, flightseeing and ATV tours.
Three lodging options
All suites and cabins have free wi-fi, satellite TV, a private bath and cozy gas fireplace controlled by a thermostat. They also have private covered decks where you can enjoy the fresh Alaskan air on a rustic wooden glider. All lodging, except for the Little Cabin in the Woods, is situated only 3 steps above ground level, so settling in is a breeze.
Suites
Denali Fireside offers three queen suites, each with two semi-private queen beds around the corner from each other. An additional suite features a queen bed, a comfortable queen sofa bed, and a sitting area close to the TV and fireplace. The suites are recommended for adults and children 12 and older. For light meals, you can make use of the microwave, bar sink and mini fridge, with dishes available on request.
Cabins
For a little more privacy, choose a king or queen cabin that can accommodate 3-4 guests. Don and Mavis designed these with hand-peeled logs on the bottom half, and framing at the top. This design creates a lighter, brighter feel than if the cabins are made entirely out of logs. Each of the two king cabins features a king bed and a queen sofa bed, as well as a kitchenette with dishes. The queen cabin has a queen bed and futon, with a microwave and small fridge for preparation of light meals.
Little Cabin in the Woods
This sweet little cabin sits on a nicely wooded 5-acre lot, and offers quiet privacy just 3 miles out of town. The minimum stay of two nights won't seem long enough as you settle into this "honeymooners" cabin near a spring-fed pond and nestled among mature spruce and birch trees. Enjoy coffee out on one of the two decks, watch for the northern lights at night as you sit out at the firepit, and don't be surprised if you spot moose in the woods or beavers in the pond. The Little Cabin in the Woods is a great option for honeymooners or visitors just wanting to immerse themselves in a quiet Alaskan experience. The cabin is "tech free" with no wi-fi or satellite TV, which helps you disconnect from day-to-day distractions. (There is a DVD player with complimentary movies). It has a full kitchen, with large fridge, electric stove, microwave, coffee brewer, cookware and dishes. The gas fireplace in the living/dining room area adds to the cozy ambience of the cabin. With a queen bed and trundle bed in the upstairs bedroom, and a futon in the living room, the cabin is very comfortable for about 4 guests.
About Don and Mavis
Don Devore came to Alaska as a child in 1959 when his family decided to homestead in the area. Talkeetna was a lot different back then, and Don can tell you stories about living off the land and trying to get a cabin built before the harsh winter snows arrived. Denali Fireside Cabins & Suites, opened in 2007, has given him a chance to build on his own timetable! His wife Mavis, originally from Canada, is involved from design to decoration (even helping hand-peel the logs for the cabins). Completing each project is a satisfying experience for the dynamic team. They also enjoy talking with guests from all parts of the world.