North America's largest mountain is right outside your window when you stay at this modern wilderness lodge. The big advantage here: you get great proximity to both the town of Talkeetna and Denali State Park, while also being set apart from the summer crowds. Rooms offer nine-foot ceilings, fans and some amazing mountain view. Relax in the Great Room with its huge stone fireplace and floor-to-ceiling windows, or in the outdoor hot tub while you enjoy views of Denali.
Easy Access to Activities
Activities of course can be arranged by the Mt. McKinley Princess Wilderness Lodge Guest Service desk. Put yourself in one of the planes you see flying above, and get close to Denali. Go jetboating, horseback riding, rafting, hiking, or choose from many other activities. If you don't want to leave the lodge grounds, stroll one of the three nature trails, either on your own or on a guided, park ranger-led walk.
Diverse Dining and Entertainment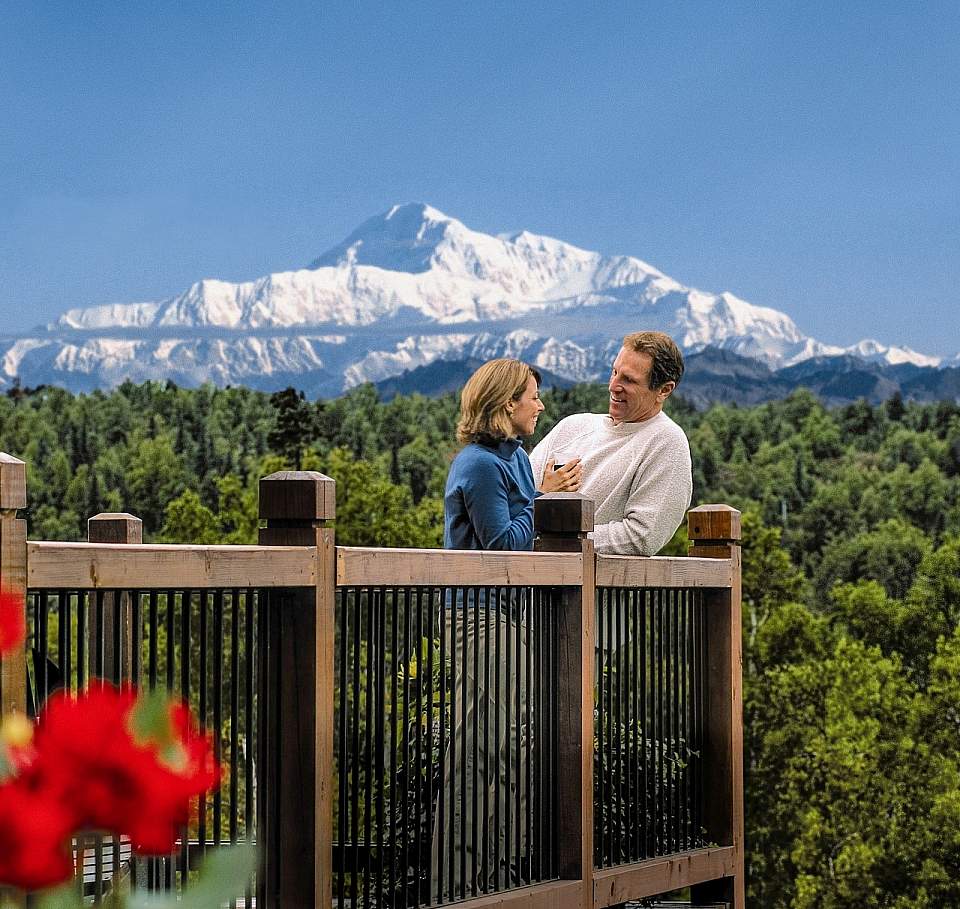 You may be tucked away in the wilderness, but you won't lack for anything. With four different food outlets to choose from, you're covered any time of day, whether you like a cup of morning coffee or a full breakfast; a lunchtime sandwich or a pizza; a casual dinner or a fresh Alaskan feast. And be sure to sit out on the deck and enjoy an Alaskan microbrew as the setting sun glints off 20,310 feet of mountain.
Other options at the lodge include "Denali: Into the Dream," a photo-and-music show that transports you through Alaska, from Denali to the Northern Lights.
Multi-Day Packages
Arrive in Denali on a Denali Rail Tour by Princess Lodges, where you can enjoy the views from glass-domed cars and open-air viewing platforms. Packages are available from Anchorage, Fairbanks, and Seward (ideal if arriving or departing by cruise ship). Available packages include Blue Rail Tours, with overnight accommodation in Denali, at Mt. McKinley Princess Wilderness Lodge, or both locations, but not in the departing towns of Anchorage or Fairbanks; and Yellow Rail Tours that include overnight accommodation in Denali, Mt. McKinley Princess Wilderness Lodge, or both and also include overnight accommodation in Anchorage, Fairbanks or both. See website for more package details.