In a land separated by vast distances, remote islands, and areas inaccessible by road, traveling by seaplane is the key to unlocking Alaska. These workhorses of the air will not only get you around, but can also transport you to thrilling adventures—whether you want to see bears up close, visit a wilderness hot spring, or flightsee over the dramatic mountains and seas that make Alaska so unique. And you can do all of this when traveling with Alaska Seaplane Adventures.
Custom Experiences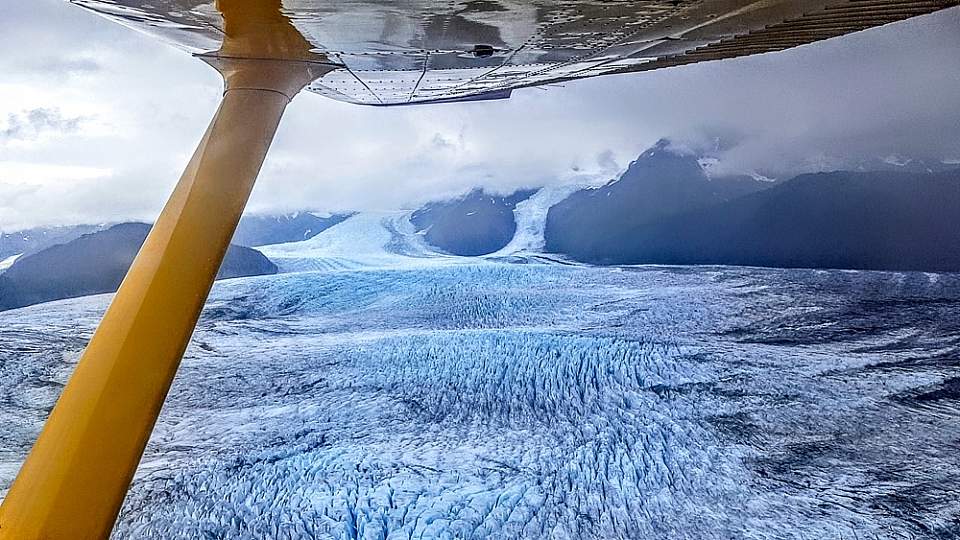 If you like to start your excursions by asking "Wouldn't it be cool to…", this company can make it happen—exploring some of Southeast Alaska's most stunning highlights by air in a truly customized way.
Whether it's scenic flightseeing or an up-close bear-viewing excursion, they'll fly you there and customize your trip to fit your timeline and budget. You'll work with your pilot so they know what's most important to you and what gets you excited, then go above and beyond to meet expectations.
Even better, Alaska Seaplane Adventures strives to be a positive force in the communities and for the environment. All their flights are carbon neutral; they work with the Juneau Carbon Offset project, which helps local families reduce heating costs and eliminates pollution in Juneau.
Juneau Tours
Pack Creek Bear Tours
Get up close and personal with magnificent brown bears at this accessible yet supremely wild bear-viewing area. With a small group of just 2–5 passengers, you'll take a 25-minute scenic float plane ride, hike through some old-growth forest, and have the truly unique experience of observing brown bears in their natural surroundings.
Juneau Icefield Explorer
See the spectacular scenery behind Juneau and the Juneau Icefield. In just an hour, you can have this singular experience and still be left with plenty of time to enjoy all the sights of Juneau.
Flight & Cruise
Take the unforgettable Juneau Icefield tour, and then land out on the water and enjoy the scenery around Juneau on a day cruise.
Glacier Bay National Park Tour
With some of the most stunning scenery in all of Alaska, Glacier Bay National Park has become a global icon. This is your chance to see it from the air. For about an hour, you'll fly above the surreal landscape, looking down on glaciers and seeing where they flow down out of the mountains. Every trip is different, depending on conditions, but witnessing these mammoth glaciers and getting perspective on the landscape will transform the way you see Alaska.
Sitka Tours
Sitka Flightseeing
Witness the dramatic volcanic coastline of the North Pacific on this customized trip, where you can also see Mt. Edgecombe and fly up among the mountains and glaciers.
Hot Springs
For a more immersive adventure, take a custom adventure and visit one of the hot springs in Southeast Alaska—like Baranof Warm Springs, where you'll find a public bath and natural hot springs accessible by a short hike.
Flight & Cruise
Combine a spectacular flightseeing tour with a day cruise. After exploring from the air, you'll land on the water and explore the magnificent coastline from aboard a boat.
Backcountry Adventures
If you want to go deep into the Alaskan wilderness, Alaska Seaplane Adventures can be your guide. Pull out the map and pick a spot that you've always dreamed of. If you want to put together a trip that includes staying at wilderness public use cabin, they can make the flights happen. Or maybe you're looking for a backcountry wilderness adventure with pack rafts, or want to go somewhere in particular; the options are endless.
In addition, the company has charter capacity between Anchorage and Juneau, and Juneau and the Lower 48. In fact, there's a lot within a two-hour range. Between Alaska Seaplanes scheduled service, which goes to all places in Southeast, as well the charter capabilities of Alaska Seaplane Adventures, you can completely unlock the magic of Southeast Alaska.